Hotel Credit Cards With Best Rewards Points & Sign-up Bonuses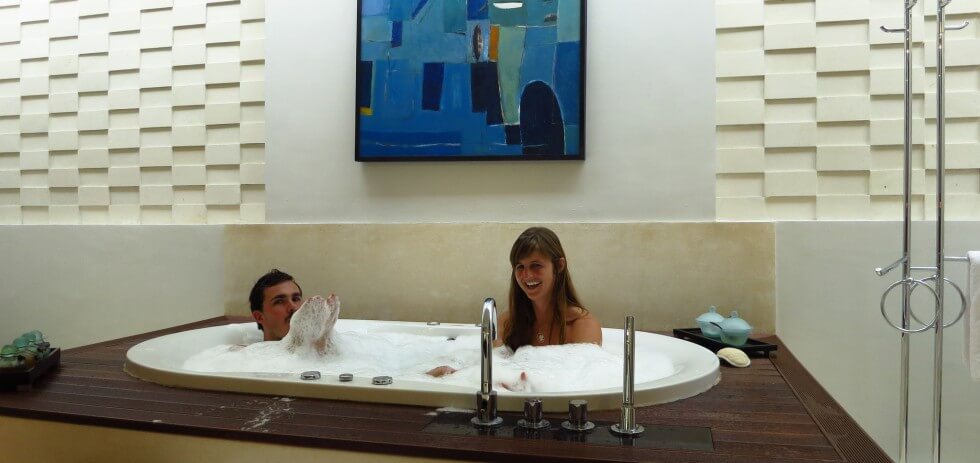 Using Credit Card Offers to Stay in Luxury Hotels. The Best. Lowdown
So Tom and I do this thing. It's a thing that no one else we've ever met does. We do it every chance we get. And we LOVE it. We use credit card offers and rewards points from luxury hotels (so far just Hyatt and Marriott) to get free stays at 5-star hotels around the world.
I know many budget-conscious long-term travelers know how nice it feels to splurge every once in a while. I think most nomads are well acquainted with the serviceable $10 rooms of reasonable cleanliness. Rooms that at best have a good lock on the door, clean sheets and a flushing toilet, and at worse have you pulling out sleep sacks or just sleeping in lots of clothes so no part of your skin actually makes contact with the bed. And these rooms are fine and get the job done, but I am happy to say that Tom and I are suckers for that "Pretty Woman" feeling of being granted access to a world that we rarely see. I am also pretty happy that we do it rarely enough that it feels special and we enjoy it. I wouldn't trade the way we travel for anything, but it is also nice to take a break from "real life" for a night.
When we do splash out and pay for an expensive experience we always affirm to one another again and again "I'm so glad we did this, this is totally worth it, I would definitely pay this again" and so on while purposefully not thinking about our blown budget. Somehow the fact that these stays are free makes them even more valuable. There is never that feeling of "we should make sure we are enjoying this to the fullest because we paid a bunch for it!" Instead, we lounge around in our fluffy white robes after our long hot baths and munch on complimentary fruit or another treat just feeling awesome.
A friend of ours who traveled around the world for over a year was incredulous when we told him about the two different credit cards we used, thinking that he would want to jump on these deals as well.
"But hotels are so cheap in (insert name of South American or South East Asian Country here)! You could get a double room for about $7 US, why don't you use a credit card that gives you points for flights?"
And you know, I had to sit back and have a long think before I could give him a proper answer a few days later. And this is what I came up with.
Yes in most of the places we choose to travel, hotels are incredibly inexpensive. Because clean and nice (enough) rooms are so cheap, we would NEVER shell out $200-$500 on one night's accommodation. SO the nights that we get from our points give us something better than money. They give us something that we would have NO WAY of accessing otherwise because we choose to not pay that for a hotel room.
As far as flights go, we are going to find a way to get the flight or other type of transportation no matter what. Points for flights represent saved money; we will buy the flight no matter what. Random luxury hotel stays represent experiences that we wouldn't otherwise have. I don't think our way is better or anything, on paper it actually makes more sense to collect points for flights and save some money. It is definitely more practical than our frivolous nights of luxury. But boy, do I love indulging in frivolity!
Here is all the info about the two deals we use/have used in case anyone is interested. We are not getting affiliate links for these deals, just spreading the word.
The sign-up bonus is two free nights at any Hyatt, worldwide with NO exclusions. This means you could use it at Park Hyatt Paris-Vendôme where rooms ar $975 per night! The spending requirement to qualify for the bonus is $1,000 within the first three months.
We used our two free nights in Istanbul. We arrived in the city after a pretty grueling overnight train ride (think decrepit, not romantic) from Bulgaria. We walked from the train station to the Park Hyatt and showed up filthy and freezing, wearing the rumpled clothes we had been journeying in for the previous 20 hours with hiking boots and backpacks.
We were warmly welcomed and then shown up to a suite with a private haman. I felt how Cinderella must have when she was brought to the palace in her rags. It was pretty wonderful. Two nights of utter luxury which would have cost about $800 but were absolutely free. And yes, the $19/night place we moved to after the Park Hyatt was lovely and we met wonderful other travelers there, but boy was it nice to spend a couple days in this tub!
The card does have an $80 yearly fee (waived the first year as part of the sign-in bonus), but comes with one free night a year at a category 1-4 hotel. We have decided to keep it because it is a great back-up for last minute, sticky situations as you are guaranteed reservations even if the hotel shows up as booked out. Though $80/night is quite a lot in some places in others it's a great deal. We have used nights in Japan and the U.S. where accommodation can become quite expensive.
We end up using the card quite a bit, so on top of the anniversary night we are always collecting points. We especially like using them when we have flights out of large cities since there is usually a complimentary shuttle service, which also saves on some transportation costs.
We have been less impressed with the Marriott card so did not keep it past the first year, but it actually had a better sign-on bonus. We got 50,000 free points AND $100 gift card AND a free night at a category 1-5 for signing up and spending $1,000 within the first three months. You need more points for hotels than with the Hyatt card, but in the U.S there are many category 1 hotels in out-of-the way places. We used our 50,000 points broken up in to 7,500 points chunks to have free hotel stays during U.S. road trips.
Both cards have no foreign transaction fees.
* If you do sign-up with the above link and enter our Member # 7924642 we get a $20 REI gift card!
Though not a hotel card the REI Card also deserves a special mention here as a great non-airline sign-up bonus. The REI credit card gives you a $100 gift card for signing up and using it once. What traveller can't think of a million different ways to spend $100 at REI?!
Do you use any credit cards with great sign-up bonuses? If you know of any others please leave them in the comments, we are always looking for the latest deal!