Tailor Made in Hoi An, Vietnam. How to choose a Hoi An tailor.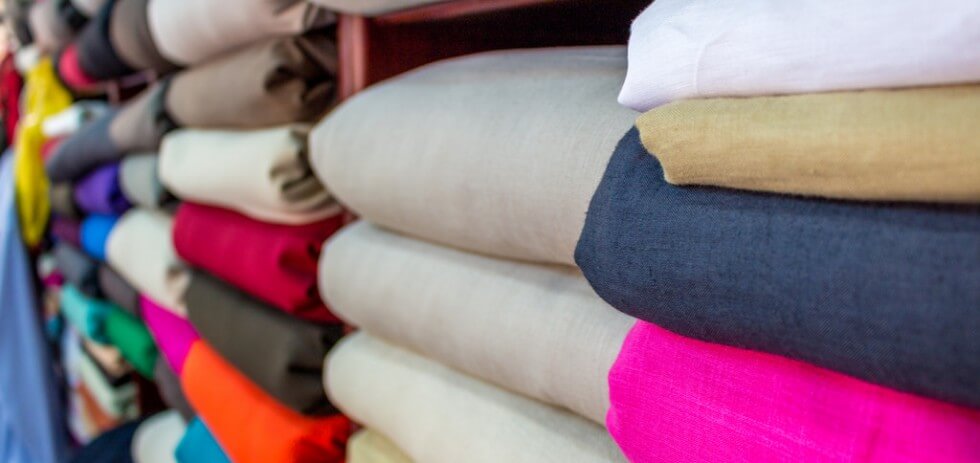 Hoi An, Vietnam may be most famous for its hundreds of tailors, leather-workers, and other custom clothing-makers. It is basically those famous benevolent cartoon, forest-life (birds, mice and what have you) come to life; just waiting to whip something together for you to make an appearance at the ball.
We have heard complaints from other travelers about the Hoi An tailors. Basically, if you aren't interested in getting clothes made, visiting the town may feel like a whole lot of getting pushed in that direction. We, however, came to the city 100% ready to avail ourselves to what we began to call "Project Runway – Hoi An."
A by-product of traveling full-time with carry-on size bags, is that our clothes get a lot of wear and tear. Before Hoi An most of our clothes were pretty worn out and since at 5'8″ and 6'0″ we are not South East Asian-sized, we had been unable to replace them.
I had an experience in Thailand and again in Cambodia that made me give up on even trying to buy clothes in shops. Both times I picked up an item off a rack of clothes only to have the owner run over shouting and waving her arms "no, no, you are too big! Nothing here for you" while shooing me out of the shop. It felt like they were scared by big western hands were going to tear their little clothes just by touching them.
We left Hoi An with far more clothes than we expected, and extremely happy with the quality of the items and our whole experience there. Through some trial and error, we came up with this easy-peasy step-by-step guide on choosing a tailor and having clothes made.
Step One.
Months before you get there start making a Pinterest board, with comments for general colors, cuts, etc. I think it is better to have too much than too little here, as you can always pare down later. I ended up mixing and matching styles and colors from different pictures and that worked well for me.
Step Two.
Read online reviews and have 5 places picked out that are reputable for your "short-list" of tailors. You can read blog posts or TripAdvisor and/or get recommendations by word of mouth to create this list. We used TripAdvisor for our "short-list."
Step Three.
Pick a couple of the easier, "just like the picture" items that you have. Go to your short-list of tailors and get general prices quoted for those items. Talk to the people there and look at their work. Talk to other customers in the shop who are there for fittings if you can.
Step Four.
Make your choice and start bartering for a group rate if you are having multiple items made.
Step Five.
Start the whirlwind of measurements, fittings, and fabric choices. As far as fabric goes it's good to have a general idea of weights, colors, etc. Things go fast once you make your choice of tailor and they don't want to wait around while you say (like I did) "oh gosh, I haven't even thought about what color yet!" But don't have too specific of a fabric in mind because chances are they won't have exactly what you want. You can also bring fabrics if you are in a place to buy some you really like.
Step Six.
Be assertive and DO NOT pay or leave until you are super happy. It's a good idea to pick up your clothes one or two days before you leave town if you can. We found that things we thought were perfect in the shop suddenly became a bit longer, shorter, looser or tighter than we wanted when we tried them on in our hotel. Minor changes that were easily fixed by our tailor when we brought them back the next day.
We visited four different shops and got the best "vibe" from Mr. Xe and the girls on his team.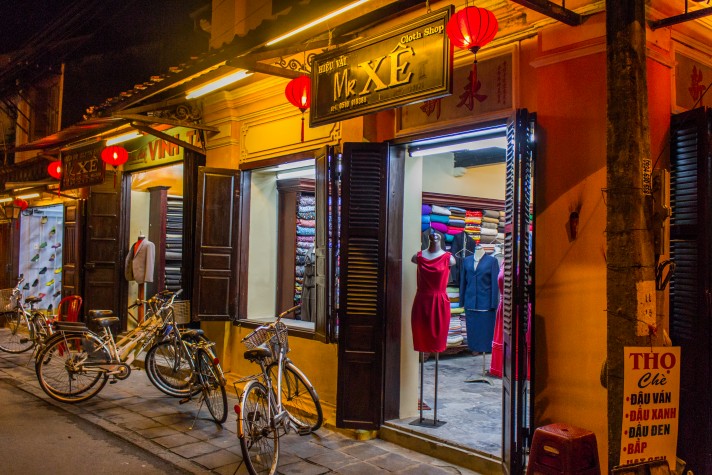 When they took our order they wrote everything down in a notebook and then stapled little samples of the fabrics we had chosen to the order. I've heard it said that 10,000 hours of practice makes an expert. There were at least 15 books just like this one lying around the shop, so I don't think I'd be too far off if I estimated they had done at least 10,000 orders, most definitely reaching expert status.
We had a little more time in Hoi An and are quite picky, so we started our order with just one item for each of us to gauge the experience and the quality. We were both so happy with the end product that we ended up getting many more items made. Mr. Xe has a crazy-sharp eye for detail and does not let anything leave his shop until he is happy, and you are happy. There were even a couple of times that I was happy with the fit, but he insisted it was "not nice" and so back it went for such minor alterations that I could barely tell the difference.
He had a great way of looking critically at clothes during fittings, pulling them around, having you sit, stand and walk. He would then say "not nice" while marking the clothes with chalk. When we has finally happy with an item you got a gentle tap on the bottom and a smile from him while he said "yes! yes! it's good."
I went through 3-4 fittings of a blazer that was "not nice" until he finally ended up making me a completely new one and then giving the first one to me for free as well. To be honest, I can barely tell the difference between the two. One is possibly a tad smaller than the other?
All in All
We would whole-heartedly recommend Mr. Xe for anybody's "short-list", but go with your gut! Here are some of the results of our 9 days in Hoi An. Obviously pinterest versions are on the left, and I am on the right. Also everything is kind of wrinkly because I pulled it out of my packing cubes and did not let it hang before I took these pix. I'm an impatient lady, what can I say?
Jenny
3 blazers (a little bit ridiculous, especially since my bag is only 40 liters! Luckily we had a friend meet us soon after and I sent two home with her. Thanks again Shawna!)
1 white blouse
1 cowboy style button-up with pearly snaps
1 pair pants
1 dress
1 pencil skirt
Tom
2 pair shorts with secret pockets
1 pair pants with secret pocket
2 cowboy style button-ups with pearly snaps
Tom had some shorts and pants made with hidden zippers in the pockets and a couple of cowboy style shirts. I loved his shirts and their pearly snaps so much that I added one on to my order at the very last minute too.
So let's talk numbers. The shirts, pants and shorts all cost about $20-$25. The pencil skirt and white blouse were $30 each, the blazer and dress were about $45 each. Mr. Xe also gave me the free brown blazer that was "not nice" and then made me another free blazer in blue because while I was trying on the dress a girl came in to look around the shop and decided to go with him because she wanted a dress just like mine. The final walkaway was $300
For shoes we went with another shop. They don't look exactly like what I was copying, but the quality of the materials is obviously a lot different. Also these shoes cost about $24 each to have made, and the pictures are of designer shoes that cost nearly $500 a pair. Tom thinks they aren't going to hold up well. I think they will probably hold up as well as any pair of $24 shoes, but if anyone is interested they can message me and I can keep you updated on durability.
We did have another less positive experience with a tailor that showed us the importance of the above steps. I wanted a bathing suit made, and Mr. Xe did not make them so I went to the first place that I saw that made swimsuits and put in the order. Unfortunately everything that could be wrong, was. It was poorly sewn, did not look like the picture and had been made with stained, dirty fabric. I ended up paying half for it and not taking the top because it was so bad. I did take the bottoms of the suit, which are pretty poorly sewn and ended up costing about $18. It was an uncomfortable experience but a good lesson as to why the other way works better.
There you have it, a custom-made wardrobe in 6 easy-peasy steps! Have you ever had clothes made? Is there anything I have left out?