The Best Tacos in Kapaa Kauai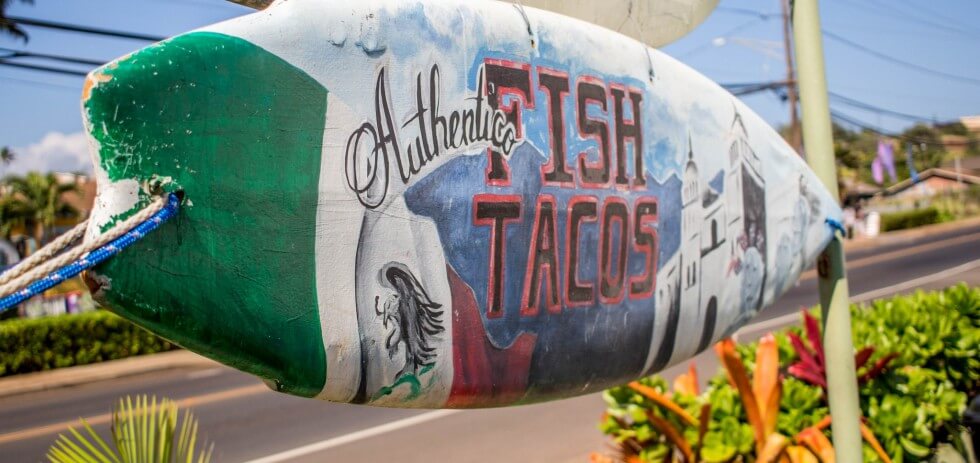 Walking around the cute little streets of Kapaa Kauai, we couldn't help but notice that there were an awful lot of taco trucks and taquerias. There seemed to be more taco spots per square mile than you find in my hometown of San Diego, CA! Obviously, for you (our loyal readers) we had to try as many as them as possible during our stay to write this detailed review of all of the top-rated tacos in Kapaa.
The things we will go through for the sake of our readers…
Though they are named for their al pastor, the fish tacos are the star of this show. The al pastor taco we ordered was weird fatty chunks of meat and not the thinly sliced pork that has been marinated in a combination of dried chiles, spices and pineapple, and then slowly cooked with a gas flame on a vertical rotisserie that we are accustomed to. Also, there were NO SALSAS, which is just WRONG. But back to the fish taco, it was truly incredible with a very large fillet of perfectly grilled fish topped with bright and crunchy lettuce and cabbage and a sriracha-mayo drizzle. Of all the tacos we had in Kapaa they get 1st place for their fish taco and 3rd place on the al pastor, which I would have called carnitas. I love the location of their truck as well, nothing improves a taco like watching the waves while you eat it!
As long as we are handing out trophies and medals, El Taco Feliz wins the weirdest truck art award. I don't know if you can see the taco's eyes in this photo or not, but I am pretty sure that by "happy taco" they actually mean "stoned taco." The carnitas were really, really, good and the fish taco wasn't bad, but was not as big of a piece of fish, or as good as Al Pastor. The salsas were also good, but it was the homemade corn tortillas and those amazing carnitas that would bring me back here again and again. El Taco Feliz gets our 1st place carnitas prize, but comes in 3rd for their "just OK" fish taco.
Pacos Taco's has both a restaurant and a taco truck in Kapaa. The truck can be found just past Otsuka's Furniture store in a little lot. We ate at the restaurant but was told that the food was the same in both places. The best thing Paco's had going for it was the salsas. They were very "middle of the road for us" and we would award both their fish and carnitas tacos a 2nd place award. They were both a little bland for us and needed salt, thank goodness there were nice salsas to drench them in!
Verde's tacos have gotten great reviews and so we were expecting a lot when we came. The tacos we had here are in no way what I would call "legit" tacos, but Tom still really enjoyed them. He said that, though they are definitely "Americanized" tacos, they are the kind he grew up eating and so were a deliciously nostalgic meal. I grew up in San Diego and am fiercely loyal to the type of taco I grew up with too, so these I would pass on. I gave these my 4th place prize and Tom said they were his second favorite with the carnitas at El Taco Feliz, and the fish at Al Pastor tying for 1st. Though the cocktails here were delicious, I didn't much care for the strip-mall ambiance of the location.

All in All
If we were back in Kapaa for a day of tacos, we would go to the Al Pastor truck for fish tacos and the view but would bring a bottle of salsa. We would go to El Feliz for the carnitas and their delicious tortillas and salsas. We would pass on Paco all together.
We may go back to Verde for Tom to indulge in some nostalgic middle-of-America tacos and I would happily have a liquid meal of delicious cocktails while he did.