Adios Latinoamerica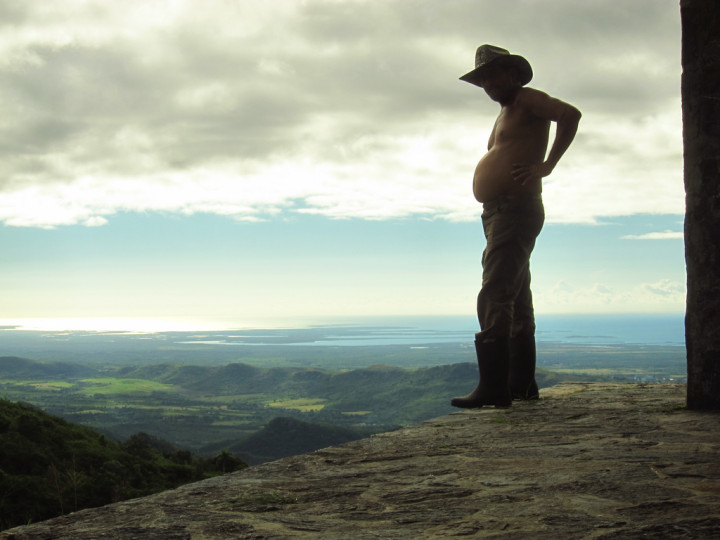 Sitting in the back of the 1953 Chevy with my hair whipping around in the warm air blowing through the tiny windows I had a hard time deciding what to look at. A wonderful type of over-stimulation that could not have occurred anywhere but Cuba.
Did my eyes drink in the impeccably kept up classic beauty that was barreling us (Tom, his Dad and I) toward Havana Vieja, or did I give in to the siren call of the mini touch screen TV attached to the antiquated Dash that was blaring forth Cuban reggaton music videos complete with oiled up dancers gyrating in Bikinis around fat Dudes in leisure suits?
My eyes settled on the lush interior of the car with a quilted roof and an inexplicable rope across the back seat. A car only 3 years younger than Tom's Dad (as he pointed out). A car that was still a veritable babe in arms when the revolution changed everything in Cuba. Everything that is except for the cars with placards of Ford, Chevy and Plymouth that have remained as steadfast reminders of past relations between the States and Cuba, and of current reminders that Cubans do not need our new cars, they can keep our old cars running better than we ever could.
[flickr]photo:6351459766[/flickr]
[flickr]photo:6351416844[/flickr]
After our visit in Trinidad we had decided to call up Lazarro again, as he had so efficiently taken us from Vinales to Trinidad earlier that week. The price was great- mostly due to the fact that Lazarro was not a government sanctioned cab driver, and as such did not have to pay for the expensive license. A license that would have detracted from his obvious love of shopping for gold sunglasses and rhinestone be-decked t-shirts. A simple disabling of the car's odometer and Poof, leased car becomes taxi car in no time flat. We zoomed away from Trinidad merrily enough and even made a detour to the impressive Che memorial in Santa Clara. A memorial that was filled with requisite revolutionary Guerrilla Guevara snapshots, as well as such candid gems as "Che eating a burger", "Che playing Golf", and "Che on the losing side of a good game of tug-o-war".
[flickr]photo:6350713591[/flickr]
[flickr]photo:6351455202[/flickr]
About 300 km outside of Havana we noticed that the 2011 Kia was beginning to crawl, rather than whip, by the propaganda billboards lining the highway.
[flickr]photo:6350708117[/flickr]
[flickr]photo:6351448860[/flickr]
[flickr]photo:6351445252[/flickr]
[flickr]photo:6351438218[/flickr]
Dropping from about 80KPH to 60 KPH, and struggling to maintain that speed. Our driver was becoming visibly more agitated, though he seemed to not really want to talk to us about it. He eventually pulled over to the side of the highway just as darkness was falling. He made a phone call in rapid angry Spanish, which none of us really understood. The thing about Cubans is- they can speak the fastest, most unintelligible to an outsider, Spanish I have ever heard- and not understood. I think he was maybe having a bad day. After his phone call he told us that he called the company, and someone was coming, got out of the car and stalked away down the highway without another word, keys dangling in the ignition.
Hmm. In many places being left in a stranger's car with all your worldly possessions in the trunk, on the side of a quickly darkening freeway with nothing around but a truck stop for miles, would be frightening. But this is Cuba we are talking about. Of course if you walk over to said truck stop and mention that you'd like to go to Havana you will have several offers within a minute. Offers by friendly, honest, stand-up individuals who desire nothing other than seeing you safely ensconced in the friendly arms whatever casa you are staying at. Strangers, who will charge you a fair price, answer any questions about Cuba you have and will carry your luggage for you.
And so we found ourselves in the (apparently much more reliable) 58 year-old car quickly approaching Havana and the end of our Latin American Adventure. With a mere 24 hours left in Latin America we are once again amazed by the kindness of strangers, and never ending source of adventure that traveling here has been. I can only hope that Europe surprises and delights us, and has as much mobile produce, as Colombia, Ecuador, Peru, Bolivia, Panama and Cuba have.
[flickr]photo:6350651613[/flickr]
[flickr]photo:6350720865[/flickr]
[flickr]photo:6350538239[/flickr]
[flickr]photo:6351422622[/flickr]
[flickr]photo:6350654321[/flickr]
All in all with it's wonderful food, people, beaches, farmland, hiking and safety Cuba has been one of our most favorite stops and a perfect goodbye (for now) to Latin America.
[flickr]photo:6351350452[/flickr]
[flickr]photo:6351360648[/flickr]
[flickr]photo:6351371238[/flickr]
[flickr]photo:6350640071[/flickr]
[flickr]photo:6351392022[/flickr]
[flickr]photo:6350666429[/flickr]
[flickr]photo:6351432884[/flickr]
[flickr]photo:6350734259[/flickr]
[flickr]photo:6351300214[/flickr]
[flickr]photo:6350575313[/flickr]
[flickr]photo:6350531593[/flickr]
[flickr]photo:6351279430[/flickr]
[flickr]photo:6350549455[/flickr]
[wpgmappity id="61″]