On the road again… Travel from Panama to Cuba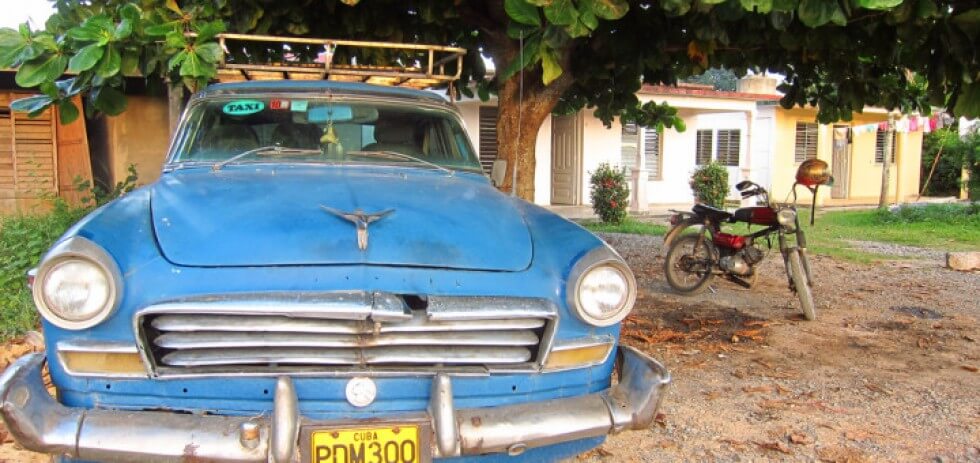 On Tom's birthday (October 27th) we got to return to his Costa Rican birth-place on a twelve hour "en transito" visa en route to Cuba. We left our tropical island 3-month home behind us for a last couple of weeks of sunshine with Tom's father in Cuba before heading to winter in the "father-land."
Nostalgia and excitement were battling it out inside of us as we left behind the dogs and new friends we had grown to love, Tom's bird, and our first home together.
As we flew into Cuba excitement definitely emerged victorious, though we loved our time in Bocas it sure felt good to be off exploring and experiencing new things once again.
People are always talking about how "time has stopped" for Cuba. Referencing the iconic classic cars, art deco buildings being taken over by vines and an apparently simpler way of life.
There is a feeling of a time-warp for the traveler as well due to the basically non-existence of internet and public telephone service. We did not realize just how effortless technology has made traveling in the last five years. Need a place to eat? Just pull up some travel blogs for recommendations. Need a room in the next city you are going? Find a hostel online and then call them through skype on your laptop using the wifi at your hostel. In Cuba there is no jumping online to buy plane, train, or bus tickets. There is no using skype or google voice to call somewhere to ask for directions. There is no shooting off e-mails to several different hostels, and then comparing them via online reviews. We also did not realize how much all of those " conveniences" serve to keep you separate from the people who live in the country you are exploring.  In Cuba you either sign up with a tour group that shuttles you from one resort to another or you spend a whole lot of time talking to Cubans. Chatting seems to be up there with baseball as a National Cuban sport so that works out well when traveling with Michael, Tom's gregarious and fluent-in-Spanish Dad.
Traveling in Cuba is a little bit different than traveling anywhere else we have been. It's like traveling is supposed to be. It's like traveling in a movie, where everything is safe and everyone you meet is happy you are there, and instantly envelops you into the warm folds of their family. Everything you do is arranged through someone's friend, cousin or neighbor and that gives you a friendly introduction and a common connection.
You stay with families and eat with families, they make sure you have a good time and are well fed.
The whole lovely package is made complete by a feeling of safety that we have not felt in other places. Not that we have spent much time feeling unsafe, but Cuba feels unusually safe.
Even better, for the first time we are a novelty as US citizens. Cubans have not been exposed to the barrage of US television and commercialism that the rest of the world has, which means they aren't sick of us and our boring accents right off the bat.
Our first night in Vinales we were invited to the 24th birthday party of our hosts' daughter. Before the party we ate lunch with the birthday girl's aunt, and her grandfather showed us how he makes cigars with the tobacco from the pinar del rio region- which according to him is the most legit of all tobacco anywhere.
Upon trying to pay for the cigars he rolled us he fought with us like a a favorite Aunt over whether or not we could contribute to a dinner bill. Finally just leaving some money on the table we assured him that we would bring the rum to that night's party.
The birthday party had everything a party should, from elaborately decorated birthday cakes to singing, dancing, laughing and drinking.
We were accepted into the party without a raised eyebrow, and after no time were joking with neighbors and dangling 4 year olds on our knees. I didn't even realize until I was falling asleep that the only thing I did not see was a single gift- though I wouldn't say it was missing. As one guy told us (later in Trinidad) "Cubans don't have many stores or malls. We don't have much money, or really anything to buy if we did have money, so instead of shopping we have parties. We dance, we sing and we drink."
Dancing, singing and drinking? I'll take that over shopping any day!
There are some little things about Cuba that are so different they make you pause. Immigration forms bear the tell-tale purple font of a "dittoed" form. People in stores laugh incredulously if you ask for a bag when making some purchases. They kindly and patiently explain to you (as if to a very young and incredibly stupid child) that you can carry something in each hand and put your bar of soap in your pocket. I actually saw a woman open up her purse to dump in some raw hamburger meat for carrying. If the bakery has some cakes to sell you see people walking home precariously balancing a full-on-frosted-cake in their hands or on a wad of newspaper.
There is no waste here. Everything looks as though it has been used all the way up, and then carefully washed and used again. There is no trash on the streets- it is one of the cleanest places we have ever seen, and there is basically no crime. The bugs are also conspicuous by their absence. The locals attribute it to government-run fumigations to make sure that people don't get any insect borne- diseases. Coming from a place where dengue and Leishmaniasis are common and malaryia is always at the edge of your worries, that was quite a relief!
The Cubans themselves are by far the friendliest people we have ever met anywhere. We were surprised that any country could wrangle that title away from the Colombians (who were outlandishly nice as well) but I think the Cubans did it! A taxi driver who took us to Ernest Hemingway's finca outside of Havana mentioned that we were near his house. I jokingly asked if we were going to stop by to meet the family. The next thing we knew we were in his home looking at baby pictures while he insisted he needed to make us coffee.
It's the kind of nice that almost makes us wary and distrustful until we realize that people are just that nice there. If you have a band-aid strangers stop you on the street to make sure you are all right and give you a hug and kiss. Cuban children are coddled and loved by every adult they come into contact with- which I think causes them to grow up into the kind, loving, confident people that most Cubans seem to be.  Basically everyone in Cuba seems like they are family, and treat travelers like family they just haven't met yet.
When I thought of Cuba before this trip I thought of steamy dance clubs, bars clouded with cigar smoke, communism and classic cars. I did not think of the bucolic farmland scenes, cleanliness, safety, art and insane friendliness of the people that seems to make up the majority of Cuba.