And Then We Were Three…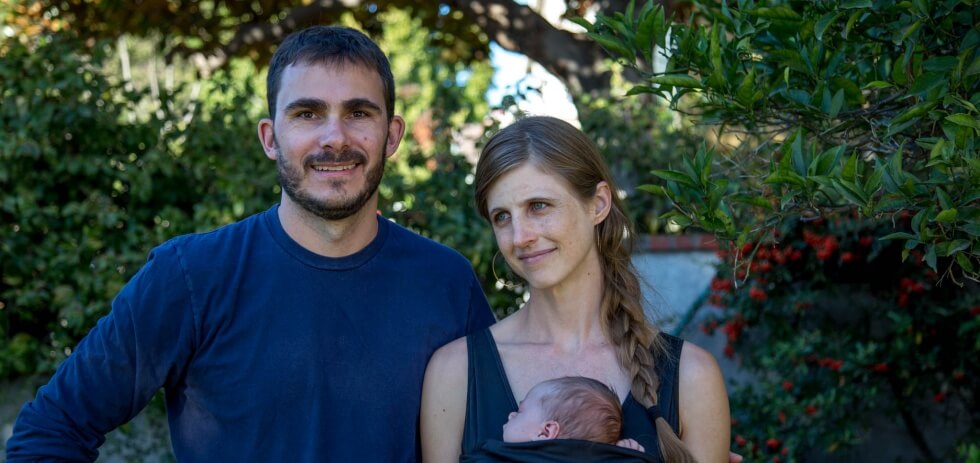 It has been nearly a year since my last post, about a cooking class in Aix en Provence in Southern France. Our first child is now six months old, so needless to say a lot has happened in that time.
Many people asked when I was pregnant if we would continue to travel or continue to blog after the birth. To which we always answered "TBD," that was a problem for future us, after all. We have always shied away from making any long-term plans, sharing a mutual fear of commitment to anything except each other. Even our blog name hints at how averse we are to long-term planning, "Till the Money Runs Out" the amount of time we thought we'd travel when we first left the U.S. on a one-way plane ticket back at the beginning of 2011. All along our travels, any far-flung future plans were talked about in a hazy way, musing about what life would be like when we someday "grew up."
As in, "when we grow up I want us to always have a bowl of shelled nuts and a nut cracker on our coffee table" or "when we grow up we are going to have a vegetable garden that we muck around in every day," blithely said while hardly able to imagine what a life would be like with a living room or coffee table that is permanently ours. Originally we planned on "growing up" when we ran out of money, ended our trip and went "home." After starting our own business we planned on that happening after we got married, after which we pushed the task of becoming grown-ups off to when we started a family.
So here we are, six months in. Did we grow up? Are we going to continue to travel? Blog? The future seems to have arrived.
I can safely say that yes, we will still continue to travel and it looks as though I will continue to write but both will be different than before.
Our lives used to follow a pretty familiar pattern no matter where in the world we found ourselves. We'd wake up, have coffee and do a little work on our computers, go for a walk with more coffee and then I'd run/walk/motorbike/drive to a yoga class while Tom continued to work and afterwards we'd eat a late breakfast/early lunch, you know what, we'll just call this brunch. We would work together some more and then go explore a temple, beach, museum, take a cooking class or just go on a long meandering walk in whatever part of the world we found ourselves in. We'd hash out project ideas and have company meetings as we went. We love running our own company together, so even days spent eating cold leftovers and feverishly banging away at our computers could be considered spent in hedonistic pursuits.
Our days are now spent reveling in baby laughter, cuddles and first trips to the playground or pumpkin patch, instead of tracking down the best street food, hidden snorkel spot or delicious cocktail and if I have a choice between writing and sleep I will always choose sleep.
Some things we plan a lot more, making doctor's appointments months in advance and committing to being in Austin to make those appointments. Being in charge of the day to day meal times and sleep times of a l'il one who has a much harder time being sleepy or hungry has made it necessary to also do more advance planning to make it anywhere on time.
The loss of spontaneity has been the biggest change. I can't just run out to a yoga class, or we can't just pop into a bar for a drink on our way to somewhere else. We plan almost all activities around how long it's been since Bae's last nap or feeding. That said, he is a remarkably chill little dude and has been able to roll with the punches much more than I anticipated.
Though our days look quite different since Bae has come along, some things haven't changed. We took our first family trip when Bae was just 2 weeks old, a six-week sojourn in Southern California. Since then we've spent a week in New York, three weeks in the Bay Area and we now find ourselves in New York again for the next few weeks. Bae has handled the flights and time changes with aplomb and we hope that continues since we have a lot more domestic travel planned over the next few months. San Diego (again), Hawaii (the Big Island and Maui), and Northern California (again). After visiting 4 continents in utero I guess it's not that surprising that he was born ready to hit the ground running.
Tom and I wanted very desperately to not be those people who change everything because they have a baby and so we pushed ourselves from the beginning, to book plane tickets, to go out, to make some of the same choices we would have made when it was just the two of us instead of the choice that felt the easiest. We did this from the get-go when we decided to go home with the newest member of the family just two hours after I pushed him out into the great, wide world. It has made some things harder, but I think the confidence we've gained and the flexibility Bae already shows will make things easier in the long run.
Though we've passed some of the signposts of being grown up; we are officially labeled as Mother and Father on a birth certificate of a real, live, human, and we habitually enjoy cracking and snacking on these beauties on our couch when we are in Austin (our home for the time being), we don't quite feel grown up yet. We are still just taking everything as it comes and leaving problems for future us in the future, where I think they belong. Turns out being grown-up may not be a destination to be reached, or ever feel like we thought it would. We may never know where we will be living in a year, or how much of our time will be spent traveling but as always we know it will be together and now that includes a third person.
We are enjoying Austin and the community we've started to build there and are equally excited to show Bae all the places in the world we love so much and to explore new places as a threesome. Writing is something I have missed over the past few months and blog posts I want to write have started swirling around my brain. So yes, we will keep traveling and I will keep blogging, but it will be a long time until I choose writing (or anything) over sleep, and any world exploration will need to happen in between naps and feedings.