Our Year of Travel as Seen on Instagram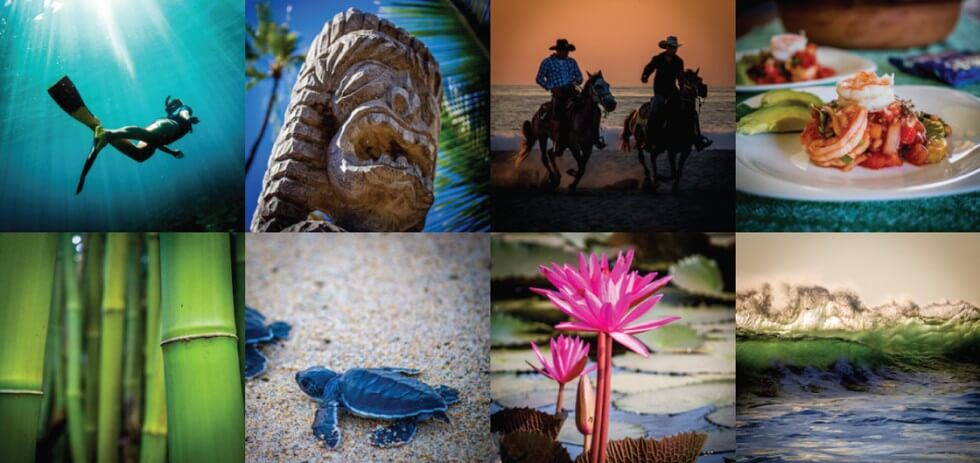 I don't really get social networks. I've had twitter explained to me countless times and for some reason, I still just don't get it. I had an unfortunate, (what I considered at the time) humorous MySpace tagline haunt me into graduate school and job interviews through my early twenties which scared me off of joining social media sites post-high-school. I have never had a personal Facebook account.
This all changed a year ago when Tom convinced me to start an Instagram account. I got it instantly! Pretty pictures of where you are and what you are doing, what's not to get? I also love how Instagram has become the only place that shows what we are currently doing. I am often blogging about things we did weeks (or sometimes months) ago, but we make sure to only post photos of what we are seeing and doing each day, or close enough to it. It is a great way for people to see where we currently are and because of that, we have had quite a few travelers meet-ups.
In the year that we have been on Instagram, we have posted almost a photo a day, met some amazing people, gotten ideas for places to visit and things to do on our travels and have been followed by over 9,000 people.
It is also a great way to look over a years worth of memories. And scrolling through a grid of 370 photos taken in the past 53 weeks has inspired me to write this round-up post of our year seen through the eyes of Instagram!
Maui, Hawaii, U.S.A.
We started the year on Maui, and now find ourselves back here exactly a year later! This is one of our first posts, and also one of the first times we played with the GoPro we gifted ourselves last year.
Kauai Hawaii, U.S.A.
After Maui we headed to Kauai, where we spent weeks hiking across gorgeous landscapes, going on my first helicopter ride and exploring beaches.
Lake Tahoe, California, U.S.A.
From Hawaii, we made a quick detour to Lake Tahoe to surprise Tom's Mom for her 65th birthday. We rented a cabin with lake views and a hot tub and had a wonderful time visiting with family.
Puerto Escondido, Mexico
After Hawaii, we flew down to Mexico to the beach town of Puerto Escondido. We rented a house with some friends and spent over a month sunset-watching and taco-eating.
While we were in Puerto Escondido we saw some amazing wildlife! We released baby sea turtles and watched them toddle into the crashing waves of the Pacific and saw the rare sight of hundreds of manta rays swimming and leaping out of the water.
Oaxaca, Mexico
From the Oaxacan coast, we flew in a tiny Cessna to the capital of the state and rented an apartment for a month. We spent our time there going on daily long walks and marveling at the everyday life of another place. We saw this beautiful cat wandering around, apparently enjoying the slow life just as much as we were!
Oaxaca is famous for it's cuisine and so we couldn't resist signing up for a Mexican cooking class while we were visiting. Our cooking class was more traditional Zapotecan than modern Mexican and we loved getting out of the city for the day and learning how to make everything with the traditional tools of a Zapotec kitchen. This apron was by far the most commented on accessory in any one of our posts!
Telchac Puerto, Mexico
We very randomly got connected with a lovely couple in Telchac Puerto, on the Caribbean coast of Mexico, and agreed to house sit and cat sit for them for a little over a month. With the ocean in the backyard, we basically lived in our bathing suits the entire time! Every morning we took "coffee walks" where we would walk a couple of miles down the beach and back with our steaming mugs of coffee in hand.
Though Telchac Puerto is an out of the way little fishing village in the Yucatan it has some remarkable sights surrounding it! One of the most impressive was the laguna rosada, a pink lagoon filled with salt crystals and flamingoes!
We were very lucky that our house-sit came with a car so we had the flexibility to see all of the magnificent sights in the area. After we visited our first cenote, we obsessively saw as many as we could find during our stay. One of our most memorable experiences was scuba diving a cenote with Freedom Divers Mexico.
Isla Mujeres, Mexico
From Telchac Puerto we flew to Isla Mujeres, via Cancun, to spend a week enjoying the island life. We rented a motorbike and drove around the island, took some yoga classes and did an amazing scuba dive to an underwater museum. This photo we snapped with our iPhone of Casa Caracol (seashell house), from the back of our motorbike ended up being one of our most popular posts of all time!
New Orleans, U.S.A.
We had no idea at the beginning of 2015 that it would become the year of house-sits, but the stars just aligned themselves that way this year! From Mexico we flew into New Orleans to explore that iconic city for the first time. We fell madly, deeply and completely in love with the city and our four pets there and fervently hope that we sit there again some day!
Road Trip from New Orleans to Austin, Texas
We drove eight hours from New Orleans to another city we had never visited, for yet another housesit. We seemed to do quite a few road trips this year and so this photo feels very fitting for 2015! The road snaked over beautiful green marshlands, always with bright blue skies, and gorgeously white, full clouds above.
Austin, Texas
We had heard a million great things about Austin before we visited; about the music, art, and food scenes happening there. To be honest, we were more impressed with the stunning nature scenery, like Hamilton pool and the BBQ than anything else!
San Diego, California
Ah, San Diego! My hometown and where Tom and I first met. We've been going back to San Diego every year for the last four to watch the most wonderful cat in the world. No matter what it says on paper, San Diego still feels like home. Our time there feels like a summer camp; we see our friends nearly every day, Tom surfs and I do ridiculous amounts of yoga and we cuddle Patches (the cat we sit) as much as she will let us!
We also participate in a friend's volleyball league every time we visit San Diego and nothing beats having a standing weekly date on the beach, and the occasional bonfire and weenie roast post-games!
Oakland/San Francisco, California
We got to welcome a new member to the family this year and went up to the Bay Area to meet our new nephew, play with our old one, and spend lots of quality time with the family. There is also a ton to explore in both Oakland and San Francisco and we loved pretending to be elves in the huge botanical gardens of SF.
San Diego, California
We headed back down to San Diego for the wedding of two of our best friends and then started a slow and leisurely road trip back up the coast of California.
CA Road Trip – Los Angeles
I may be guilty of thinking of a smoggy metropolis when I think of LA, but let's be honest. It's coastline is rather remarkable!
CA Road Trip – Solvang
We stopped in the adorable town of Solvang for a night and spent a packed 12 hours wine tasting, enjoying delicious food and seeing some outdoor theater under the stars!
CA Road Trip – Big Sur
Does anything say gorgeous California coastline as completely as Big Sur?! It is not hard to see why this magical place has inspired generations of authors, musicians, and artists.
CA Road Trip – Monterey
I have always loved the Monterey Bay aquarium, but this time, we stopped by Moss Landing and got to see a whole raft of otters in the wild! Cuteness overload!
CA Road Trip – Santa Cruz
The Santa Cruz boardwalk; does it make you think of seaside family fun, or (like me) does it just conjure up images of fighting a motorcycle gang of vampires a la Lost Boys?
Florida Keys
After our slow road trip up California, we flew to the other side of the country to visit yet another new Southern State. Our first sunset in the Florida Keys definitely made us think that it was the right decision.
Orlando, Florida
So, obviously we went to Florida to visit Hogwarts, and it was spectacular. I was a little worried that my love of the books and high expectations for the park would ruin the experience, but never fear! It was absolutely perfect.
San Diego, California
I didn't even realize how many separate times we were in San Diego this year until I saw it keep popping up in our feed! We really took to the skies this visit with a hot air balloon ride at sunset and an introductory flight lesson down the coast!
Sebastopol, California
After our final San Diego visit of the year we headed back up to Sonoma County for Thanksgiving. It was the most spectacular autumn I have ever seen and I loved living in an autumnal kaleidoscope for two weeks.
Austin, Texas (again)
We headed back to Austin for a week and liked it even more than we did the first time we visited! It may be because we were already familiar with the city, or it may be because we were staying in a great area of Austin, but it was probably because one of our best friends came out and spent the week with us there!
Maui, Hawaii
Which brings us full circle back to Maui! Over the past two weeks here we have re-visited places we fell in love with last year, like the bamboo forest on the Pipiwai trail, and have discovered new things we adore.
When we visited Maui last year I had a feeling that it was my favorite Hawaiian island. I have to say after spending another two weeks here, it is confirmed. I love every Hawaiian island we have visited, but Maui! Maui strikes a chord.
What's next?
Follow us on Instagram to see where our adventures take us. We are stopping by the Big Island before heading out to New Zealand, Australia and beyond!