El Sabor Zapoteco, Traditional Oaxaca Cooking Classes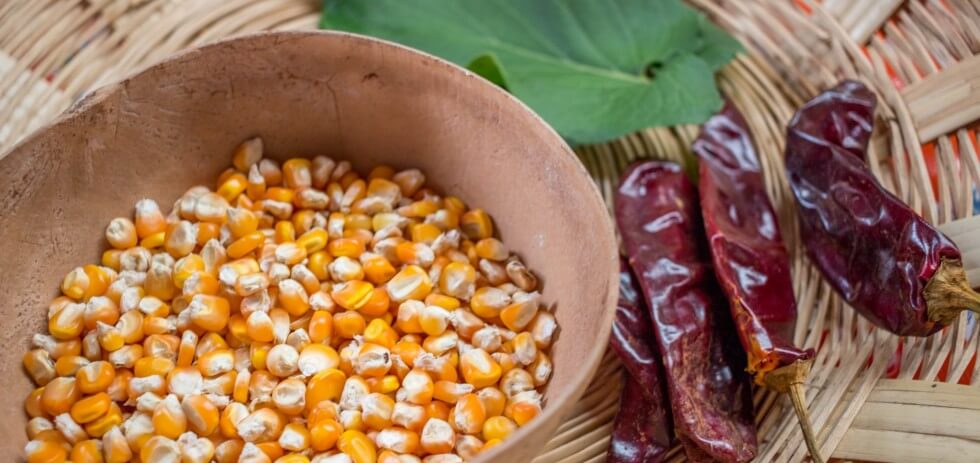 Experiencing the world through food is one of our favorite parts of travel. I was raised in San Diego, on the border of US and Mexico, and consider Mexican food, or at least the Baja California version of it, my home cuisine.
Long live the fish taco!
Before now, our travels hadn't taken us through Mexico and we usually spend a fair bit of time bemoaning the lack of black beans and tacos in every other country in the world, and try to cook Mexican food no matter where in the world our current kitchen can be found. The lady at the market in Vietnam never dreamed what we would be doing with the cilantro we bought from her when we got back to our rented apartment!
Now that we've finally made it to Mexico, cuisine has been playing an especially central role, we have been excitedly sampling the foods of every different region. It feels as though we are visiting the extended family of beloved life-long friends, noting the similarities and differences with glee.
The food of Oaxaca is largely considered to be the darling of Mexican cuisine, and to learn more about it we started researching the many Oaxaca cooking classes on offer. When we found El Sabor Zapoteco I was immediately drawn in by the fact that the class takes place in a family home outside of the city.
See, this is not my first time to the rodeo. I was lucky enough to be invited into the homes of some amazing Mexican cooks back in San Diego and I always loved how personal it felt. Sitting around a table with other women, chatting away while we all wrapped tamales, chopped vegetables or formed tortillas was almost as nice as eating the fruits of our labors. It seemed a shame to trade these experiences for anything less personal than what I was used to, so we booked Reyna's class.
Reyna's Family Home in Teotitlán del Valle
We met the taxi that was to take us the 30 or so minutes to Teotitlán del Valle at the corner of Reforma and Constitución, in front of the Jardín Etnobotánico at 8:30 am. The rest of the group was there and we all introduced ourselves before splitting up into two taxis and heading out of the city.
The village is set in the foothills of the Sierra Juarez mountains, and is usually visited by Oaxacan locals and visitors for the famous textiles and rugs that are woven there. Reyna's family makes these beautiful tapestries as well and she explained how every family comes up with their own patterns, and how the intricacy of pattern, and weight of the thread used affect how long it takes to make each rug. Her brother had been working on this piece for 8 hours a day for the past several weeks and was just halfway done.
Teotitlán del Valle is a purely Zapotec village, a culture that stretches back over 2,500 years. Walking around the village it feels as though the line from B.C.E to present has run continuously with the Zapotecs holding firmly to their own identity and resisting Spanish influence.
"Many people in the village only speak Zapotec" Reyna explained to us, after the 5th or 6th time she had slipped into the language when talking to one of her family in the outdoor garden kitchen.
We all trailed around behind her, enjoying the serene lovely garden and kitchen that incongruously contained a modern stove, and vita-mix blender just steps away from a grinding stone (metate), a stone hand roller (mano), and a fireproof flat skillet (comal) sitting atop a wood fire.
The mix of traditional and modern in the kitchen seemed a good representation of Reyna herself, who at an early age began helping her mother by grinding ingredients on the metate, and toasting chillis on the comal and then went on to manage restaurants in Oaxaca and collaborate with well-known chefs such as Roberto Santibañez and Top Chef Master Rick Bayless. She also took part in the International Gastronomy Congress in Mexico City, before coming full circle, returning to her family's home to teach students from all over the world how to prepare Zapotecan cuisine.
The Market Tour
As all the best cooking classes do, this one started out with a visit to the market to pick out the ingredients we would be using for that day's meal.
On the walk to the market with our baskets just begging to be filled Reyna taught us to say Hello (Zac xtili), and Thank You (Xtiuzu'u) in Zapotec so that we wouldn't be completely useless in the large market. Zapotec is a tonal language, and as what often happens when Tom and I are faced with trying to re-create the subtle tone and cadence shifts that these languages require, we were still pretty useless. But we smiled a lot and nodded and tried saying good morning and thank you as much as possible, but were probably saying something inane like "nighttime yellow box."
The market is full of vendors selling everything a Zapotec cook needs, from fresh produce and corn, to dried small fish and beans, freshly prepared cheeses, and breads. Aside from raw ingredients there were also bouquets of Molinillos for making chocolate drinks frothy, and stacks of molcajetes for grinding ingredients together, and little bundles of twigs for brushing things around while they toast on the comal.
We progressed through the market like little baby ducks in Reyna's wake, each of our baskets getting a little more full with the ingredients for that day's meal.
Finally it was time to return to the courtyard, wash our hands and don some seriously fabulous aprons.
Cooking
When we arrived back we separated the wares from our baskets into piles according to which dish they would be used for.
Reyna made us all a cup of frothy hot chocolate con agua for everyone to leisurely enjoy together with some of the Mexican pastries from the market before we all got down to business.
The class reminded me very much of being taught to cook back in San Diego. Another reminder that most traditional Mexican cooking is labor intensive and time-consuming, but is all done communally so that it feels more like keeping your hands busy while leisurely whiling away the hours chatting with good friends than it does laborious.
This is not the type of cooking class done at your your own personal cooking station. Everyone there had a hand in all of the meals, working together on different parts of the process to create this beautiful menu.
MENU
Bean Tamales
I consider myself quite knowledgeable about tamales, they are one of the first dishes I was taught to make by one of my co-workers and I used to make them often. Back in the days when had things that didn't fit in carry-on sized luggage, I was a proud owner of a 30 gallon tamale steamer. These tamales changed everything I thought I knew about the steamed little bundles of joy! They are made with NO FAT. No lard, no Crisco, no butter, nada. It is also a tortilla shaped piece of masa that is used instead of a thicker layer of masa. We spread our "tortillas" with cooked black beans that were ground into a paste with some chiles and other spices, topped them with an avocado leaf and then wrapped them in corn husk. They took significantly less time than the tamales I am used to, and were exquisite!
Chile Pasilla Oaxaqueno salsa
Smoky, spicy and slightly fruity this salsa made everything we were eating way better. The 3 bowls of it that were spread across the table were passed around so often I thought that maybe we should have just each had our own! Luckily the bowls were deep and the passing done frequently so we all got to douse our dishes in this smoky salsa to our heart's content.
Ensalada nopales with avocado adrezco
Oh my god I could write a whole post about this avocado dressing. It literally changed our lives. When we have a kitchen we eat a big salad at least once a day, sometimes twice, a day and were quite fond of our own mixture of olive oil, apple cider vinegar, garlic and salt that we dressed it with. This dressing has since been replaced with the one we learned here. There are no words for how delicious and satisfying it is with only a few ingredients! Avocado, cilantro, apple cider vinegar, lime and salt combine to make a perfect dressing for any salad. In the class we used it to dress a salad of nopalitos or little cubed pieces of cactus.
I love nopales, though I know many people find it's mucousy texture off-putting. The snottiness in this salad was basically non-existent as it was mixed with cubed tomato, onion and jicama, then tossed with the fabulous dressing and served adorably in little barquitos of corn husk.
Zegueza
Zegueza is a dish of boiled chicken served in a sauce of guajillo chiles, corn, tomatoes, and onions. Its crunch and body is created from the corn kernels that we had roasted on the comal and then coarsely ground with the metate.
Raspberries ice cream
Though not a traditional Zapotec or Mexican desert, this ice cream made with goat's milk caramel (cajeta) was fantastic. I am normally not a huge fan of ice cream, I only tried gelato once in Italy, since everyone said I had to, and I gave it to Tom halfway through. But this time not only did I finish all of mine but I eyed Tom's hungrily until he took pity on me and let me finish his. I think that it was the "goaty" flavor that made me like it so much. It was a little sour like frozen yogurt, or goat cheese, instead of the overwhelming sweetness of cow's milk ice cream.
All in All
At the end of our preparations we sat down to the beautifully laid table and toasted each other with a shot of Mezcal and a chili dipped orange slice, fast friends after spending the morning working towards a common goal.
We enjoyed learning to make everything the traditional way, but were happy to see that the the recipes Reyna gave us to take with us all used equipment we were likely to find at home, replacing the comal with a griddle, or the metate with a blender.
The entire day felt very leisurely and relaxing, and we loved spending the day in the beautiful and serene village with Reyna's welcoming family far away from the busy city.
Do you want to do it too?
The class cost $75 USD per person, and they are limited to a maximum of 8 students. The price includes transportation to and from the Jardín Etnobotánico de Oaxaca (Ethnobotanic Garden), which is centrally located in downtown Oaxaca. Pick up is at 8:30 a.m. and we were dropped back at the garden around 3:00 p.m. I believe that Reyna also occasionally hosts all Vegetarian classes upon request.
You can reserve your Oaxaca cooking class on the El Sabor Zapoteco website or you can e-mail Reyna at [email protected]
Thank you Reyna for hosting our cooking class in your beautiful home.