Our Favorite Kuala Lumpur Things To Do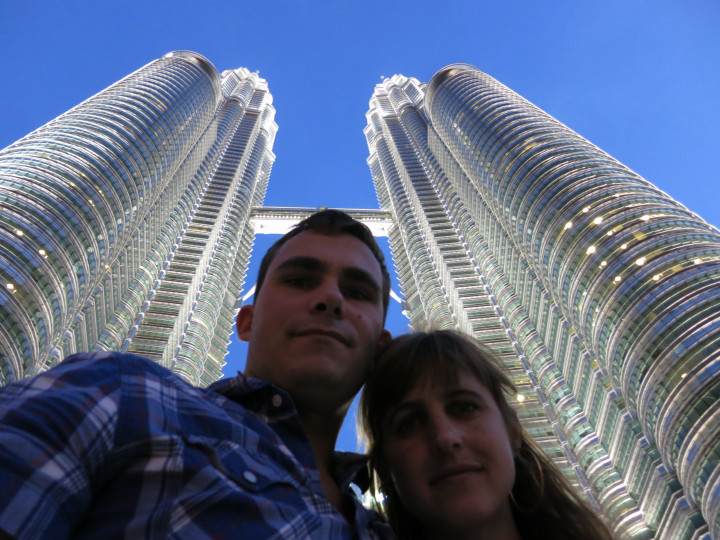 We rang in 2014 about halfway through our month-long housesit on the outskirts of Kuala Lumpur, or KL as all the cool kids call it.
Most of the things we read about Kuala Lumpur waxed poetic about the shopping and food experiences to be had. We aren't big shoppers, and due to our limited luggage space if we buy something we usually leave something behind to compensate. Needless to say we figured we would be giving most of the shopping malls a pass. Though we did go to one mall on Christmas just to get our fill of garish decorations and Christmas music. Since about 62% of Malaysians practice Islam, 20% practice Buddhism and 7% practice Hindu we sort of forgot about all that Christmas Jazz until entering the mall and being assaulted with light up flashing Christmas cheer in all of it's plastic wonder.
Food is the other thing we knew KL is famous for and that is something that we always have more room for! Our first couple of weeks we dove in and just pointed at and tried various things. Most of the places we went to are what they call Hawker stalls. Kind of like open air food courts, sort of a halfway between street food and a restaurant. Anyway most of the hawker stalls we went to either didn't have menus, or had menus that we were under-equipped to read, which is where the pointing came in. Most of the foods we saw seemed to be slow-cooked combinations of things served with rice or roti (more about roti later). There was one stand near our house that always had a line of about 20 people, no matter the weather or time of day. We figured we had to get whatever it was and stood in line ourselves for 20 minutes in a rainstorm. It turned out to be rojak; an array of deep fried tofu and bread covered with a sweetish peanut sauce, a hard-boiled egg and grated zucchini.
To be honest we were rather underwhelmed with the food after all the hype. I am a little afraid to even write that. We expressed our under-whelmedness with the food to another traveller we met and I got the distinct impression that he immediately started viewing us as uncultured, boorish Americans who didn't even recognize fine cuisine when it was presented to us. Basically I felt like we were the swine in the famous "pearls before swine" saying. Anyway, I digress. We signed up for a walking street food tour of Kuala Lumpur to see if maybe we were just trying the wrong things, or at the wrong places.
The food tour was done through Food Tours Malaysia and fair warning, it is more food than any one person could, or even should eat in a day. Or two days. But that was definitely what we signed up for, I wanted to try everything I could and was ready to fall in love with it all. I could give you the blow by blow but instead I will just say this. We definitely like some Malaysian food. It is in both of our "top 10s" but we don't imagine it will be there long. We have not been to Vietnam yet and I am pretty sure our trip there will knock it down to number 11. We found it to be "fine" and sometimes delicious but we fell in like rather than in love. For me this is mostly due to the prevalence of deep-fried foods in the diet. About 60% of what we had on the food tour was deep fried, and many of the other things we saw were as well. Unfortunately for me, deep fried food hurts my tummy like no other and I have developed a pretty deeply rooted taste aversion due to the pain I associate with that flavor. Tom does not mind deep-fried but, he has an aversion to most things slow cooked because he like to see his food prepared freshly in front of him and prefers flavors to be separate and next to each other rather than all cooked together for hours. I actually really enjoy the slow-cooked flavor explosions, but between the two of us we really weren't coming from the best place to be big fans of Malaysian food. There is no help for it, we are swine being tossed deep-fried and slow cooked pearls.
There is one food that I fell head over heels in love with, or rather that bore an uncanny resemblance to a food already close to my heart. Roti canai is a type of Indian-influenced flatbread and is crazily similar to San Diego style flour tortillas found at taco shops. Tortillas that are not only stretchy like a roti but are practically see-through, and bonded with lard instead of the massive amounts of ghee that make the roti so wonderful. When I was vegan they always swore that the tortillas were made with vegetable oil, and I believed them because I wanted to. But they are so, so, not. Lard all the way, and almost terrifying in their deliciousness. Roti are actually even better than my childhood treat, they are like the luscious San Diego tortilla with the volume turned way up. And they come with a lovely dal to dip them in. Mmmmmm. The roti are un-pictured as I always ate them up too quickly to even snap a photo.
Other than our food adventures and misadventures we saw a few of the main sites surrounding KL. The firefly park about an hour away is home to the synchronous firefly phenomena. We heard about this years ago and had been keen to see it ever since. The short lazy little boat ride down a river on a dark moonless night did not disappoint. Every bush was covered in fireflies and each bush had it's own rhythm of synchronously blinking bugs doing an impersonation of Christmas trees. We don't have any pictures so you will have to take our word for it.
The Batu caves are a series of caves in a limestone cliff that have been used as a Hindu temple for over 100 years. It is one of the most popular Hindu shrines outside of India. The natural beauty of the caves has been embellished with different statues and ornate shrines. The entire complex is basically ruled by the macaque monkeys that gambol around the place apparently stealing food and other objects from unwary visitors. We didn't have anything snatched from us, but I have a healthy and fearful respect for monkeys and so tried to stay as far away from them as possible.

Also I tried out for the Batu caves quidditch team. Didn't make the cut.