House Sitting Around The World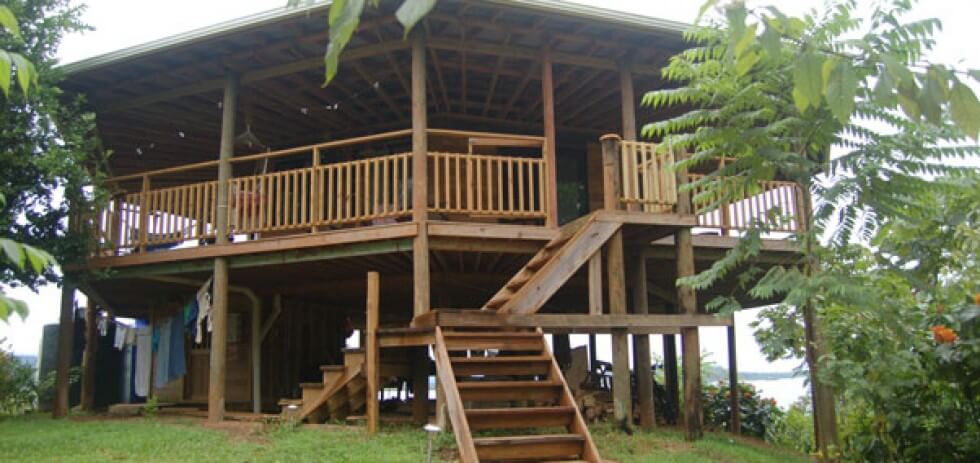 Tom and I are currently in a suburb of Kuala Lumpur, Malaysia at our 6th house sitting gig. House sitting is one of the things we do that people seem to be the most fascinated by, so I figured we are long overdue for a post about it.
We were first introduced to the concept of house sitting before we sold it all and left in 2011. I was scouring the Internet trying to find information about how people were managing to travel full-time. Tom and I had decided to enter our first retirement at the tender ages of 27 and 30 and were pretty nervous, as we didn't personally know anyone who had ever done it before.We knew that other people were out there traveling full time, so it had to be possible. We imagined if we just grasped onto one another's hands and jumped, well we would find out that the deep end is not so deep after all.
I knew of the concept of house sitting of course. I had housesat for several friends, or friends of the family at that point. I had never lived alone and didn't mind leaving my 4 or so housemates behind to camp out at someone else's house for a week or two; feeding their cats or walking their dogs. Truthfully these experiences usually were wonderful reminders that I am not built for living alone.  I would return home excited to spend time with my roommates instead of exasperated with the unavoidable dishes and bathroom issues that arise.
I digress. We read about this concept of housesitting for total strangers on a travel blog and were fascinated by the idea.
But how do they know we aren't crazy?
But how do we know they aren't crazy?
We weren't 100% sure about the idea, but once we were traveling full-time ourselves I bookmarked a couple of house-sitting websites and checked them daily to see if anything came up that we may want to apply for. There are tons of sites out there but Trusted HouseSitters has the most jobs and the best interface. I have also gotten jobs through House Carers.
Sign up for Trusted HouseSitters Using this Link and get 2 months free!
And then it happened. One day (in Peru) while perusing (pun totally intended) the latest house-sitting ads I saw a post for a 3 month house sit in Bocas del Toro, Panama.
A little back-story on Bocas:
Tom and I went on a three-week trip together to Costa Rica and Panama about 6 months after we had met.
As Mark Twain wrote "I have found out there ain't no surer way to find out whether you like people or hate them than to travel with them." ~ Mark Twain
True that Mr. Twain. Needless to say we discovered that we liked each other, and liked traveling together, quite a bit. We spent the last week of that trip in Bocas Del Toro, an archipelago of islands on the border of Costa Rica and Panama. Not only did we fall head over heels in love with each other there, but we fell almost as hard for Bocas. Bocas was basically the bomb.
So when I saw the ad for a Bocas housesit in an off-the-grid, boat-in, stilts-house in the jungle I knew we were a perfect fit. Now I just had to convince the owner of the house of what I already knew so fervently. She was suitably impressed with Tom's background of living on a boat and dealing with solar and water catchment systems before, as well as with our Spanish skills and quest for adventures. After contacting some of our references and having a lengthy back and forth discussion it was on. We had applied for and accepted our first housesitting position.
Originally we thought house sitting would be a great way to save money, and thus extend the time we were able to travel. This was back before our own online business (TouchAutism.com) started covering our expenses and the name of our blog actually described how long we had to travel.
How quickly into that first housesit we discovered how much saving money on accommodation is just the tip of the iceberg!
As it turns out housesitting has been the most wonderful combination of having our cake and eating it too that we have ever discovered! This may be hard to believe, but we are essentially homebodies. We love experiencing new places, foods and people but even more we love our little day-to-day routines. We are more the type of traveler who likes to go to a place and settle down there, getting to know the local grocers, or neighbors, and generally becoming familiar with an area before moving on to somewhere else. We are secret nesters. We just build a lot of nests. All over the world.
House-sitting has allowed us to continue our quest for exploring the world, while also getting to be true home-bodies. We even have gotten the opportunity to decorate for the holidays and pass out candy to trick-or-treaters on Halloween, just a few of the little things you miss if you are forever traveling.
It's not just the old and familiar that you sometimes miss when you've chosen a nomadic lifestyle. Sometimes we learn about a new thing that full-time travelers just can't experience. For example, Tom once read a Lifehacker post about how to carve a bottle opener into a house key and was pretty bummed about not owning a key. We recently read an online article about iPad apps for cats, and thought "that's hilarious, what we wouldn't give for a cat to download apps for!" At moments like this, we may even be tempted to give up life on the road. Our kingdom for the pleasure of watching a cat play with an iPad! Luckily with house-sitting, we get the best of both worlds; A life of travel with the occasional month here and there to watch a cat play with an iPad to our heart's content.
If you couldn't already tell, we like pets. A lot of people do, but we like really, really, like pets. Like, a lot. Because of our life style we cannot have our own full-time pets. When we aren't pet-sitting someone else's we just end up trying to lure street animals to our sides with food so we can pet them. We give them names. We pretend they are ours. We talk about them with each other. It may be a little weird.
Other Benefits of House Sitting
Insider info One of the hardest parts about being a full-time traveler is not ever knowing most of the info that locals just take for granted. Not knowing which places to eat are just over-priced and icky, not knowing which neighborhoods are just the worst for public transit, not knowing the best way to get from point A to point B, or even how to order food in a restaurant. You do eventually pick most of this stuff up, but it's hard won. When you housesit for someone so much of that information just gets handed over to you.
The couple who we are house-sitting for now in Malaysia went above and beyond and even printed us up a whole guide of all the local restaurants and amenities and how to navigate certain things (like buying non-halal products in the shops) that we may have been unfamiliar with!
Meeting the neighbors We learned this lesson best in Bocas. Over our 3-month stay there we started real friendships with our neighbors that have lasted to this day. Gaining entrée into a small community is such a wonderful way to really appreciate a place and is near to impossible without a housesit.
Motivation to visit off the beaten path destinations We had absolutely no reason to go to Bulgaria. Especially to a tiny little town right smack in the center of the country in the middle of winter. But I saw an ad and thought, "why not? I've only seen snow a few times in my life, so it will certainly be an experience!" And it was a truly unique thing for us to experience together. We would never have ended up there on our own and it's great to have the decision of "where to, next?" taken out of your hands by a house-sit. I think Tom and I, as pretty positive people, will enjoy any old place we are. One of our favorite things about house-sitting is we know where we are going to be for a set amount of time so we can just get down to the business of enjoying ourselves without having to think about where to go.
Pets Unquestionably the best part about housesitting.  We have discovered that a large percentage of what dictates how much we enjoy a place is who we spend time with there. And spending time with pets is just about the best thing there is. We are in this unique position of sometimes spending 8 or more hours a day working on our computers while traveling. Essentially every place we stay is a home-office and we have had some of the best pet co-workers there are!
The people we have housesat for have also been some of the most wonderful we have met anywhere. I don't know if it is because we are picky about which jobs we apply for, or if it's just the nature of the beast that people who look for house and pet sitters are the coolest. Either way we have been blown away by the kindness of strangers. People who have started off as strangers anyway and have all quickly become like family.
We tend to only apply for house-sits where no money exchanges hands in either direction. We know some house sitters only take paying jobs, and that some house-owners require that sitters pay a fee. I am sure this works for some people, but for us, we just don't like the idea in either direction. I think it changes expectations on both sides. For example, if we were getting paid to housesit and accidentally over-watered, or under-watered a plant, causing it to sicken or die we would be like INSANELY stressed about it. We are already paranoid enough about doing something wrong with the plants, if we were being paid for it, it would just consume us. If we paid for a place it would not feel like a housesit to us, but rather a sub-let. As such we would expect that we would be able to leave the house for a few days to go on shorter trips and that is something that usually people do not want in a house-sitter.
Tips and tricks for landing your own house sitting gig
Have an initial e-mail with your information and brief back-story ready to go and as soon as you see a post you are interested in, apply for it! Add some specific info to the top of the e-mail about why you are interested in that position specifically. That is, why you want to go to that area at that time or something along those lines. Basically, you want to show the person who placed the ad that you are actually interested in their job specifically and you aren't just throwing out a million e-mails willy-nilly.
Have a link to your blog, website or other online thing (maybe Facebook) in your e-mail to show that you are a real person.
And finally, have references available! It's maybe the best way for home owners to assure themselves that you are, indeed, not crazy. References from past housesits are best.