New Orleans Commander's Palace 25¢ Martini Lunch Hour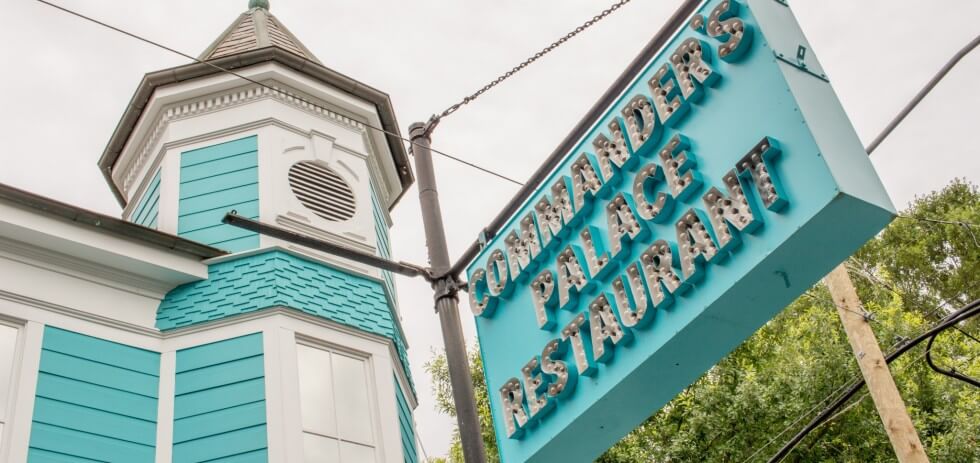 During our month-long visit to New Orleans, it seemed to be a city positively overflowing with happy hours. Every time we turned around someone wanted to sell us oysters for less than a clam, cocktails at cockamamie prices or small plates at small prices. We are always happy to take advantage of a deal and it helped us narrow down our huge list of places to eat and drink, so we were more than happy to oblige and imbibe for any special hour.
The most venerable of all happy hour specials, and truly our happiest hour at any establishment in the Big Easy was the New Orleans Commander's Palace martini lunch hour where you can have your's shaken or stirred for just 25¢ each!
Nestled in the heart of the Garden District, Commander's Palace has been touted as one of New Orleans' finest restaurants since it opened sometime between 1880 – 1890, depending on who you believe. Either way, the restaurant is very old and very popular and it is not hard to see why!
We are a little distrustful of restaurants that are long-standing establishments such as this one. I have felt in the past that places like this tend to rest on their laurels getting by on the name alone, serving sub-par food with mediocre service – not so for Commander's Palace!
We got a taste of the Southern hospitality we would be treated to at the restaurant when I called to make a reservation. A friend of ours is vegan, and though she said she was fine just having some lettuce while we enjoyed our meal I wanted to make sure she would be able to have martinis with us. The 25¢ martinis are available with the purchase of any entrée, and if she could not eat any of the entrées it would not have been quite so fun.
When I asked the lady on the phone if she would still be able to have a nice, boozy lunch with her friends I was assured, "we are so user-friendly" she gushed to me on the phone in a honeyed drawl, "our chefs can make something for everyone, and she will definitely get her martinis!" True to their word on the day we went for lunch the chef came up with not only one but three delicious vegan courses! Her gazpacho was bright and fresh, her entree was just as delicious as any of ours, and the dessert! Seriously – the cutest.
Our meals were also fabulous, Tom's steak was perfectly done and I liked the "Classic Creole Luncheon" so much that I got it both times we visited the restaurant. I shared the appetizer and dessert with Tom as he just ordered an entree and it was definitely the way to go.
As for the 25¢ Martinis, there are 4 different types to choose from (Classic, Commander's, Cosmopolitan and Ray's Melon) and the only caveats are that an entree must be purchased and it is limited to (3) per person – 'cause that's enough (according to their menu). We each had three, you know, for research and TRUE! I probably should have stopped at two, just look at those pink cheeks!
The restaurant is across the street from Lafayette Cemetery No. 1, one of the oldest (and possibly the loveliest) cemeteries in the city, and is set in the middle of the verdant garden district. So, there are a few options for places to tipsily explore afterwards, until you are sober enough to continue with your day.
Do you want to do it too?
All in all, the food is delicious and reasonably priced, the martinis are boozy and the atmosphere is lovely, bright and fun. Everyone working there seems to be committed to making sure you have a wonderful experience. Everything about the restaurant just screams fun, from the embroidered tapestry in the front to the balloons and chandeliers throughout. One dining room is covered in taxidermied birds, another has huge windows looking out over leafy green trees and others are filled with statues and glitzy wallpaper.
Guests are encouraged to go and have a peek around the restaurant and the kitchens, and everybody is in a good mood. There is a free valet service, and the cost of an entree (between $18-$29) is especially good when you consider that 75¢ gets you three martinis! It is quite popular so reservations are a must, call 504-899-8221 or book through their site here. There is a "business attire" dress code, no shorts or flip flops, but you don't need a tie and jacket either.
Lafayette Cemetery No. 1, across the street from the restaurant, closes at 3 pm and is free to enter. It is covered in ferns and wildlife and has about 1,100 family tombs and more than 7,000 people buried in a single city block. The cemetery and the neighborhood are great places to stroll post-lunch.