Sleep, Eat, Work, Do Guide to Krabi Thailand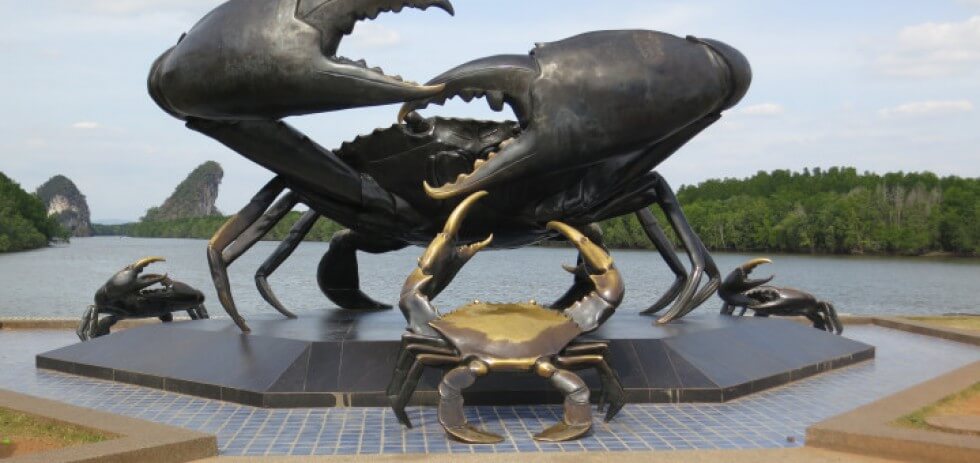 We did not give the high season in Krabi Thailand the respect it deserved. We figured we would just book one night somewhere and then walk around to pick out another place. We asked at about 20 places and maybe 17 of those were full. Nearly all the guesthouses just have signs that say FULL on their front doors. If you are going to be here in January it's worth booking something ahead of time.
Sleep
Baanto
450thb/night, double bed, fan with private cold water shower. Internet did not reach into the rooms and was painfully slow and spotty for us the one day we were there in the common area.
Krabi Loma Hotel
450thb/night, double bed, fan, private hot shower, fridge. Comes with 2 bottles of water a day. The pool is OK, not especially clean or especially dirty. Our room smelled of mold and didn't feel super clean. We never ate there but the owner was very nice. The best part about this place was that it was not full so we had somewhere to go when Baanto said we could not stay a second night there because they were (you guessed it) FULL.
@Krabi Pura
800thb/night, double bed, a/c, private hot water shower. Gave us the room for 700thb/night since we payed up front for a week with cash. Atchara (the owner) is incredibly nice and helpful. Everything was also wonderfully clean. Actually this was one of the best guesthouses I think we've ever stayed in. I would HIGHLY recommend this one. This is a picture of the view from the balcony and her very cute little backyard.
Chanchaley
Very popular and totally booked up when we asked. We had a friend who stayed there for a bit, but had to ask every morning if he could stay there another night. Sounded kind of nerve-wracking so we decided to not ask again to see if any rooms opened up.
Krabi Hotel
650 thb/night. The only room they had available had a window that looked out about 5 inches to a brick wall. It also smelled like cigarettes and they said there was only wifi in the (very uncomfortable looking) lobby. We had a friend who stayed in a room with a street facing window and said it was good enough, and they gave him a rate of 500thb/night for a monthly booking.
Grandmom Place
1,000 thb/night. On Uttarakit rd. just past the Pak-up hostel. Very cute looking blue and white place with pretty balconies. They were full so we did not look at a room but it seemed like a nice (though kind of pricey) option.
Krabi River Hotel
700 thb/night. Right over the river and feels quieter (in a good way) though it's very close to all the hustle and bustle of Krabi town. Right next to the nightly food market by the river. We would have gone with this one if we had not chosen @ Krabi Pura.
Eat
89 café
We came here quite a bit for western style breakfasts and the really nice owners. We also got some Thai food here which was very nice. The Thai food is a bit pricier here than some of the other restaurants we went to, and quite a bit more than street food. If you request it they will make you porridge (oatmeal) with coconut milk- fantastic!
Markets
Along the river every evening from about 6pm-9pm there is a night market full of street stalls. Everything I had there was fantastic. I especially like the little quail eggs over easy that you can get at all the night markets for a snack. Across the street from the market next door to the physical therapy place there is also a delicious Khanom Jeen stand. Read more about this Khanom Jeen stand and market food in our "Eating for Two in Krabi Thailand" post.
The other night market is across the street from the city hotel and also sells fresh fruit and vegetables as well as prepared food like curries and pad thai.
Morning market- Maharat Soi 9 (behind the Shell station), Maharat Rd., Mueang, Krabi. This market starts at about 3am and goes till about 10am. Lots of veggies, fruits, curry pastes and fresh meats. There are also stalls selling prepared food.
Weekend walking street night market- Krabi town at Maharat Soi 8 (behind the Vogue Department Store), Maharat Rd., Mueang, Krabi. Fri, Sat, Sun nights from 5pm-10pm. Lots of food, as well as stalls selling cocktails in bamboo (too sweet, but what do you expect from a drink with an umbrella in it) and clothes. The coconut ice cream served in a coconut with scraped coconut flesh at the bottom is kind of to die for.
And this hot and spicy mushroom soup is worth the wait. There is always a long line of locals, and each person's order is made fresh. It's best to put in your order and then come back 10 minutes later to pick it up.
* All the food in the markets is incredibly cheap and you can eat a whole lot of things for about $3/person. You can get full on half of that, but if you are like me and want to taste everything than you'll get closer to the $3 range. Tom and I split everything to be able to try more.
Viva (Italian place)
Very good pizzas, pastas, and salads. A good place to come if you are craving a nice glass of red wine with your dinner. We ordered their viva plate one night to and enjoyed the big plate of sliced meats, cheeses and olives. Their brownie cake with ice cream is fantastic.
May & Mark
This is a little café with two locations. One is on Soi 2, and the other is next to the evening market across the street from City hotel. Another good spot for western style breakfasts. They make great coffee and homemade jam to go with their nice, thick, brown, bread.
Maharat Bakery
Owned by a Dutch man at 233 Maharat Rd Soi 11, Krabi Town 81000, Thailand. A little bit of a walk, but worth it if you are craving a chicken pie, or bowl of chilli con carne. Also if they have dark chocolate merengue pie I would not pass it up!
Tawan
Under Good Dreams 2 and a couple doors down from @ Krabi Pura. Their tomato salsa was AMAZING! Tasted like super good pico de gallo salsa, or salsa fresca served on top of poached eggs. The Thai food here was also very good, especially the spicy papaya salad.
Baitoey
More expensive sit down Thai restaurant looking over the river. Lots of seafood. We had the larb, tom yum, and papaya salad. All were good enough.
Carnivore in Ao Nang
Definitely a splurge by Thai standards, but incredibly inexpensive compared to what you would pay back home. We each had a fancy Belgium beer, big entrees that came with 2 sides and dessert and the bill was about $40. Very nice ambience, we felt a little underdressed actually. It's more of a date night type of place. The steaks and burgers were really good and the beer list is incredibly impressive. BTW, that is a super yummy mustard sauce on the perfectly cooked steak in this photo.
Work
Internet was kind of shaky at the first two guesthouses we stayed in, but we think it may have been a city-wide issue that cleared up after a few days. We didn't have any problems working @ Krabi Pura, and there is a nice shared balcony with a very pretty view that we generally worked on. I think Krabi is generally a great place to work in.
Zoo Coffee across from Krabi Hotel had very decent internet and was very comfortable for working. When we did not have a great space to work at our first 2 guesthouses we came here and it made a very good coffee shop office.
Do
Yoga above The Tea Lounge
Mai teaches great classes 1-3 times a day in a airy little studio above The Tea Lounge. Here is the schedule.
Longtail to West Railey beach and Phra Nang beach
You can catch a longtail at any time of day at the pier that will drop you off at East Railay for 150thb/person. From East railay it's a little 2-minute walk to either phranang or west railay beach. Both are beautiful beaches where you can rent kayaks or just hang out and swim. On west railay there are some pricey resorts where you can get some overpriced meals. On Phranang there are a bunch of longtails on one side of the beach serving food. We brought our own snacks so can't speak for how good either are. There is a cave full of phalluses on phranang beach.
Massages
There are massage parlors everywhere and they tend to be about 300 thb for an hour-long massage.
Day trip to Ao Nang
We rented motorbikes to drive the 20-30 minutes to Ao Nang but you can also take a shared taxi there. The beach there is nice and carnivore is worth visiting if you have a yen for some protein-rich food or Belgium beers.
Tiger cave temple
It's quite a climb to the top with absolutely gorgeous views of the whole area. I would definitely suggest going in the afternoon when the sun is on the other side of the mountain. If you go in the afternoon you will be in shade for the all of the 1200 or so steps to the top. Some people say to go early before it gets too hot, but you will still be hittin' those stairs in the sun if you do! We rode a motorbike there but there is a lot of advice online of other ways to get there. Be prepared for an intense amount of monkeys. They own this temple for sure!
Hot springs and Emerald Pool
We rented a motorbike and drove out to the hot springs. It was actually pretty far to go on a bike. It took us about an hour to drive out there. The hot springs were absolutely beautiful! They cost 80thb per person for entry. The hot pools are fed by a waterfall so the water in the pools is constantly moving which feels even better than the slightly stagnant hot springs I've seen in the past. We actually didn't make it to the emerald pools as well, but it's only 7km away and according to people we have talked to it's supposed to be fantastic.
All in All
We enjoyed our stay in Krabi Town and it is a nice little bustling city to be in. You do have to leave town on a day trip for any beaches, or most of the other things to do. But for eating, working, doing some yoga and basically living every day life Krabi is a great and super friendly city. It is also surrounded by a lot of day trip options such as snorkel boats and dive trips.