Thai Farm Cooking School – Chiang Mai, Thailand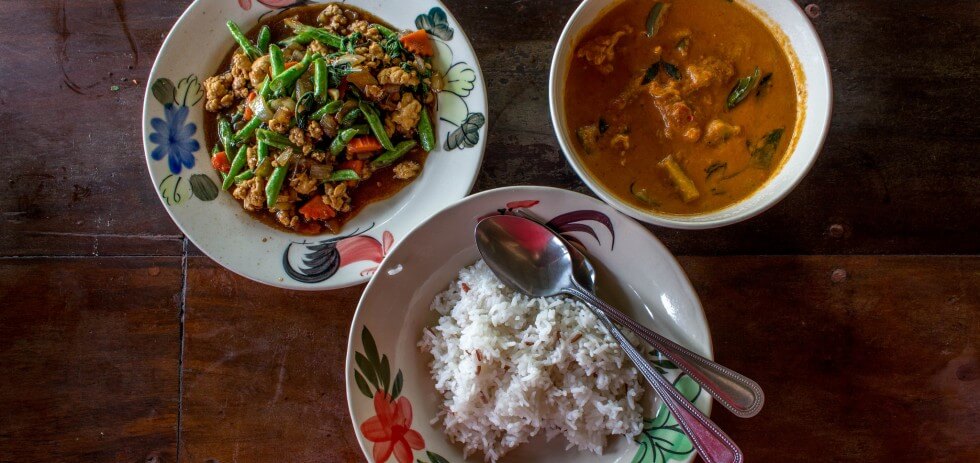 We love experiencing the world through food in all of our travels, but the cuisine plays an especially central role for us when we are in Thailand. Thai food is some of the best in the world, and we just love how nearly every dish is made quickly with fresh and healthy ingredients with lots of spice and fish sauce thrown in for good measure! To learn more about one of our favorite cuisines we signed up for a class with the Thai Farm Cooking School in Chiang Mai.
We had some friends visiting us in Chiang Mai and wanted them to experience a cooking class since it is one of our favorite travel activities. One of our visitors is vegan and The Thai Farm Cooking School is one of the most vegan and vegetarian-friendly Thai cooking classes in Chaing Mai, that, and the fact that the class takes place on an organic farm outside of the city made it our top choice.
The Market Tour
We were picked up at our guesthouse in the morning and started our day by exploring the Ruamchook market where vendors sell everything a Thai cook needs, from fresh produce to rice, to freshly prepared coconut milk, meat, fish, fried insects and some dry goods.
Our teacher for the day gave us a quick tutorial on different local ingredients and how fresh coconut milk is made and then let us spend a little time on our own exploring the market, though she was easy to find if we had any questions. The produce was absolutely beautiful and we wandered around marveling at the piles of banana flowers, mushrooms and exotic fruits as well as many different types of rice.
The machine spewing out fresh coconut milk may have been one of the most impressive things we saw that day. It is basically an industrial sized juicer that shreds the coconut on one end and smashes it on the other end, the whole time pouring out fresh coconut milk by the gallon.
The best cooking classes include market visits and we loved learning about the ingredients that would go into the meal we'd be making.
The Farm
Once we reached the farm, we sat down to some refreshing cold lemongrass tea and then donned our straw hats and aprons to tour the grounds and learn even more about the ingredients we'd be using. The farm is a beautiful and tranquil place with all kinds of vegetables and herbs growing amidst views of the surrounding mountains. We filled a basket with different ingredients that we picked, smelled and tasted raw including holy basil, kaffir lime, bitter eggplant and some fruits.
Cooking
After our leisurely morning, it was time to get down to business. The class itself took place in a large, airy building where we each had our own individual cooking station and ingredients to create our meals. The menu for the day was five courses and we each got to pick between several options for each course. That means that you could do a whole week of classes here and eat a different meal each time! At the beginning of the class, you choose the which option you want from each course and let the teacher know about any dietary restrictions.
1st-course options: Green Curry, Red Curry, Yellow Curry
2nd-course options: Tom Yam, Tom Kaa, Thai vegetable soup
3rd-course options: Chicken stir fry with cashew nuts, sweet and sour stir fry, chicken and basil stir fry.
4th-course options: Spring rolls, Pad Thai, Pad See Ew
5th-course options: Bananas in coconut milk, mango with sticky rice, pumpkin in coconut milk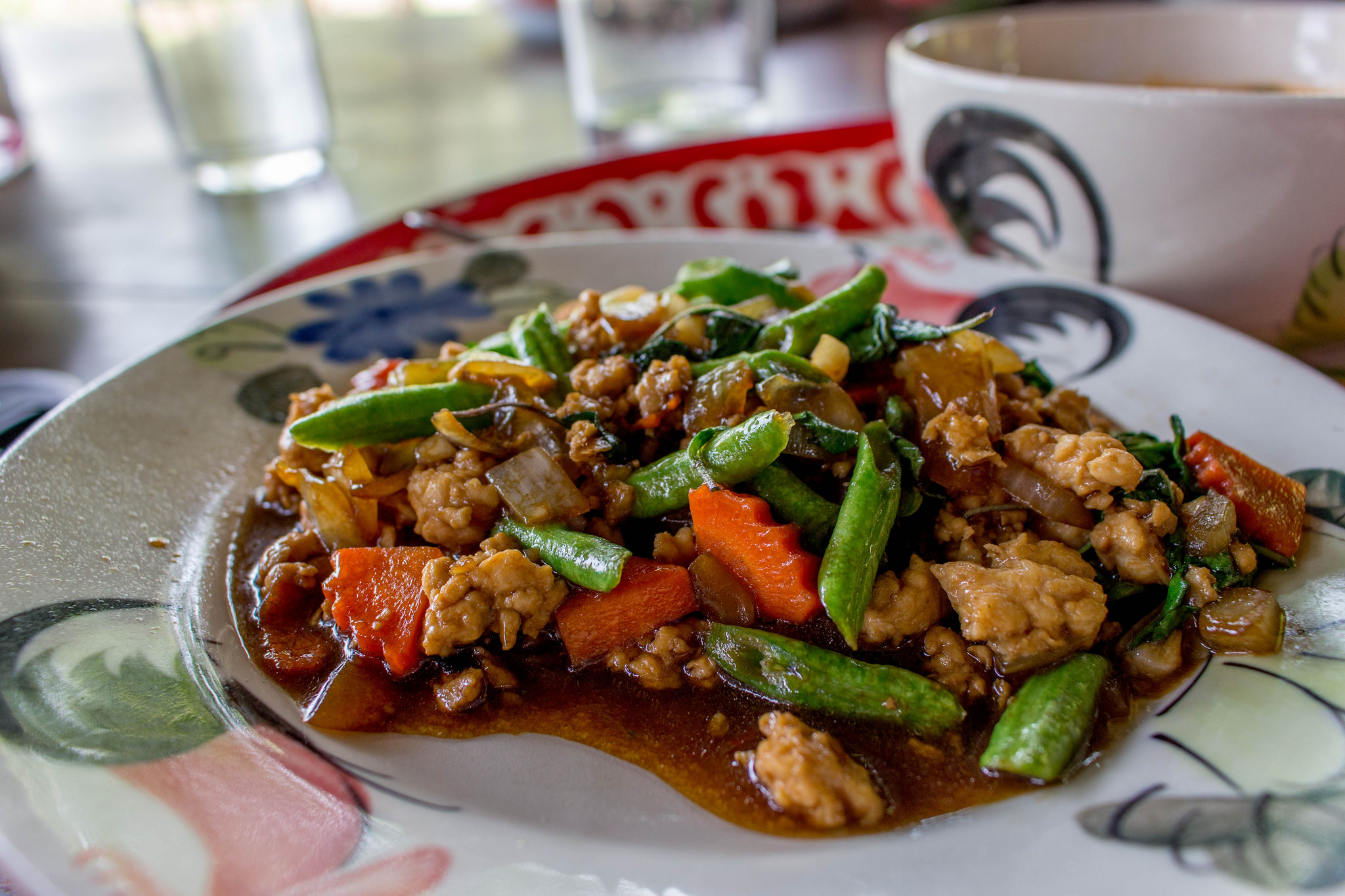 We prepared 3 of the day's dishes in the morning, beginning with pounding fresh ingredients together in a mortar to create curry paste from scratch, and then prepared two of the dishes in the afternoon after we ate a leisurely lunch. Lunch was accompanied with som tam papaya salad that the teacher made in front of us while we allowed our soup to cool.
All in All
We loved how every student had their own station, ingredients, and tools. It is also refreshing to be in a country that will give you free reign with very sharp knives without having you sign a pile of waivers and other paperwork.
You are completely in charge of your meal and get to see the ingredients growing on the farm or being sold at the market all the way to how they end up on your plate. The teachers at the school are incredibly accommodating and made sure that our vegan friend knew how to modify any recipes and made sure they didn't accidentally give her anything with shrimp or fish sauce.
Thai cuisine lends itself to this great cooking class structure because almost all dishes can be cooked quickly and simply into small, one-person portions. This makes it entirely feasible to spend a morning making five dishes for yourself. It is not as equally possible to eat all five dishes in that amount of time, but luckily the teacher was prepared with take-out containers, and helped us bag up the extras to take with us. The four of us feasted on our leftovers for dinner that night.
It was a fantastic day and felt very relaxing and leisurely. We loved the market visit and spending the day on the beautiful and serene farm far away from the busy city.
Do you want to do it too?
Thai Farm Cooking School classes cost 1300 THB per person and run from 8:30am to 4:30pm. This includes pick-up and drop-off at your accommodation, the market visit, and all ingredients, instruction, drinking water and tea. When you think about how that also ends up including your dinner – it's a fantastic deal! The class also comes with a cookbook of recipes from the school, so you can practice your new found talents at home. Reservations can be made directly through the Thai Farm Cooking School Website.
Do you want to do it too, but aren't going to Thailand anytime soon? Here is a recipe to re-create at home. Som Tam, or spicy salad, is one of my favorite Thai dishes and one of the easiest to prepare all over the world as it does not use tools or ingredients that are hard to find outside of Asia. We did not actually make Som Tam in the class, but the instructor makes a big one so that we can all eat it as a side with our other dishes at lunch. Because, you know, five dishes aren't enough. Som Tam is a wonderfully crunchy, refreshing, cold salad that can be made with almost any raw vegetable and as spicy or as not spicy as you like. Here is the recipe, if you want my advice; make it spicy, it's delish!
Som Tam Papaya* Salad Recipe
* Green Papaya can be replaced with cucumber, cabbage, carrot, jicama or even apple cut into matchstick sized pieces or grated.
1 cup shredded green (unripe) papaya*.
1-2 hot Thai chilies (depending on your spicy threshold)
2-3 peeled cloves of garlic
1 Tbsp. lemon juice
2 Tsp sugar
1/3 cup chopped long beans or green beans
1 medium tomato cut into 6 pieces
2 Tbsp. peanuts
1 Tbsp fish sauce or soy sauce
1/4 Tsp salt
Put garlic, long beans or green beans and chilies into a mortar and mash with a pestle until crushed into pieces. If you do not have a mortar and pestle use a good processor, blender or simply mince all three ingredients together until they are in small pieces and thoroughly mixed.
Add lemon juice, sugar, fish (or soy) sauce, tomato and salt and mix together.
Add papaya or papaya substitute and toss with two spoons.
Serve cold
Thanks to The Thai Farm Cooking School for hosting our cooking class in Chiang Mai.