Eat Hanoi, Vietnam – One Day, Two Nights, Lots of Food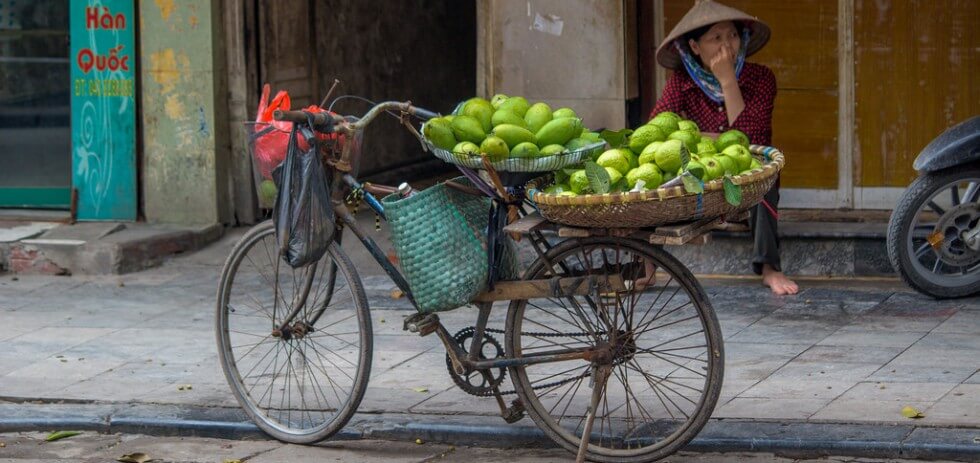 Hanoi was our last stop in Vietnam, the only city in the North that we were visiting and sadly, we only had one full day to appreciate it. We were anticipating how much we were going to miss the wonderful, wonderful, food of Vietnam so I came to Hanoi armed with a list of things to eat rather than sights to see. Our mission was "Eat Hanoi" though we did manage to squeeze in a water puppet show between meals. A show that was fun to watch, despite somehow missing the english programs that everyone else had explaining what was going on. It was confusing, but fun.
Enough about puppets! Here is a run down of our gastronomic adventures in Hanoi.
Bun Cha @ Bun Cha Dac Kim Hang Manh
(Address: 67 Duong Thanh St.)
Bun cha is a salad type of concoction that is a mix of cold rice noodles, pork patties, herbs and a light sauce. I had eaten bun all through the Southern part of Vietnam, but had heard that Hanoi is the birthplace of this refreshing salad, and that it is quite different from the bun cha found in the rest of the country.
When I sat down and saw the condiments for our meal I knew it was for me. I would like all my meals served with a huge bowl of raw garlic and crazy hot peppers, and a mountain of fresh aromatic herbs, please.
The southern variety is usually served all in one bowl and I loved that I got to pick my own portions of everything as I always want about half as many noodles and twice as many greens as i'm given. I also loved the little pork hamburger patties. But I missed the crunch and vinegar of the grated, pickled daikon, carrot and cucumber and the smattering of peanuts you find in the Southern bun cha. All in all it was delish and at $2.80 a person – an absolutely bonkers good deal.
Cha Ca @ Cha Ca Thang Long
(Address: 31 Duong Thanh St.)
While Bun Cha is a fireworks display of flavors, ca cha is a symphony of textures. The warm, silky white fish, with the cold, slippery rice noodles mingling with the almost woody texture of the herbs, and crunchiness of the peanuts, all melting together in the fish sauce and chili juice. Obviously it is quie flavorful as well; the fish is marinated in turmeric and galangal ginger before being cooked with THE MOST DILL I HAVE EVER SEEN. But the flavors are so much subtler than many Vietnamese dishes. The fish sauce is barely sprinkled on and it's really the texture combinations that overpower you while you explore all the flavors. Absolutely lovely and we loved this no-nonsense restaurant. The only thing you can order is Ca Cha. The only question is; one order or two?
Pho @ Some random stand on a corner with doll-sized plastic furniture.
(Address: Literally every street corner)
Northern pho is also quite different from it's Southern counterpart. There are positives and negatives to this. The major down-side is that there are no bean sprouts or basil, or any veggies at all on the side! But on the up-side the broth is delightfully salty and there are way better liquid condiments. Lip burning chiles soaking in vinegar and a really yummy, umami, salty, fish broth.
Chili Lemongrass Chicken, Short Ribs & Claypot Eggplant @ New Day
(Address: 72 Ma May St.)
One of my favorite things about Vietnam is that if you order "Chicken with Chili and Lemongrass" you get chicken just swimming in a mountain of sliced up aromatic stalks of lemongrass and spicy, spicy chilies. There is no "essence of lemongrass" or "sprinkles of chili oil" it's a lemongrass, chili explosion!
Ditto for the Short Ribs, either bathed in a spicy chili sauce or so covered in garlic and chilies they were basically "breaded" in garlic.

The Aubergine in Claypot was the stand-out of the meal for me. It may have been my favorite by default because it was the only vegetable dish we ordered. The eggplant is slow cooked in the clay pot and there is absolutely no bitterness, just soft, hot and slightly smoky tasting perfection.
Egg Coffee @ The Secret Cafe
(Instructions on finding the cafe following the egg coffee photo)
So I heard another traveler talking about how they thought egg coffee was gross because they didn't drink their coffee sweetened. Well you know what? Random traveler I eavesdropped on? You're gross. Egg coffee is one of the best things I have ever had and I drink my coffee black too.
That said, egg coffee is a DESSERT. I really don't think anyone in the world wakes up and has a few cups of egg coffee to start their day just as people don't have tiramisu to get their caffeine fix. But if you do, hey – no judgement. Saying that you don't like egg coffee because you don't drink your coffee sweetened is like saying you don't like coffee ice cream because you don't drink your coffee sweetened. If you just don't like coffee flavored desserts, or desserts at all, fair enough. But you are missing out. OK, so what is egg coffee? It's like a warm, sticky, coffee merengue or marshmallow in a cup. It is egg whites that have been whipped until they have stiff peaks folded into sweetened black Vietnamese coffee. It is incredibly rich, deliciously decadent, warm gooey-ness served with a spoon. Can you tell I was a fan?
Part of the reason I may have loved this soul-warming cup of perfection so much may be due to the ambiance of where we had it. This Secret Cafe has been open for over 70 years and is on the Northern side of Hoan Kiem Lake. Here are ridiculously easy step by step instructions to finding it:
1. Go the the backpack store at 13 Dinh Tien Hoang.
2. Walk straight through the shop and down the motorbike lined hallway.
3. Walk up the dark stairs on your right and then find yourself in a smoky little cafe full of locals drinking coffee and doing what people do in cafes all over the world. Looking at their iPhones. If you are lucky enough to get a little plastic stool on the teeny balcony you get a nice view of the lake and the street below.

Bia Hoi @ places just down the street from Bia Hoi Corner.
Bia Hoi, or fresh beer, may be the holy grail of travelers. Despite how many claims we have heard of "beers on the beach for less than a quarter", Vietnam is the only place in the world we have found that to be true. We had heard quite a bit about "Bia Hoi Corner" which is at the junction of Luong Ngoc Quyen, Ta Hien and Dinh Liet and supposedly was covered in places with 5.000VND glasses of fresh beer. We found the corner and took a seat at one of the many places only to be told that Bia Hoi was 10.000 a glass, and then 12.000 a glass at the next place we tried. Hmmm. This didn't seem right. We walked down a block and discovered that the rents must be higher on the actual corner, because all the places around it were plastered in "Bia Hoi 5.000" signs. Well the cheap beer was found. And it was cold. And Tom was a happy man.

The best way to end a day and really a month, full of over-eating is by knocking back a couple glasses of incredibly cheap beer on a hot and steamy sidewalk; watching the city go by.