The Secret Terra Cotta Garden of Chiang Mai, Thailand – In Photos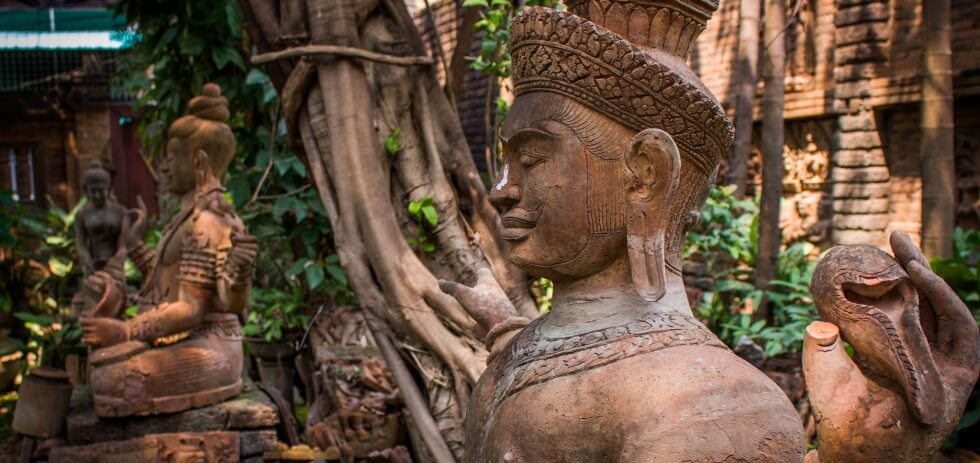 The Baan Phor Liang Meun garden, also called the Terra Cotta Garden of Chiang Mai, is not technically a secret, but it feels so magical and mysterious that it's nice to believe it is. Everything about exploring the cool, shady, empty, walled garden in the middle of the city screams children's fantasy novel. It's easy to believe that time and the entire outside world stops and holds it's breath during your visit.
The garden is an artful jumble of seemingly forgotten moss covered clay statues and tiles. It is preternaturally cool and quiet, even though the hot bustling city lies waiting right outside of it's gates.
I believe the garden is actually a showroom that is attached to the teak house across the way, and that most of what you see inside is for sale. Though everything appears ancient and overgrown, moss just grows quickly in the tropics.
But why ruin it? I'd rather believe that on a blisteringly bright and hot day this oasis appeared to cocoon us in it's shade when we needed it most. The gates opened and allowed us to stumble in and slowly amble around the ancient garden that exists outside of time. After a dream-like exploration, which may have been years or perhaps just about half an hour, we emerged. Refreshed, rejuvenated and ready once again for the craziness that was the Songkran water fight of that day in Chiang Mai.
Here is a map if you'd like to discover this secret garden for yourself. As all magic things should be; entry is free.