Elephant Nature Park Chiang Mai, Thailand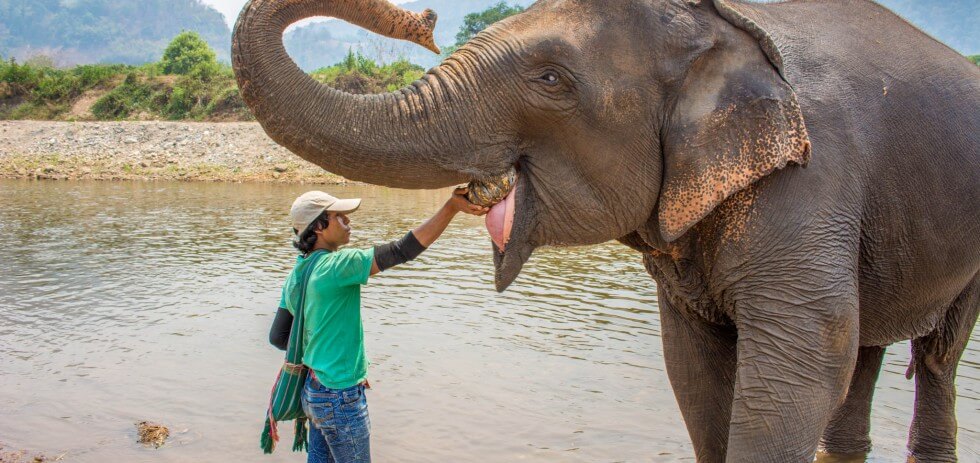 When Tom and I visited Thailand for the first time a few years ago, we were super excited to interact with some of the large and magnificent animals that SE Asia is famous for. For years, I had heard stories about people riding elephants and cuddling with full-grown tigers. In the stories, I had heard these animals had been raised by monks, or just kindly Buddhists and had a trusting and cuddly nature due to being treated so well by humans.
After arriving in Chiang Mai and doing some research we found out the truth about these cruel animal parks. Animals are drugged, chained and mistreated. They are forced to interact with tourists posing for pictures and giving rides to avoid more pain and punishment. Or they are languishing about in wild animal drug dens, too out of it to act like the powerful beasts that they are.
Luckily, we discovered that there is a way to interact with elephants without supporting this cruel industry and we wrote our review of the Elephant Nature Park Chiang Mai here after that first wonderful visit.
We enjoyed it so much that we knew we had to visit the park again, and this time we brought friends who were visiting us on their first full day in Thailand. Getting a chance to bathe, feed, and simply to lean against elephants is a thrill for anyone and a wonderful welcome to the country.
But bringing a vegan friend to a sanctuary that works so hard to improve the lives of elephants, as well as other rescue animals in Thailand and that only serves vegan food because "it's humans eat like it's elephants" is definitely a "hole in one" type of activity! The day at the park includes a delicious vegan lunch, getting the opportunity to care for and learn about Thai elephants, as well as transport out to the ENP.
See friends, we are fun and take you to do fun things that align with your interests. Everyone should come visit us!
On the park's website, it tells visitors to bring a swimsuit to wear when washing the elephants. This includes a shirt for the men and a shirt and shorts for the ladies. Going in the river in just a swimsuit is not allowed, all visitors are asked to dress modestly.
The park is a rescue and rehabilitation center and as such does not have a breeding program, it is not like Sea World or a circus that tries to have more and more animals to put on display. The park is also not for profit and all of the proceeds go towards rescuing and caring for more animals.
A visit to the park is also a great remedy for depression caused by watching the viral photos of Raju the elephant crying after 50 years of captivity. There is no better cure than watching elephants play and frolic in the mud and water and snatch up fruits and veggies by the trunk full as if they were a pile of skittles.
If you love animals, or just want to interact with elephants without supporting the unethical treatment of them, than The Elephant Nature Park is definitely worth a visit, or two!