Ubud Bali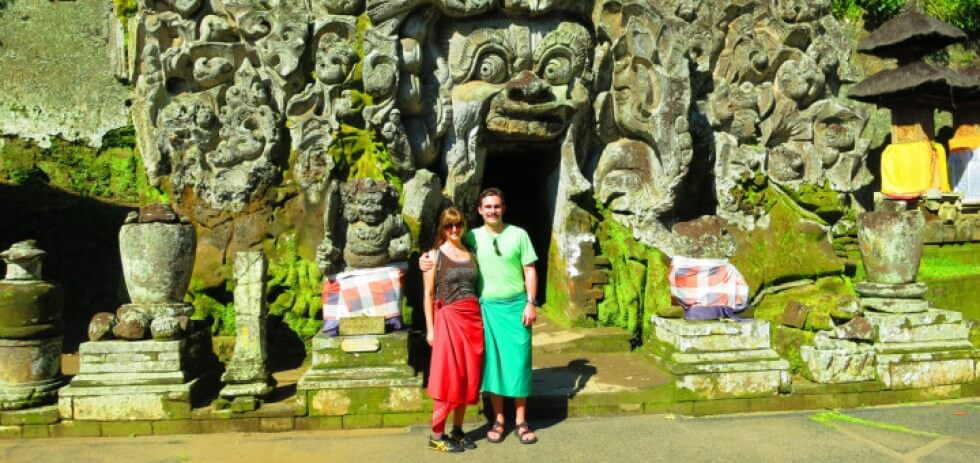 We need some impartial opinions.
It's hard to say if Ubud Bali is really quite as lovely as we think, or if we were just viewing everything through the rose-tinted glasses handed out for free at the peak of our new engagement high. We are pretty sure it was that nice, but you guys should really check out the pictures to see for yourselves.
The funny thing about places is that it so often is more how you are when you are there than how the place is, that really matters. That said, I think even without the new engagement perma-smiles so wide they made our cheeks ache, or even without the splashing out on a private villa, we would be hard pressed to be grumpy in Bali.
There is not much to dislike about a place filled with beautiful landscapes, art, people and food. As we were told by one Balinese man at the Water Gardens of Tirtaganga, in Bali if something has to be made whether it be a roof, ladder, mirror or walkway, it will be made beautiful. The people of Bali are in themselves a persuasive argument for a world-wide religious conversion. The religion there, which is a mix of Hinduism and Buddhism with animistic roots encourages believers to strive for peace and harmony in life and to respect, care for and protect nature as nature is viewed as "power" itself.
It logically follows that a people with this belief system would be some of the friendliest and kindest around, and that their country one of the most beautiful.
After being surrounded with so much beauty and art we could not resist trying our hand at some as well and took a silver jewelry making class at the home of a local jeweler in Ubud Bali.
Also there is a monkey palace. Or should I say Monkey's palace? They definitely owned the space.