Veliko Tarnovo Bulgaria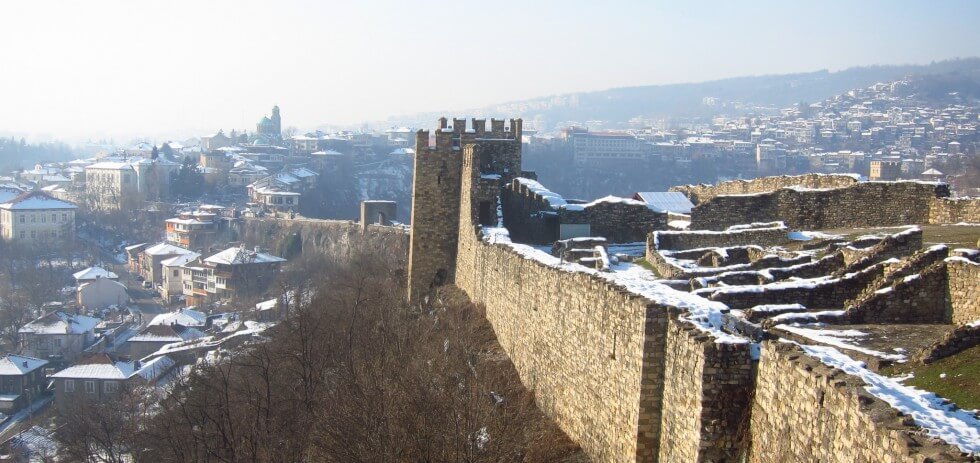 Often referred to as the "City of the Tsars", Veliko Tarnovo Bulgaria (or Велико Търново in Bulgarian) is famous as the historical capital of the Second Bulgarian Empire. I don't think it is world-wide famous, so much as Bulgarian famous. It also happens to be about an hour away from Tryavna so Sarah, Tom and I decided to go there for a bit of ancient Bulgarian culture.
The town is one of the oldest settlements in Bulgaria, having a history of more than 5,000 years. Traces of humans from 3,000 bc were discovered on the hill that over looks the city. We did not realize that till we got there and read it on a sign, but were suitably impressed.
The hill now is home to the ruins of the Tsvarets, a medieval stronghold that was created in 1185. 
As the capital of the Second Bulgarian Empire, Tarnovo was apparently a pretty cosmopolitan city. The city flourished and grew for 200 years until 1393.
I have been trying to think of a good antonym for "flourish." I don't have one yet but I think that is basically what Tarnovo has been doing since it's heyday 700 years ago.
It is hard to decide which was cooler; crawling over the 700 year old ruins to the communist style muraled church at the top, or crawling through the piles of 100 year old junk in all of the dusty antique shops that fill the town. Tin soldiers, broken broaches, lonely Russian stacking dolls that are missing their shells or souls and nazi memorabilia all jumble together in fascinating and moth-eaten piles.