Walkin' in L.A.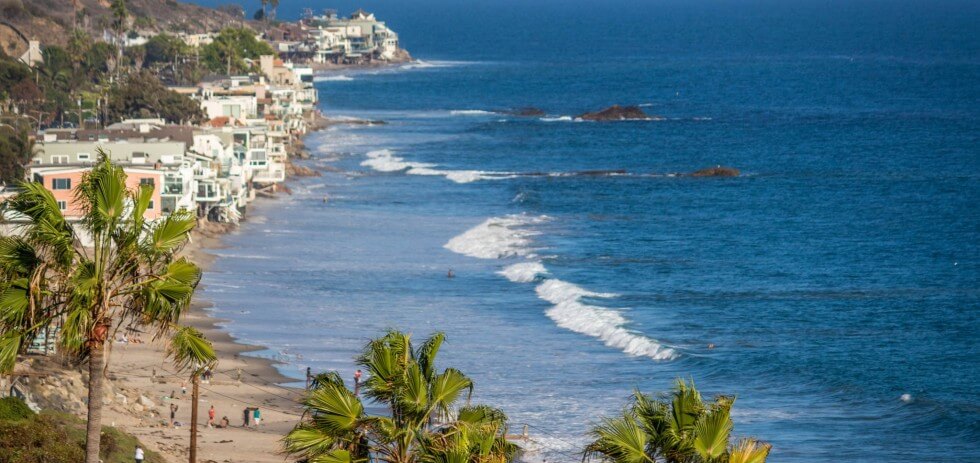 According to the 80's "nobody walks in L.A." Maybe some things have changed because, for a city as famous for traffic and smog as it is for movie stars and shopping on Rodeo Dr., we found a surprising number of beautiful places to go on long rambles. Discovering little-hidden parks and beautiful hiking trails in a huge city always makes them feel more special.
Going on long lazy walks with Tom is one of my favorite activities and there is no better way to explore a new place. We have written about some of our favorite walks in Whistler, Canada and about some of our favorite parks in New York and this post is all about some of our favorite walks and easy hikes in Los Angeles.
All along the beach in Malibu (as pictured above) is a beautiful place to stroll, and there are many other hikes and walks nearby. One of our favorite walks is the popular Solstice Canyon hike. There is very convenient parking and no fees, the trailhead is easy to find and the hike is beautiful making it an easy and great choice. The trail leads up to the burned out ruins of the Roberts Ranch House, which are fun to poke around, and then to a waterfall and small pool.
Another popular walk is around Griffith Observatory which has amazing views over the city in one direction and the iconic "Hollywood" sign in the other. Both parking and walking around and in the observatory itself are free, though there is a charge of the daily Planetarium shows that are played there. The observatory is closed on Mondays.
The Self-Realization Lake Shrine was built by devotees of Paramhansa Yogananda, an Indian yogi and guru, who spent the last years of his life teaching disciples in Southern California in the 1940's and 1950's. There are a couple of "Self-Realization Temples" dedicated to him and his teachings in Los Angeles and San Diego. The temple grounds in San Diego are one of my favorite places in my home-town and the Los Angeles Lake Shrine is just as beautiful a place to walk around. The temple grounds are free and are filled with lovely plants and animals that create a serious feeling of serenity.
No overview of LA walks would be complete without mentioning the stroll down the boardwalk of Venice Beach. Walking along the crowded sidewalk passing by basketball courts under the beating sun made me feel like I had stumbled onto the set of "White Men Can't Jump" (amazing movie, by the way). Venice Beach does a stellar job of epitomizing the seedy sideshow feeling that I always have associated with LA. After watching some skateboarders skating and some strong men flexing we stumbled upon El Huarique, an amazingly good little place Peruvian place in a food court right on the boardwalk. It is just a little counter and a few stools hidden down a hallway that surprisingly served up a styrofoam box of the best lomo saltado we have ever had. It is 100% worth it to make a trek out to Venice Beach just for this restaurant.
For a city known for being a place where nobody walks we spent our few days there doing a whole lot of hoofing. What are some of your favorite walks in L.A.?