How To Woo a Pirate in San Francisco, CA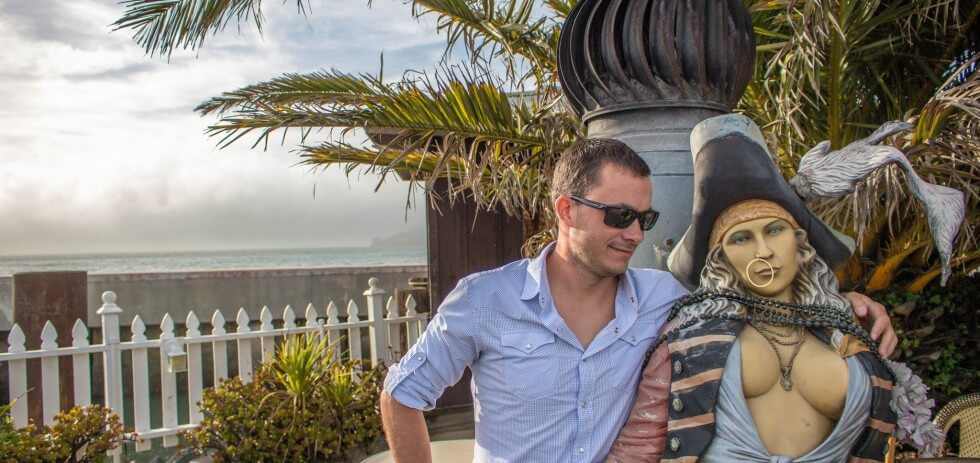 Tom and I spent our 2nd wedding anniversary in San Franciso and to celebrate I planned what turned out to be the most pirate-themed date EVER.
Tom is a rum aficionado and so we started the evening at smugglers cove a vintage tiki-themed bar devoted to rum. Tucked behind an innocuous looking door in the side of an office building, Smuggler's cove boasts a selection of over 400 different rums. If you are keen to sample a couple hundred or so, you can become a member of the rumbustion society and systematically work your way through their cane spirits and up the ranks of this distinguished club.
Tom sampled a couple of different rums and I tried some different traditional drinks of the Caribbean islands, following the bartender's suggestion.
The bar is three different levels and each level has a small bar and bartender devoted to it. This allows for more people to visit without losing the intimate setting of a good cocktail bar that we love. The drinks are good, but even if you aren't a rum fan the décor of the bar is reason to visit alone! It is just packed to the gills (pun intended) with nautical kitch. Bowsprit figureheads, puffed out puffer fish corpses, cannons and vintage dive gear cover every available inch of the walls and ceiling. It felt like looking at a real-life version of a "Highlights Magazine" hidden pictures puzzle. The more we looked the more things we saw!
After the bar, we made our way over to Fisherman's Wharf for dinner on Forbes Island. Forbes Island is a restaurant on a man-made island that was originally built in Sausalito, in 1975 by Millionaire Houseboat Designer, Forbes Thor Kiddoo as a private floating home.
The island is reached via a water taxi that ferries people from pier 39 out to the island, it's just a 3 minute boat ride, but adds a lot to the experience. We spotted a nest of baby seagulls while hopping from the ferry to the island which was a highlight for me.
The dining room of the restaurant is under the waterline, which means that there is some serious swaying without the relief of a window to gaze at the horizon through. If you get seasick you will probably want to skip dinner and just come for drinks. The dinner itself was very good, though not remarkable, and the nautical tchotchkes adorning the walls rivaled those at Smuggler's Cove!
The best part of the island is the beautiful 40 foot lighthouse. It is a wonderful place to check out views of the city and it would be a great idea to try and plan your reservation to be able to enjoy the sunset at the top of the lighthouse either before or after your meal.
I really didn't set out to plan such a nautical evening but if you are ever looking to woo a pirate, this itinerary will have you sailing off into the sunset with your boo before you can say "is scurvy contagious?"