What To Do in Washington DC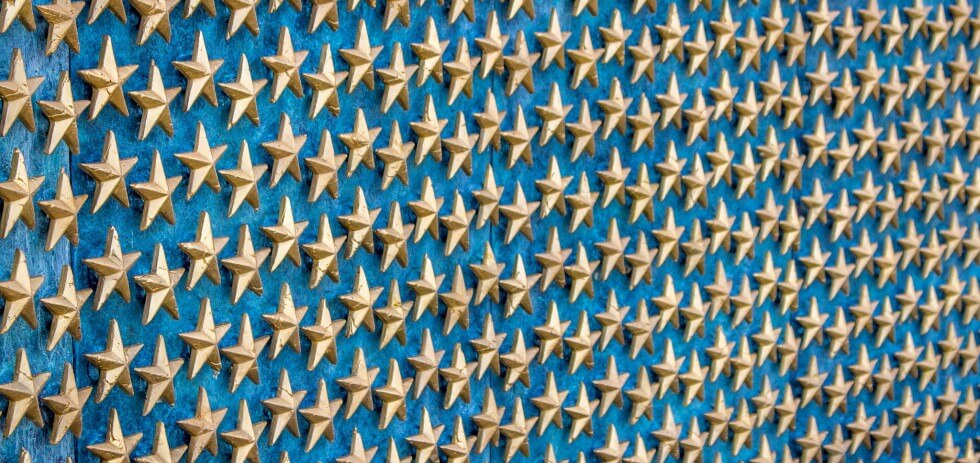 Monuments, museums, and chili dogs; DC was an unexpected mishmash of disappointments and wonderful surprises. What we went to the city specifically to see flopped, and we were enchanted by things we thought we'd have no interest in or had never even heard of! We didn't make it to half of the "sights" on our list but saw so much more than I expected. On a side note, we were fascinated by all of the textures we found in DC. From the star picture above, to the walls of the metro station, or the sculptures in the gardens we found ourselves wanting to get close and stare at all of the shapes.
The main reason, we went to DC, was to go to the Smithsonian Museum of Natural History. It's our favorite type of museum and we try to go to them whenever we come across them. Sometimes the Natural History "Museum" is just a room filled with taxidermy, and other times it is hall after hall of bones, meteors, archeological artifacts and pretty much everything that is awesome. We visit the Natural History Museum in NYC every year and still find something new to gawk at each time we go.
Unfortunately, during our visit to DC much of the museum was closed, most notably the Dinosaur wing. We spent less than an hour in the museum and left quite disappointed.
On the other hand, I didn't think I'd give a hoot about seeing all the monuments but liked the big Lincoln statue and was really, really impressed by the Washington Monument, aka the big pencil. It really is amazing how big and perfectly smooth it is. It is just a really, really neat looking piece of art that is so much more impressive in real life than the pictures show it to be.
I had not heard of the National Gallery of Art Sculpture Garden but we loved walking through it while passing down the middle of the mall. The sculptures are pretty amazing and they are surrounded by the ever-present lovely trees of DC that, I imagine, are beautiful in every season.
I was really looking forward to seeing the library of congress, you know THE BIGGEST LIBRARY in the U.S. This, by the way, would be a great time for someone to call out "nerd alert." Unfortunately, a bomb threat was called in, or there was a suspicious package, or something of that nature right before we got there and so the library was shut down while they investigated.
The U.S. Botanic Garden is right across the street from the library, so we ended up visiting that instead and loved it! It is really an impressive indoor botanic garden. Just beautiful and full of interesting exhibits. The windows and misters are really impressively controlled making it possible for tropical trees to grow inside a building. In a city where it snows!
I was just as impressed by seeing The White House, Capitol building, national treasury and other buildings as I thought I'd be. Not particularly. Not that they aren't lovely looking buildings, but an office building is really just an office building at the end of the day. Though we did really like some of the street art we saw on the outside of some of the buildings.
The Millenium Stage at the John F. Kennedy Center for the Performing Arts, offers FREE performances at 6pm EVERY DAY! How awesome is that?? There was a stand-up comedy show the evening that we decided to go and we had a great evening. I would advise you to get there early as the line gets long fast!
We always like to try the local cuisine and I had read that DC was famous for it's "half-smokies" or hot dogs. The most famous dish in the city is the chili dog at a place called Ben's Chilli Bowl. An institution endorsed by Obama and Bill Cosby, though with all the recent information coming out, they may want to distance themselves a bit more from Mr. Cosby.
It's not my top choice for a meal, but you can't knock it till you've tried it, right? That means that I officially get to knock it now. To us, it tasted like cheap, canned chili over a mediocre hot dog. And just to clarify, I am by no means a food snob. I adore the $1.25 hot dogs from Costco and think they are legitimately fantastic. Ben's seems like it is just riding the waves of its fame and does not even have to try to be good, though maybe it once was.
Our favorite "sight" in DC was visiting the Green Hat Distillers, a small craft gin distillery that opened it's doors in 2011. I had never thought of gin as a "sipping" liquor before our trip there, but our visit changed my perspective. They use select botanicals to add flavor and scents to small batches of gin that I could see myself enjoying neat, or possibly over an ice cube on a lazy day.
Green Hat offers tours every Saturday between 1pm and 4pm that include free gin tastings at their small distillery at:
1832 Fenwick St NE
Washington DC 20002
202-733-1710
Fair warning, they are a very small operation so it is not uncommon to see how they package up the bottles, and then find yourself helping them get a few orders out around the packing table with a gin in hand. They are just starting out and are toying around with ageing some small batches of whisky as well that we hope to sample next time we are in DC.
As an added bonus, everything in DC is free! The only money we spent while visiting the city was on food and the great public transport. All the free sights are easy to see via the bus system that crisscrosses the city. There is a metro as well, but it is pretty expensive. Though this particular metro station was so cool-looking we felt like we would have paid just to see it!
We went to the capital expecting to be blown away by museums and to find an appreciation for chili dogs. We left loving our visit to the distillery, the Kennedy Theater, and the monuments and gardens scattered around the city.
Have you been to DC? What did you think of the usual sights or the offbeat ones? I know we missed a lot, what is the sight we should make sure to see next time we are there?