Beautiful Baños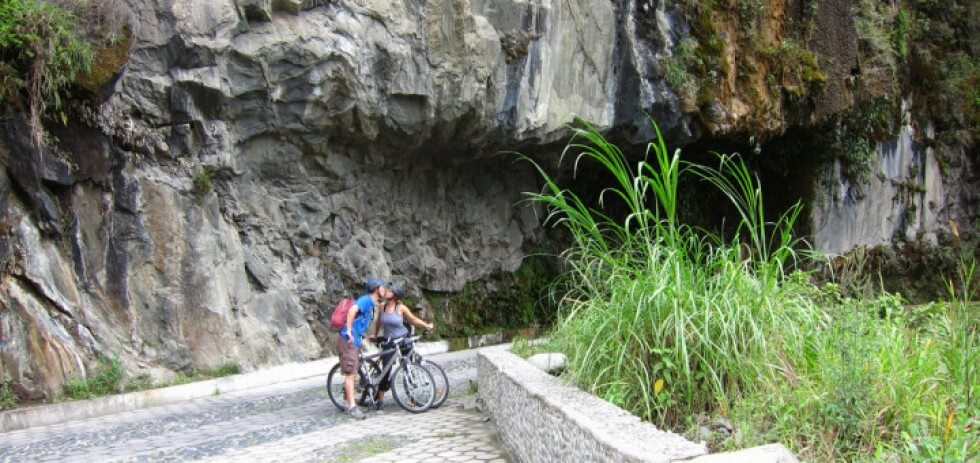 The journey to Banos, Ecuador from the coast was less than ideal. It spanned 10 nighttime hours split across 2 freezing cold, bathroom-less buses. Despite the dramamine and boxed red wine cocktail we only managed to sleep for about an hour. Which is, as it turns out, is enough time to get robbed. The robbery is more annoying then truly distressful as what was stolen is pretty minor. We think it was a collection of small items including a used camelpack, a pair of sunglasses, a bottle of lotion, and 3 tampons.
Luckily the less than wonderful night had a truly happy ending- Arriving in Banos!
We checked into our room at Plantas y Blancas, it's one of the nicest we have had, and true to it's name is full of plants, and white. There are hanging pots of ivy hanging from the ceiling, with tendrils and vines spreading all acros the clean white-washed walls. We resisted the siren calls of the warm and comfortable looking bed, deciding to rather have breakfast on the rooftop terrace with plenty of strong coffee and try to power through the day. The breakfast here includes great coffee and lots of warm homemade breads- thus fortified we were ready to try and hike up a mountain to get a good view of Volcan Tungurahua.
Tungurahua, the largest volcano in Ecuador, has been seriously cranky in the past month or so. It has added spewing ash all over the town, causing orange alerts, evacuations and wide-spread panic to it's regular job description of providing the heat for numerous hot springs, the dramatic and looming backgrounds for photographs and being easily accessible for a good climb.
The hike was a nice one, even though we wandered around in a haphazard fashion, stumbling into people's backyards and never actually making it to any look-out point. It did give us a chance to be blown away by the lovely scenery, great weather, sketchy bridge upkeep and crazy antics of the other backpackers in Banos.


One of the favorite activities to do in Banos (known as the "adventure sport capital" of Ecuador) is called puente-ing. Which means bridge-ing and involves jumping off a bridge with a harness rope tied around you that stops you from plummeting to your death. Though safe, there is not any of the elastic give of a bungee, making it look like a pretty neck-jerkingly painful activity. Though it may not be – we decided not to find out first hand. In the evening we soaked our travel and hike weary bodies into some of the volcanic termales that the town is know for.
When people refer to the hot springs of Banos, they mean it. These are not warm springs, or even toasty springs- these are feet tingling, skin bruising, feels like you are melting, sweat running down your face HOT springs. We lasted for about 15 minutes in the water, and the rosy warm, relaxed feeling in our limbs lasted the rest of the night. I think it is just what we needed to wash the last vestiges of the cold, uncomfortable bus journey from our minds and bodies!
The next morning we rented mountain bikes for $5/day to explore the area surrounding beautiful Banos. I was a little leery of hopping on another mountain bike after the faulty brake fiasco in Guatape, but I swallowed my misgivings and strapped on the lovely fanny pack provided by the bike rental place to hold our repair kit and chain.


Zooming along the road from Banos to Puyo (a town about 40 miles away) with the sun shining, and the wind keeping us at a perfect temperature I think we fell in love with Banos. We stopped at various waterfalls and little cable cars that zoomed you over gorges on cables (kind of like a group zipline) and sped through tunnels all with happy grins on our faces.


Our last stop was at "el pailon del diablo" (the devil's cauldron) and "la grieta del cielo" (the crack in the sky). The amazingly powerful waterfall smashing into the bowl below it sent clouds of mist flying, making it really resemble a boiling, smoking, slightly frightening mess in a cauldron. Well named.
The crack in the sky was way cooler than either of us expected, a natural crack in the cliff that you can squeeze into and crawl through until you end up behind the falls, the rushing water drowning out all other sounds, and the spray threatening to drown you!
Ah.May.Zing


On the hike back (through some serious lord of the rings looking landscapes) we stumbled across the most fluorescent caterpillar ever, and took over an orange juice stand. By this time it had started to rain, so deciding that our li'l 20 mile ride had been enough we threw ourselves and our bikes in the back of a truck and got a ride back to Banos.


Once back at the hostel we got to do something we have not had an opportunity to do for over a month- COOK! It's ridiculous how exciting this was for us (well actually maybe just Jenny). There have been surprisingly few shared kitchens in Ecuadorian hostels so far, this was our first since leaving Ibarra. Being able to cook some of your own meals really makes you feel more like you are in a short-term home, and less like you are eternally traveling. It's a comforting feeling, and one we have missed.


Plus when you cook for yourself you can add things that aren't commonly found on typical plates here-like vegetables!


That said-there are also an amazing amount of good restaurants, bakeries and cafes here-serving hard to find dishes like real croissants or vegan curries. Casa Hood is a famous one here that as an extra bonus shows free movies! After dinner, a movie and some sangria with friends we stumbled off to bed.