Chasing Canoa's Caves From Mindo to Canoa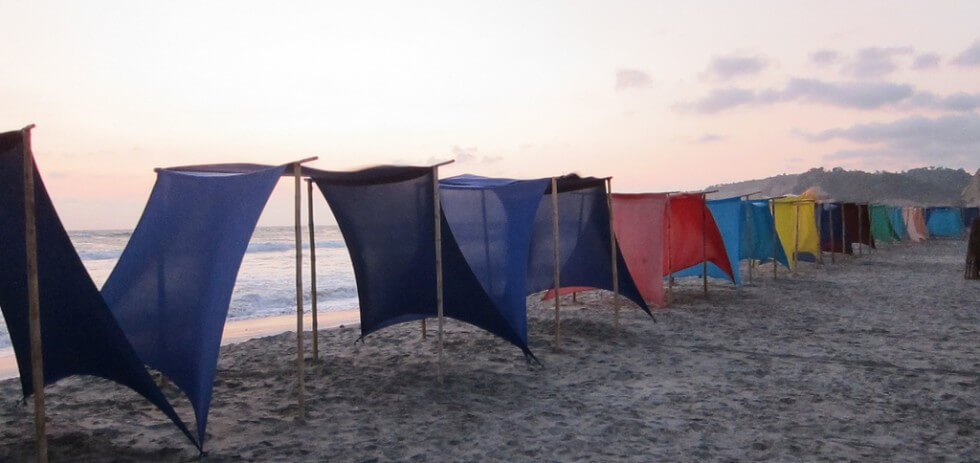 We have spent the last couple of days in Canoa, on the coast of Ecuador's Manabi province. We had heard rumors that Canoa has the nicest beaches and best food Ecuador has to offer. If you aren't counting the beaches in the Galapagos I think we can safely say the rumors are true!
We were told that with bus changes (4 of them!) it would take us 9-11 hours to get from Mindo to Canoa.
This goes well beyond our "only 7 hours at a time on a bus" rule, so we dubiously set out- fully expecting to end up stopping for a night in a random town on the way there. As luck would have it we ended up getting to the bus station a couple of minutes past the 6:30 am departure of the bus. We stood with our jaws dangling, hopelessly watching "our" bus kicking up dust as it sped out of town.
This was just the beginning of a great day, no sarcasm, missing that bus was seriously the best thing that could have happened! There was a guy across the street from the station with a land cruiser just getting ready to drive straight to Santo Domingo to see his mechanic. Holla! That 6:30am bus we almost ended up on was headed for Los Bancos, where we would have switched buses and gotten on one that took a circuitous route to Santo Domingo. Our dawdling that morning ended up knocking off about 4 hours from our journey! Also as an extra bonus we saw two gi-normous toucans from the car window.
Our super nice new friend took us to Santo Domingo where we bought a li'l bag of hard-boiled Quail eggs for breakfast and continued on our original planned route – a bus to Perdenales where we switched to another bus for Canoa.
We got into Canoa around 1 in the afternoon, still congratulating ourselves for oversleeping. New friends continued to be the theme of the day, and we met Steve while walking around the town looking at hostels. Steve is a kite-surfing French-Canadian who is watching a hostel for a friend while they are out traveling. We settled into the lovely room at the brand-new (hence totally not moldy smelling) hostel and hit the beach!
The beach here is pretty lovely. It's a big surf spot with some impressive cliffs towering at either end of it. Word on the malecon is, these cliffs house some serious pirate style bat-filled caves, so we mentally added spelunking to our to-do list and spent the day enjoying the beach. Unfortunately being from San Diego, and having just gotten back from the Galapagos we are pretty hard to impress as far as beaches go. The beach is pretty nice, and the water is quite warm… if we hadn't recently become such beach snobs I might rave about it more.
There is something about beach towns that we just really like. There is a slowness, like a sleepiness that takes everyone over making them relaxed and pleasant. The food here is also as great as promised. For Western fare there is a hostel called "coco loco" that is owned by a woman from Alaska who is an AMAZING cook! The food is incredible- and very different from the food we have been eating in Ecuador. She also has a gang of adorable, indifferent li'l kitties who will keep you company during your meals.
The typical Manabi food is super good too. We have been eating fish for pretty much every meal and it's been fantastic! Great ceviches and a dish called encocados- which is fish smothered in coconut milk, kinda like a curry.
Today is our last day in Canoa, as we are headed out on a night bus to Quito, and then an early morning bus to Baños in the morning. This being our last chance we pulled ourselves out of our sun induced lethargy and went to find these caverns.
Alas, the tide was not out far enough, and we could not get to the caves- though we had a lot of fun scrabbling over cliffs trying to reach them!
All in all Canoa is a lovely place, filled with Ecuadorian tourists on the weekends and a surprising number of hippie ex-pats all of the time. If you surf it's probably super awesome and even if you don't it's still a great place to be!