The Caves of Phong Nha, Vietnam – In Photos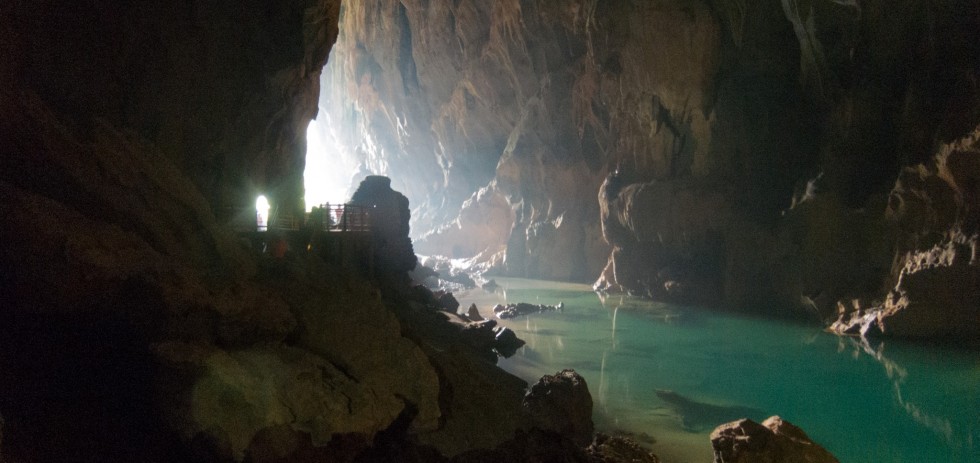 Phong Nha, Vietnam was dramatically put on the map and at the top of quite a few bucket lists just about five years ago (in 2009) due to the discovery of Son Doong; The World's Largest Cave.
Tom and I are big cave fans and seeing this new discovery was at the top of our "Vietnam" list, until we started to do a little research. Due to how recently Son Doong was discovered, and how remote the area still is, you have to have some pretty serious "cool guy cred" to get in. It's basically like the extreme nature version of a fancy new night club guarded by a velvet rope and a bouncer. For example, the first person to enter the cave in 2014 was Sheikh bin Zayed bin Sultan Al Nahyan, the Crown Prince of the Abu Dhabi Emirate. Needless to say, Tom and I did not stand much of a chance. The week-long trek to and from Son Doong is do-able for the average person, it just has a waiting list of a year or more and costs $3,000 a person.
Hearing about the waiting list, and the sticker shock of a $3,000 trek took this cave firmly off of our radar. We just aren't that good at advance planning.
Luckily it turns out that the area is filled with caves, many of them larger than any caves I have been in, and all of them absolutely lovely!
We visited three caves while in the area.
Phong Nha Cave
Phong Nha cave was thought to be the biggest cave in Vietnam before the discovery of Son Doong in 2005 and is massive!
This cave is most famous for it's use as a hospital during the Vietnam War (called the American War in Vietnam). The entrance-way is covered in white scars from U.S. planes crashing into it in an attempt to get a bomb deep enough into the cave's mouth to shut it down.
Phong Nha cave is also incredibly easy to see on your own. Head to The Phong Nha Tourism centre, which is just down the road a bit from Easy Tiger hostel, and pay the entry fee at the ticket window.
At the ticket window you also hire a traditional dragon boat to take you up the river and through the cave before beaching and walking around the sandy area that was used as a hospital. It's best to go with a group (we went with 8 other people) to share the cost of the boat.
The trip up the river is relaxing and beautiful and is a great way to just slowly watch Vietnamese life go on around you.
Paradise Cave
This appropriately- named cave was just discovered in 2005 and as the name implies, is also absolutely stunning.
When it was discovered it displaced Phong Nha cave as "the biggest cave in Vietnam." Come to think of it, this is a title that has changed hands quite a few time in recent years. Maybe if we just wait a couple years a new, even larger, cave will be discovered and it will get a whole lot easier to see Son Doong!
Paradise cave is full of, not only stalactites and stalagmites, but also helictites! I had never heard about this variety of tite before, but they are formations that grew horizontally from the walls of caves. True story!
A very pretty walk up a paved road leads to the cave and then an equally easy and paved path winds through the 1.1 km of the cave that is currently open to the public. The cave does keep going, and going, and going after the path ends and you can apply for a permit to continue down the rest of the cave's 30km if you are interested.
Dark Cave
This was probably the highlight of our cave adventures. Unlike the other caves we saw, Dark Cave is left unlit and so is seen in a more natural state than the other theatrically lit caves. The entrance to the cave is situated on an absolutely stunning blue river.
We went with a group through Phong Nha Farmstay but you can also go on your own and either rent a kayak or swim to the cave's entrance and pay for a guide to go with you. Guides are mandatory and can be hired where you buy your ticket.
We kayaked to the opening and then walked a little way in before squeezing through a crevice and venturing deeper and deeper into the cave.
We started off walking through a bit of mud which quickly turned into scrambling and squeezing through some serious mud which finally ended with an all-out mud fight in a huge pit of mud deep in the belly of the cave.
After we all made sure that nobody in the group had a clean spot on them we made our way back to the river mouth and to rinse off swam along the underground river into other parts of the cave.
We turned off our headlamps for the swim to enjoy the feeling of swimming through total darkness trying out seeing through echolocation. We swam back to our kayaks and then enjoyed the startlingly blue river for a bit. Though beautiful, the river was cold enough to make the shots of rum our guides passed out when we finally emerged a welcome relief!
All in All
We did not see the biggest cave in the world, but were just as happy with all the caverns and grottos we did see in Phong Nha.