Sleep, Eat, Work, Do – Hoi An, Vietnam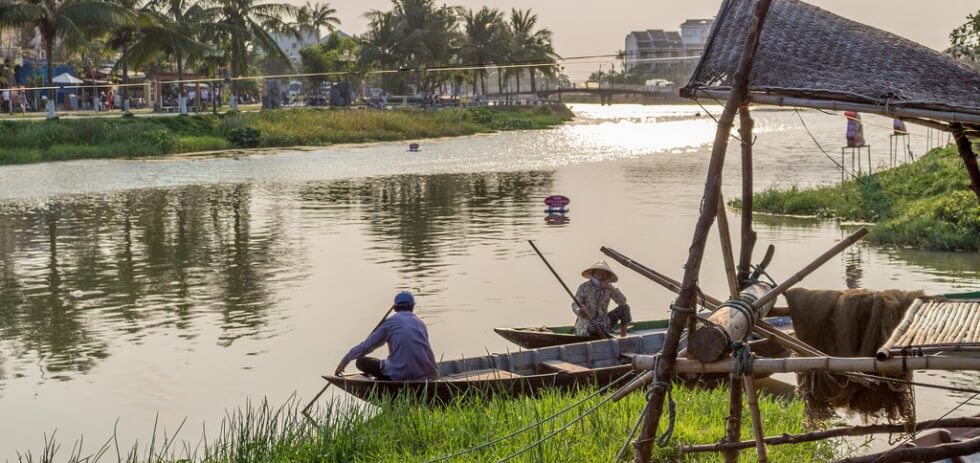 Hoi An Vietnam was an important trading port from the 15th to the 19th century and has had a major harbor since the 1st century. "Ancient" is really a more apt description than "old" for the town, but it still has a feeling of being incredibly cosmopolitan and bustling. The town reflects influences from Vietnam and from all of the different cultures that have been coming together there for trade for the last couple thousand of years.
There is no arguing with the fact that Hoi An, Vietnam is an absolutely lovely little town. Even if it is not for you, even if you side with the people who think that the town is fake and not "real Vietnam" I think you have to still admit that it is lovely. Hoi An may not reflect the "real" Vietnam now, and probably doesn't even resemble the "real" Vietnam in the moment that it purports to be frozen in, but it is impressive nonetheless. There is a decidedly unreal feeling you get wandering around the streets of the Ancient city. A feeling I found to be more dream-like than Disneyland-esque, and the people who live there seem to take pride in how beautiful and well-preserved the town is.
Biking through the streets felt like stepping into and exploring an old paining or a novel, with the occasional modern touch jarring us out of our reverie; as out of place on the ancient streets as a Vietnamese conical hat would be on Wall st in NYC.
Vietnam, and the rest of the world, are chock full of "reality" and it's beautiful to see a little fantasy mixed with history protected and brought to life. We found Hoi An to be an exceedingly charming little town full of wonderful food and beautiful architecture.
Sleep
We stayed at Lemongrass Homestay and really loved it. It's a little outside of town and at $32/night more expensive than some other options. It is beautiful and comes with a ton a great amenities though, so we highly recommend it. You can read our review of Lemongrass Homestay here.

Eat
Bahn Mi Phuong
There just aren't words to describe how amazing this little place is. I did try to find some, and wrote an entire post about how perfectly this little shop in Hoi An makes bahn mi.
White Sail
This restaurant was recommended to us by some friends and some of their dishes are incredible. Pictured below is the cao lau that Hoi An is famous for. This dish is only found in this town and is made up of noodles, pork and greens. We had to try it as it is what the town is known for, but I actually prefer the different fish dishes that we had at White Sail. They were superb!
Morning Glory
This restaurant has crazy good reviews on tripadvisor and foursquare, but we were apprehensive when we first walked in. It's huge and has a seriously T.G.I.Fridays or Cheesecake factory kind of a vibe. Tom and I were both prepared to not like it, but were then blown away by how good the food is. We ate here twice and tried to eat here a couple of other times but they were fully booked. If you are set on going it's worth making a reservation. They do book out even though it is such a huge place.
Cargo (Western desserts)
We tried to go to Morning Glory one night just to have their frozen yogurt for dessert, and they did not have any room and so sent us across the street to Cargo. I think it may be run by the same people, but if you are craving fancy, Western-style, desserts or pastries this is the place to go. We had the mango cheesecake which was delish.
Son
A little bit outside of town, Son specializes in organic food cooked with a lot of love. It is set in a pretty garden has a lovely ambiance. Their slogan is "slow food for a slow life." It's perfect for a date night, or for any night that you want to feel a little special.
Bia Hoi (Drink)
Bia Hoi, or fresh beer, is famous all over Vietnam. There are many places in Hoi An that advertise insanely cheap Bia Hoi (2,000-3,000 vnd or about $0.12-$0.18) but Tom found that the 5,000 vnd glass at this place was the best. It is right at the end of the main bridge in town, on the South side. There is a big sign out front that says "Bia Hoi 5,000 vnd" you can't miss it.

Work
Wifi was good and strong at our hotel so we did all of our work from there. There are many coffee shops and bars with free wifi throughout the city so it's a great place to set up shop if you are working while you travel.
Do
Cooking classes
Our hotel came with a Vietnamese cooking class, but there are many other people offering them in town. Most notably Morning Glory, a very popular restaurant. If their cooking class is even half as good as their food then it is a more than worthwhile way to spend an afternoon.
Visit the Tailors
Hoi An may be even more famous for it's tailors than it's UNESCO world heritage status! There are many tailors in town and it can be daunting to start the process. We wrote this guide to choosing a tailor and having clothes made in Hoi An.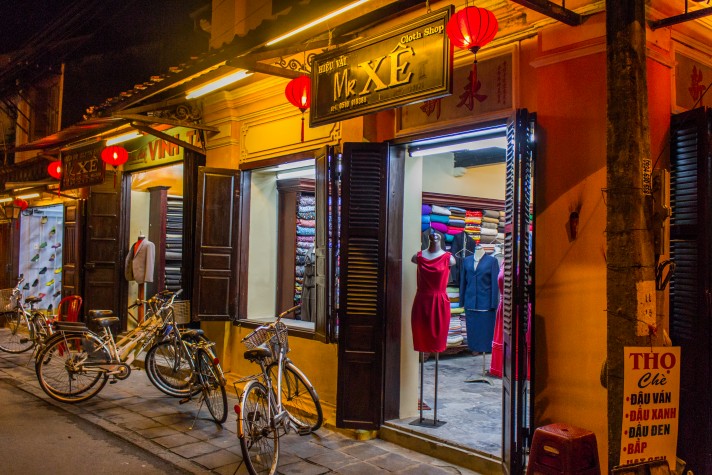 Walk around Old Town
As i've mentioned ad naseum, the town is cute and fun to walk around.
Float paper lantern boats
At night ladies sell little paper boats with candles in them to float down the river. Though I am not sure if this is actually the best thing to be doing, I am not sure how eco-friendly all of those boats are night after night.
Ride Bicycles
Our hotel came with free bikes and we rode them daily. We loved riding down the easy ride alongside the pretty river into town each day.
Ca Dau Beach
The beach is an easy bicycle ride outside of town. There are restaurants near the beach that try and charge for bicycle or motorbike parking. If you turn left at the beach and ride just a bit farther down there are many places to park for free.
Marble Mountain
We wrote this post all about our visit to the Marble Mountains near Danang. If you do go to the Marble mountains and are planning on leaving Hoi An by train it is a good idea to combine this day trip with a visit to the train station in Danang to buy your tickets. Otherwise you will need to buy them in Hoi An and will be charged a premium by the people who sell them. You can also just buy tickets at the station the day of your journey but if you are set on a particular time or train you may find yourself without a seat.