The Best Bánh mì in Vietnam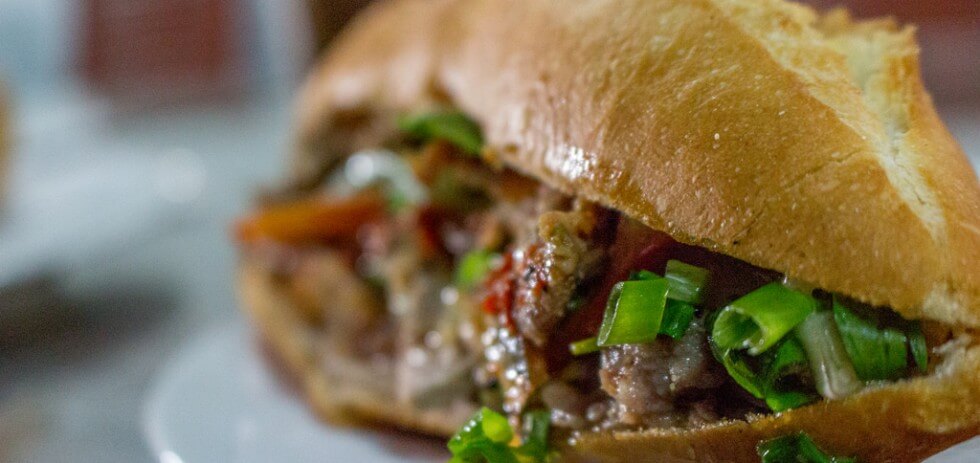 I am not trying to wax my own car here, but I think I know a thing or two about sandwiches. After all, I was voted by my senior class as "most likely to be caught with a sandwich" and I do have an actual sandwich tattooed on my body. On an unrelated topic, I also am still dragging that same old Padres shirt around the world thirteen years after High School!
Not that i'm the ultimate authority on sandwiches or anything, but I think I at least qualify to weigh in on the topic. Please bear that in mind as I declare the following: The bánh mì of Vietnam are most amazing sandwiches in the world.
I thought bánh mì were one of my favorite foods back in the States, but I had actually only been consuming pale and sad little versions of them. Almost like loving the smell of peaches for years, and then discovering that it's actually a food you can eat, touch, see, and be consumed by as you are consuming it.
Bánh mì Phuong in Hoi An, Vietnam is quite possibly the best example in the country. Which basically makes it the best, of the best, of the best. The best example of the best type of sandwich, in the country that makes them the best. We ate here about 10 times in 8 days. At least once a day, and sometimes twice. There really is no need to explore once you have found perfection. Especially when perfection is a mere $0.95. Tom somehow managed to eat two of them every time we went so he may actually be the expert in this relationship.
This lady's bánh mì were featured on Anthony Bourdain's "No Reservations – Hoi An." Luckily outside of the U.S. no one knows or cares who that is, so the notoriety has not ruined the place at all. The owner is a school teacher in the mornings and sandwich magician in the afternoons and evenings. She used to have a stall in the market but could not keep up with demand, and so had to find a storefront to expand to. For the sake of convenience she moved next door to where the rolls she uses are baked. A fabulous choice as the smell of baking bread wafting over from next door greatly enhances the experience.
Fresh baguettes are brought over by the laundry-basket-full and then stacked up into this ingenious bookshelf toaster. A piece of furniture with a shelf removed and replaced with some slats above a little fire burning away makes a perfect toaster!
The buns are then slathered with pate, heaps of herbs, freshly sliced cucumber, pickled daikon, tomatoes, several types of deli meat, fresh chilies and chili sauce.
They are then returned to the bookshelf for another few minutes of toasting before being served. There are just no words to describe the first crunch of that hot, toasty french roll and the subsequent crash of flavors that fills your mouth.
It is like getting hit full-on in the face with wave after wave of Vietnamese flavors. The herbs, tart pickle, creamy-salty pate, bright chili sauce and savory deli meat washing over you and threatening to pull you under. We learned early on to not fight it, just close your eyes and dig in until you have to come up for air.
Want to do it too?
The address is 2B Phan Châu Trinh, Hội An, Tỉnh Quảng Nam, Vietnam but you can double-check that on foursquare by looking up "Bánh Mỳ Phượng." Side note, we found that foursquare tends to have the most accurate addresses for businesses in SE Asia.