Ziplining in Mindo, Ecuador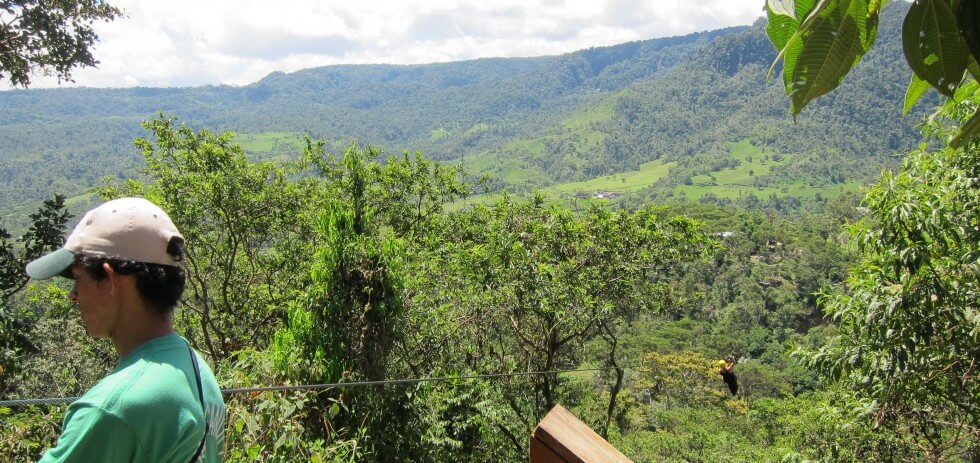 uh, is he?….
yep. He is. Most definitely. There is no doubt about the fact that Tom is rushing toward me as I wait on the zipline landing platform, going about 2,000 miles an hour, upside down and splayed out like a starfish, his face red from all the blood rushing to it, and his crotch inches from the face of the zipline worker who is strapped in behind him, in a move appropriately nicknamed "la Mariposa".
"That looked pretty funny" I told him as he was unclipped from the cable.
"Not as funny as your two-person superman."
Touche.
Ziplining in Mindo is pretty fun once you get over the whole "I could very easily die while strapped inappropriately to a stranger" thing.
This was Tom's first time ziplining, and my first time ziplining for real. I had done something called ziplining in Australia, but it was nothing like what we experienced today. There was no hurtling a couple of thousand feet at breakneck speeds with cloudforest (and the hard, hard ground!) rushing by a couple hundred feet below us. I don't think there was anyway I could have died that time. Maybe broken a bone, but that's about it. That said, today was very nice. I mostly enjoyed the wind which cooled off the sweat from my brow, and the fact that I managed not to pee myself on any of the 13 lines, even "la Bestia".

We are in Mindo, Ecuador, 2.5 hours away from Quito and known for bird watching and a lovely cloudforest. It is amazingly beautiful and green here, and the weather is perfect.
We are staying in a for realz tree house next to a brook that is full-on babbling. There is a little store (like imagine a corner market) that somehow makes incredible pizza, and we just had the moistest, most chocolatey, all-around best, brownie I have ever had in my life (and I don't say that lightly) from El Quetzal-Mindo's own chocolate makers.
No complaints here.