Ho Chi Minh Tour; From the Back of a Motor Bike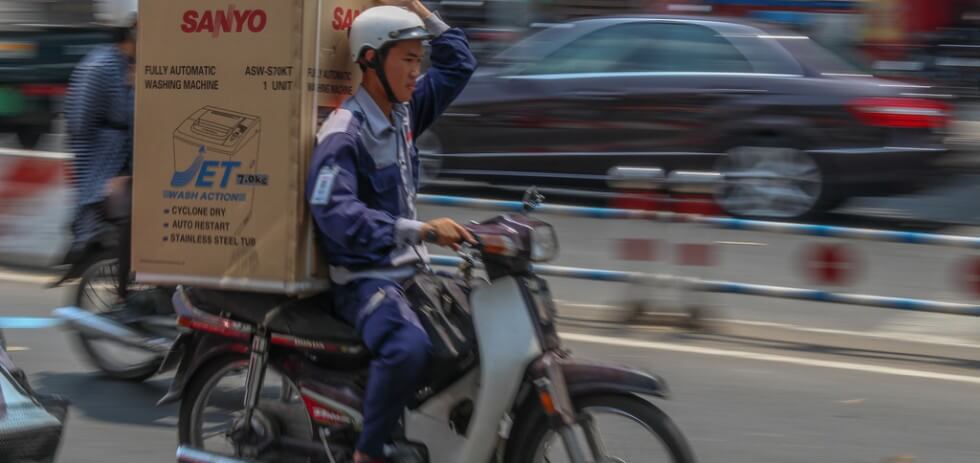 Ho Chi Minh city is home to 10 million people, and 6 million motorbikes. It's a fun fact I had heard often from people attempting to describe the beautiful chaos that is HCMC (formally Saigon). It wasn't until Ms. Uyen, my pint-sized driver on the "Back of The Bike" Ho Chi Minh tour cheerfully repeated it while whizzing through what felt like a solid wall of motorbike traffic, that I really got what that fact is trying to convey.
There are a freaking TON of people in Ho Chi Minh City, and most of them are on the back of a motorbike. What I find most interesting about that statistic is that three seems to be the average number of riders per bike, so 6 million bikes for 10 million people seems pretty unnecessary!
Tom is an extremely competent motorbike driver, and since we rent a scooter in nearly every town we visit has had tons of practice. However we took one look at HCMC and decided that we would not be renting a bike there. Maybe if we had a few months to get used to it, but definitely not for our (sadly) short 40-hour stay. Just crossing the street was enough to get our adrenaline pumping, though it did seem a shame to not participate in the honking, swerving, writhing mass of traffic. "When in Rome" and all that…
Which is why I was so excited to read about the Back of the Bike, a company that runs tours where locals pick you up on their motorbikes and take you around the different areas of the city.
"When I first moved from my small town to Saigon, I didn't drive a motorbike either" Uyen chirped over her shoulder to me while weaving around and through the 400 or so other honking and weaving motor bikes. "I was too scared!" she giggled "can you believe that?" I was finding a lot of things hard to believe at that moment. In some ways I did find it hard to believe that she had at one point been a scared little country mouse in Ho Chi Minh City. She was certainly navigating the traffic like a pro now while simultaneously carrying on a conversation with me over her shoulder and making sure that our whole weird biker gang was staying together. I was also finding it hard to believe how un-scared I was riding behind her. I looked over at Tom behind his guide Thi, and our friend Michelle behind her guide Nhi and saw them as equally relaxed making small talk with their local guides as though we were all at happy hour at a bar instead of being whizzed around the city on bikes.
The local guides are incredibly nice, and speak impressively perfect english. They may be one of the most caffeinated bunch we have ever met; effervescent to the Nth degree. The majority of guides are young women who go to university by day, and ride around the city's different districts with tourists in tow by night. We were shown the spots where the teenagers go to hold hands and be seen as a couple, the spots that are good for shopping, we zoomed by night markets setting up, and day markets packing it in. We drove by impromptu sidewalk board games, and all around people carrying an impressive array of items on their owns bikes.
They also gave us tons of information about HCMC, driving by some places they recommended we check out later on our own. For example, a bahn mi stand Uyen swore was the best in the city.
We did return the following evening and found out that "best" is an understatement, really. It's highly possible that heaven is sitting on a concrete stoop and just going to town on one of these incredible sandwiches for all eternity. Never getting full and just watching the masses line up and get take-away bahn mi of their own as you take bite after bite.
We stopped for dinner and rested our rears while course after course was brought out and shared among our long sidewalk-side table. Our local guides jumped out of their teeny plastic chairs every minute or so to instruct us on how to eat each dish so that we enjoyed it correctly. As big foodies we are more than happy to have people taking pride in their country's cuisine and insisting that we get the best experience from each bite. "No first you add this much chili, and then you squeeze the lime!" or "you can't drink your beer from the bottle, you need to pour it over two large ice cubes!" They spent half their time ensuring that we enjoyed the meal, and the other half making sure that our plates and iced beer glasses were always full.
They took special care of our vegan friend, and she had an equal number of courses and variety of dishes. As well as about 4 girls eagle-eyeing it all to make sure that she was not slipped any fish sauce by mistake.
The night ended with a homemade rice wine tasting, which truthfully was kind of awful. Most were syrupy sweet and reminded me of cough drops. But you couldn't fault the company so we grinned, drank up, and then had another.
Ho Chi Minh – the vibrant city of 10 million inhabitants and 6 million motor bikes, what better way to see it than from the back of one?
Back of the Bike Tours offers a variety of tours that are each about 4 hours long. You are picked up and dropped off at your accommodation and everything is included while on the tour. Prices depend on which group you join, and range from $48 for the night tour (which we took) all the way up to $120 for the Chef Tour, which is recommended for "extreme foodies who want to see as much street food as possible in one night."