After Haleakala Sunrise, A Day in Maui's Upcountry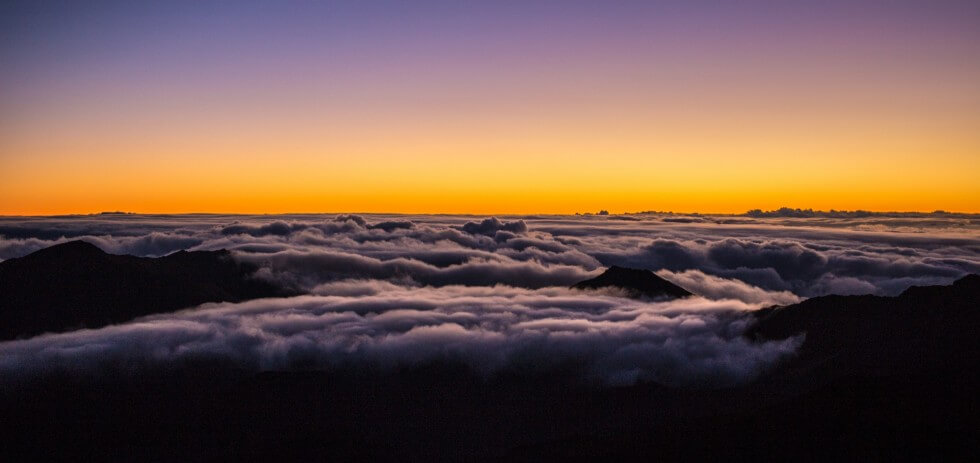 Viewing the sunrise at Haleakala crater is one of the most talked about activities on Maui. There is a raging debate across the internet about the worthiness of the Haleakala sunrise. Some websites claim that it is crowded, unspectacular and just plain, not worth it. Other people talk about it as one of their most magical experiences on the island. Either way, you will probably go up to Haleakala at some point during your visit, and many people rush back to the coast afterward. We found more than enough in Maui's beautiful upcountry to warrant a full day's visit. We did decide to go and see the sunrise on Haleakala so that is how our upcountry day started.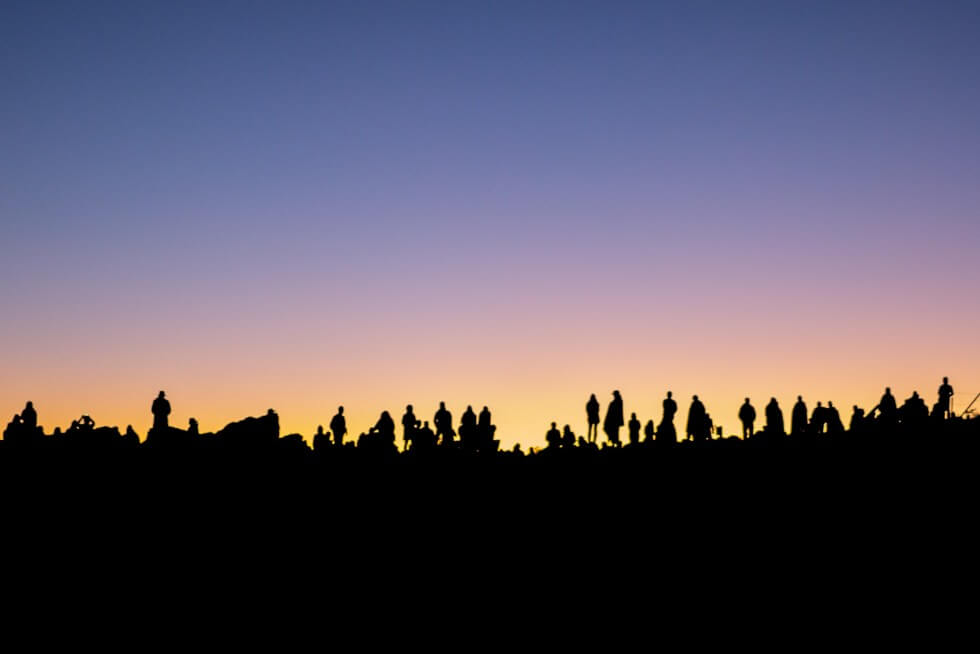 Haleakala Sunrise
I'll admit I was dubious about going to see the sunrise. It seemed like every time I turned around I saw another post about how crowded and uncomfortable it was. I can say wholeheartedly after doing it; it was absolutely lovely. Standing in the chill air, looking down on to the clouds made it feel like I was in Olympus, the mountain of the Gods, staring down at the earth. When the sun slowly rose, it's golden beams spread showing us the beautiful, otherworldly landscapes we had no idea we were surrounded by.
It is not often that Tom and I see a sunrise, and so there is something very special about them; I definitely understand why people gush so much about seeing it here. That said, I think that there is a way to see the sunrise and a way to NOT see it. If you have your own car and aren't staying too far away from Haleakala it is most definitely worth it. If you take a tour or are staying in Lahaina it may not be as enjoyable. We were staying in Kula and so left around 6:00 am, really not that early of a start. We talked to people who had gone on tours, or self-drove from the other side of the island and heard of people leaving at 2:00 or 3:00 in the morning! Waking up that early, followed by being stuck on a tour bus going up twisty and windy roads for hours would put me off too!
We were prepared for the cold, wearing lots of warm layers and even brought blankets to wrap ourselves in and a thermos of coffee. If you can drive yourself and come prepared, I can think of no better way to start the day in Maui's Upcountry! After sunrise there are many hikes through the park to see landscapes, the famous silver fern, and the beautiful morning light. It costs $15 per vehicle to visit Haleakala National Park and the ticket is good for three days. You can use the same ticket to visit the Pipiwai Trail, one of our favorite hikes in the world.
Farmer's Market
After the sunrise, we went to the upper Kula Farmer's Market. The market is held every Saturday from 7:00 am – 11:00 am at the Kulamalu Town Center Hwy. 37 near Long's Drugs, Pukalani/Kula and is a wonderful place to stroll around, see the produce that is grown in Maui's agricultural center and have some more coffee and a delicious breakfast.
After the Farmer's market, we headed to the Surfing Goat Dairy Farm at 3651 Omaopio Road. The farm offers a variety of tours from casual tours at $12 all the way to "grand dairy tours" at $28 per person. Even if you just stop by for a visit, it is a great opportunity to see a small working goat farm and to sample the many kinds of cheeses and chocolates that are made there. Mostly, it is a good excuse to see, and to pet, adorable baby goats!
We took the casual tour and loved visiting all of the farm's animals and learning how goat cheese is made. They have a huge variety of chocolate truffles for sale, goat milk soaps and a small cafe if you are craving another treat.
Though we did not visit, there is also a Lavender Farm nearby. There is a $3 entrance fee to visit the farm, or you can sign up for one of their guided walks, picnics or craft classes.
Maui Nui is a small farm owned by Nui Mizel and her son, Kit. Nui also runs a delicious and popular Thai food truck that sells fresh, healthy and authentic Thai food. There is no prettier place to enjoy your lunch than looking over her bright gardens and numerous lily ponds. The farm's produce stand is open every Thursday, Friday, Saturday, and Sunday from 8am to 5pm. Every first Saturday & Sunday are Family Days with live music, Thai food, and free farm tours. The delicious Thai food truck is open seven days a week.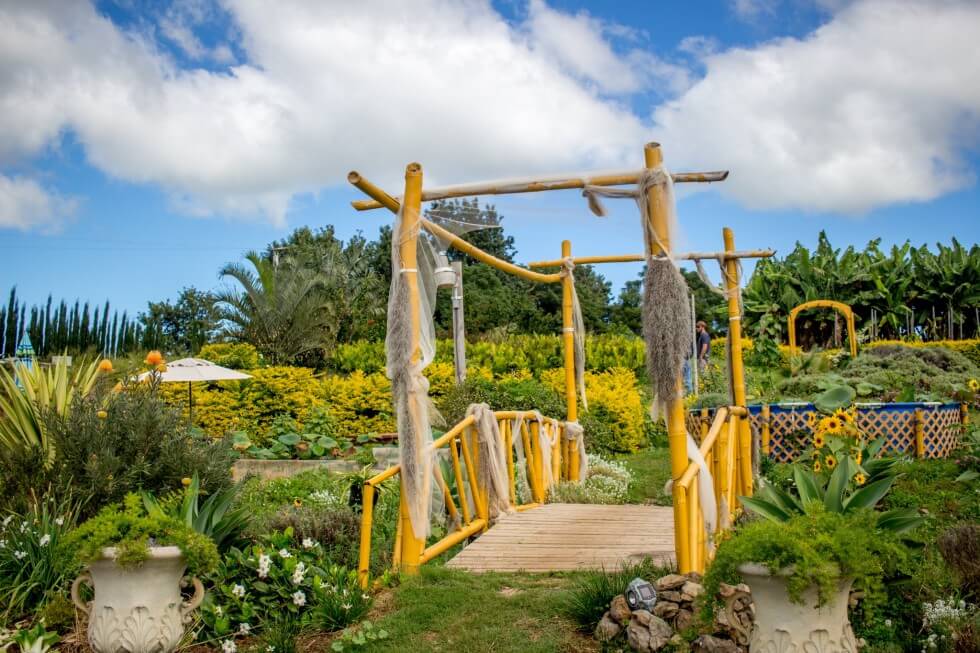 This is where we went back to where we were saying for a rest, but if you aren't staying in Kula a lovely afternoon activity would be the Vodka and Rum Tour at Ocean Organic Vodka. Tours can be booked online here, and cost $10 a person, including a tasting and a shot glass to take home with you.
Ocean Organic Vodka has an organic and sustainable commitment and their Hawaii Sea Spirits Organic Farm and Distillery tour educates guests on organic farming and the conservation of land and ocean, green manufacturing and the production of spirits.
We figured it only made sense to see the same sun both rise and set spectacularly in one day and so did some research on the best sunset watching spot in Kula. We found that the Kula Lodge and Restaurant not only has a perfect view of the sun setting over the island, but also had a roaring fire in the fireplace and was festooned with Christmas decorations, making it a very cozy place to cuddle up.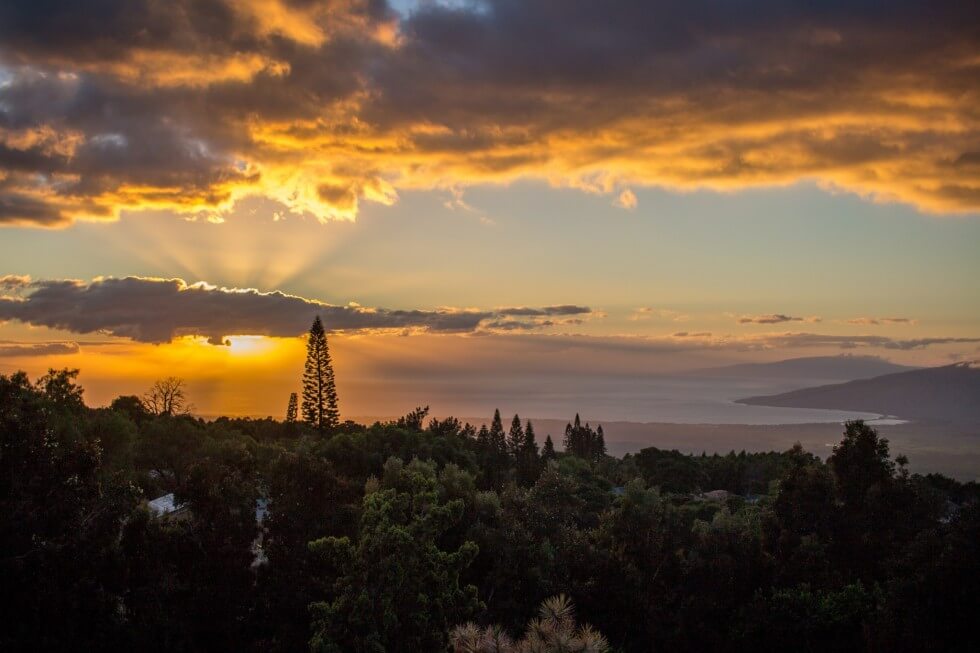 All in All
Maui is known for its beaches and warm weather, but if you are craving something different a visit to the Upcountry makes for a lovely day. Maui's more temperate Upcountry is full of beautiful farmland, small producers of cheese, plants, and alcohol. It is a beautiful spot with so much to see past Haleakala!
Do You Want To Do it Too?
Haleakala
It costs $15 per vehicle to enter the National Park. The ticket is good for three days and can be used at any of the Haleakala entrances.
Farmer's Market
Kula's Farmer's Market is every Saturday from 7:00 am – 11:00 am. Entry is free, but you will definitely want to buy some delicious food or produce!
Surfing Goat Dairy
Offers tours throughout the day from $12 to $28 depending on the type of tour. Free to visit if you'd just like to have a look around and pet some goats.
Ali'i Kula Lavender Farm
There is a $3 entrance fee or you can sign up for one of the many tours or classes that the farm offers.
Maui Nui Farm and Thai Food Truck
The produce stand is open every Thursday, Friday, Saturday, and Sunday from 8am to 5pm. The delicious Thai food truck is open seven days a week. Every first Saturday & Sunday are Family Days with live music, Thai food, and free farm tours.
Ocean Vodka Tour
Tours run daily from 9:30-4:00 and cost $10 per person.
Sunset at Kula Lodge
We can't speak for the food as we only had drinks, but the views were incredible and their pizza ovens looked pretty legit!