In the Pampas, the mighty Pampas…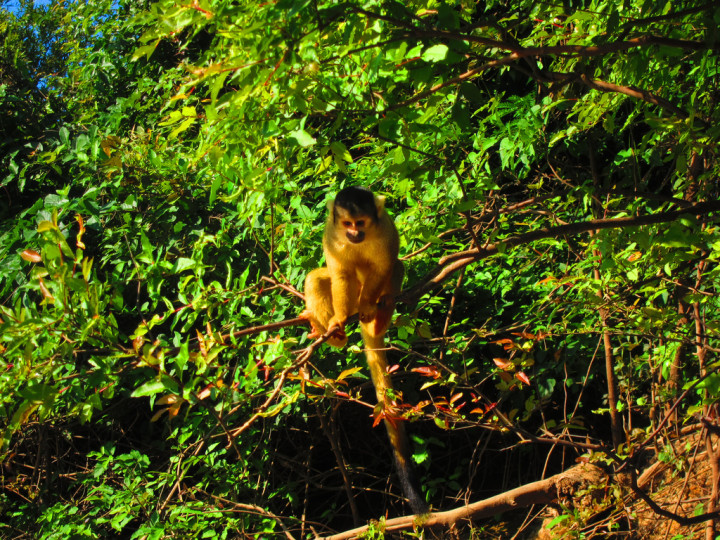 Rurrenabaque, Bolivia is a small town on the edge of the Jungle and Pampas regions of Bolivia.
[flickr]photo:5981327631[/flickr]
Though its pretty small it's the biggest city in the province and a good place to come to if you want to "go bush" and head off into the wild.
[flickr]photo:5973832387[/flickr]
[flickr]photo:5974399730[/flickr]
You can take a 20 hour bus to get here, or pay $60 for a 45 minute flight. We opted for the latter and rode on the lil'est plane I have ever seen!! Walking to my seat (one of 10 maybe) I felt like Alice after she had eaten the growing cakes, with my head smashed up against the roof sidling by the single rows of seats on either side. The capitan was about 5.3 feet in front of us, and when I looked out the window at the guy spinning the plane's propellers with his hands to get us started I realized that he was not even using a step stool to do so! He was easily reaching the propellers from where he stood on the ground though he could not have been over 5'6".
The Landing Strip
[flickr]photo:5973602445[/flickr]
[flickr]photo:5990668498[/flickr]
[flickr]photo:5990110469[/flickr]
[flickr]photo:5990113293[/flickr]
Once in Rurrenabaque one has the option of either heading into the Jungle (where you can sing "in the jungle" all day long) or the pampas (where one can try to sing "in the pampas" but "Pampas" does not sound quite as mighty as "Jungle"). Pampas are wetlands, or swamps, teeming with animal life on the edge of jungle rivers. The Jungle is forested and teeming with wildlife, though most of it is smart and hides in the foliage.
[flickr]photo:5973891665[/flickr]
[flickr]photo:5974507026[/flickr]
[flickr]photo:5973806163[/flickr]
Because we wanted to see animals more than foliage we decided to head off into the Pampas. We were definitely not disappointed. The Alligators and Caimens that lined the banks of the rivers sunbathed next to Capybaras (R.O.U.S's- no literally, they are the biggest rodents in the world) that will later become their dinner. Monkeys gamboled in the trees and pods of pink river dolphins slid through the water next to our canoe.
[flickr]photo:5973628279[/flickr]
[flickr]photo:5973998873[/flickr]
[flickr]photo:5973977031[/flickr]
[flickr]photo:5973963455[/flickr]
[flickr]photo:5974490352[/flickr]
[flickr]photo:5974470466[/flickr]
[flickr]photo:5974481454[/flickr]
As it turns out pink dolphins are born grey (like regular dolphins) but turn pink because of the pink food they eat.. like flamingos!!! They also have super flexible necks, and a hump on their back instead of a dorsal fin to more easily maneuver around the roots of trees. They also use echolocation (like bats!) to find things under water as the river is so brown and murky.
[flickr]photo:5973957365[/flickr]
[flickr]photo:5973662087[/flickr]
They are pretty neat thats for sure, and have huge brains! (40% larger than humans) so they are most likely just biding their time in the river, plotting their eventual overthrow of the world.
There are birds all over the Pampas with li'l mohawk things and shrill calls that reminded me of the old guy's hat in Labrynth.


[flickr]photo:5974384896[/flickr]
At night when you are drifting down the river the stars start to pop out all over the sky at the same time the fireflies start popping out all over the earth. And when it is completely dark and the only lights surrounding you are fireflies or stars you can shine a light along the banks of the river to see the red eyes of the Alligators eerily glowing through the dark and reflecting on the water below them. It's like magic. But kinda scary magic.
[flickr]photo:5973845033[/flickr]
[flickr]photo:5974402630[/flickr]
[wpgmappity id="52″]