One of the loveliest Austin Things To Do – Hamilton Pool Photos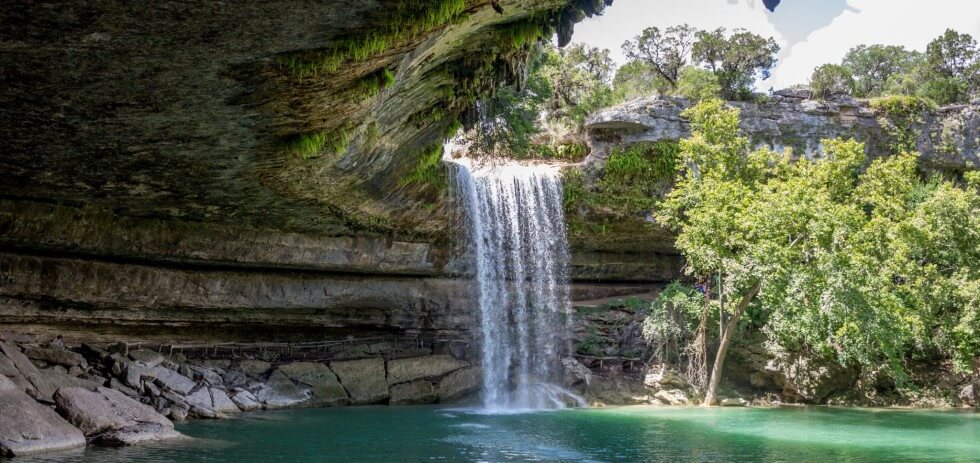 It was a photo much like this one that brought us to Hamilton pool outside of Austin, Texas. I was chatting with a yoga teacher after a class, and when she found out that Tom and I were visiting for a month to housesit, she started giving me suggestions of Austin things to do.
Some of her recommendations I had already heard of from a friend who had lived there before; The Congress Bridge Bats, Wandering on South Congress St and brunch at Blue Dahlia. But some of her tips were totally new to me, and I repeated them out loud after hearing them, hoping that I would remember enough of their names to do a little research when I got back to the house. This was my reaction to her suggestion of "Hamilton pool" and having quickly picked up my cues of when I had heard of something and when it was not at all on my radar she paused, "but you've heard of Hamilton pool, right?" "No" I shook my head, "it's this amazing pool that is in a collapsed grotto with plants and ferns all over the ceiling, surely you've seen photos!"
"I don't think so," I shrugged back at her and she instantly started typing on the keyboard in front of her. I went around the desk to see what she was pulling up on her screen and then gasped when her search revealed photo after photo like these ones.
"Oh wow!" I sighed, "yep" she agreed, obviously pleased that I was finally getting it, "it's about 25 miles outside of Austin, you definitely should check that out."
We went the very next day. Before we even left the parking lot I was amazed at how gorgeous it was. The fields surrounding the paved parking area were bursting with millions of beautiful wildflowers, haphazardly swaying around in the breeze.
We began the quarter of a mile hike down to the pool. Though the hike is short it took us more than 30 minutes, since we stopped every few feet to take photos, or just stare at the very magical looking white, bald cypress trees that are growing out of the stream.
The path finally ended at Hamilton Pool and we got our first look at the collapsed grotto, waterfall, and lush, diverse plant life that surrounds it. The pool is fed by the 45 foot waterfall splashing down into it and the ceiling is covered in springy, bright green ferns and other plants.
One of my favorite parts of the pool is the rock-lined edge under the grotto. It is lined with large broken rocks that look as though the earth was just pushed back there in one fell swoop. I loved walking around that edge, picking my way around the large squares of broken rocks just as much as I loved the edges where you could go right up to the luminescent green water of the pool. Water that we (unfortunately) could not swim in the day we visited due to unsafe bacteria levels.
And so, it was seeing photos like all the ones in this post that sealed the deal, convincing me that we really did have to go check out Hamilton pool. I can only hope that one of our photos has the same effect on someone out there, because it really is a beautiful place!
If you walk away from the pool when you begin the hike the path leads 1/2 a mile to the Pedernales River; making a total of 1.5 miles of trail you can walk if you want to see it all.
Do you want to do it too?
Hamilton Pool is located 25 miles West of Austin at 24300 Hamilton Pool Rd. Dripping Spgs, TX 78620. It is open from 9:00 am to 6:00 pm daily, weather permitting, with no entry after 5:30 pm. Fees are $15 per vehicle, or $5 per vehicle if vehicle has a senior citizen (62 years) or a disabled vet. Pets are prohibited. No exceptions.
Only a certain number of cars are let in at one time, so during weekends, vacations or other busier times you may have to wait in a line of cars outside of the reserve for a group to leave. It is worth getting there early to not have to wait out in the sun in your car!
As I mentioned before, there was no swimming allowed the day we visited. You can call (512) 264-2740 for daily updates on closings and swimming rules.