On the lam in Rurrenabaque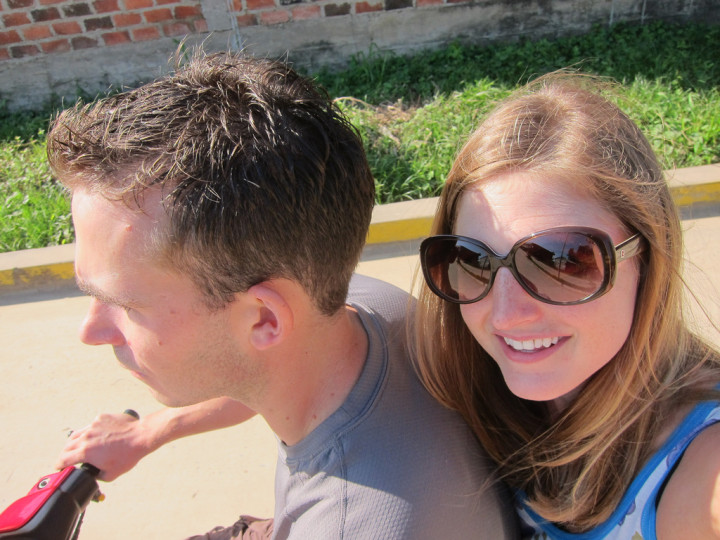 We love the jungle.
If you ask Tom why he loves the jungle he will tell you that it's nice and warm and there is an abundance of fruit. If you ask me I will probably wax poetic about how the heat and humidity make me feel lovely and relaxed and a little dreamy all the time, and about how there is a feeling of overabundance and lushness everywhere you look, and about how the moisture in the air makes my skin all nice and dewy and about how the sunsets always seem to be prettier in the jungle. It basically comes out to be the same reasons, my response is just lengthier. I must admit we both prefer our Jungles to be edged by warm blue-green oceans, but you can't have everything. Well at least not until next week (spoiler alert see next weeks "homecoming" post in which we get to have everything).
[flickr]photo:5981882616[/flickr]
[flickr]photo:5981459707[/flickr]
[flickr]photo:5990665786[/flickr]
Little towns in the Jungle (like Rurrenabaque) are pretty great for a number of reasons. Lots of unlikely people love the jungle, so small jungle towns often have a lot of foreigners living in them.
[flickr]photo:5982044280[/flickr]
[flickr]photo:5981999886[/flickr]
Foreigners who may, or may not, be on the lam. Rurrenabaque definitely looks like the type of beautiful, cheap, remote, foreign place that people who are running from someone or something end up in at the end of an action movie. You think the main character (or villian) is dead, and then BAM next scene he is riding a motorcycle around some small town in the Jungle, joking with his new local friends in Spanish in the market while buying beautiful exotic fruits. Stopping for an empanada and a cold beer (or orange juice) on the way home to his rustic but luxiourous thatched roof house- leaving the story open for a sequel.
[flickr]photo:5990687270[/flickr]
[flickr]photo:5981427613[/flickr]
These (possibly criminal or rogue spy) ex-pats hiding out in jungle towns tend to excellent chefs as well. Which means that randomly in the jungle you can start your day with beautiful and perfect french croissants for a mere 30 cents, baked for you by a Frenchman (most likely a double agent) or eat amazing baked goods made by U.S Mennonite girls, who look as though they stepped out of a little house on the prairie to bring you warm freshly baked oatmeal cookies and homemade yogurt (ex-cons for sure).
[flickr]photo:5990698172[/flickr]
[flickr]photo:5990699142[/flickr]
[flickr]photo:5990699634[/flickr]
[flickr]photo:5990141183[/flickr]
[flickr]photo:5990124975[/flickr]
Amongst all the standard places serving fried chicken from aquariums outfitted with lightbulbs we also stumbled upon the best tacos we have had south of Mexico as well, complete with a lovely array of salsas. Living on the border of Mexico for so long spoiled us, we did not realize how lucky we were. And if you think that it's hard to find a good burrito in Oregon or New York- it's nothing compared to the struggle of finding good Mexican food in South America! To be fair we are also pretty far from Mexico. We had almost given up before these tacos.
[flickr]photo:5981900328[/flickr]
[flickr]photo:5981345045[/flickr]
We rented a moto to ride around and see more of the area, and I admit I felt a little bad about just having the two of us on the bike. I think for Rurrenabaque it's like back home when you see one person all by themselves in a huge SUV. It's just a waste, I mean unless you are transporting cargo of course. I also felt a little unladylike as most of the other ladies seemed to be sitting "side-saddle" when they were riding behind Men.
[flickr]photo:5990138175[/flickr]
[flickr]photo:5990692546[/flickr]
[flickr]photo:5990693982[/flickr]
[flickr]photo:5990685834[/flickr]
[flickr]photo:5990136617[/flickr]
[flickr]photo:5982034408[/flickr]
[flickr]photo:5981433043[/flickr]
But it was lovely to speed around surrounded by Jungle and looking over Tom's shoulder at the road stretched out in front of us with the wind pulling my hair off my neck, pretending for a while to be dangerous ex-assassins or mobster accountants.
[flickr]photo:5981423431[/flickr]
[flickr]photo:5982024198[/flickr]
[wpgmappity id="53″]