La Paz, Bolivia (It's all about expectations)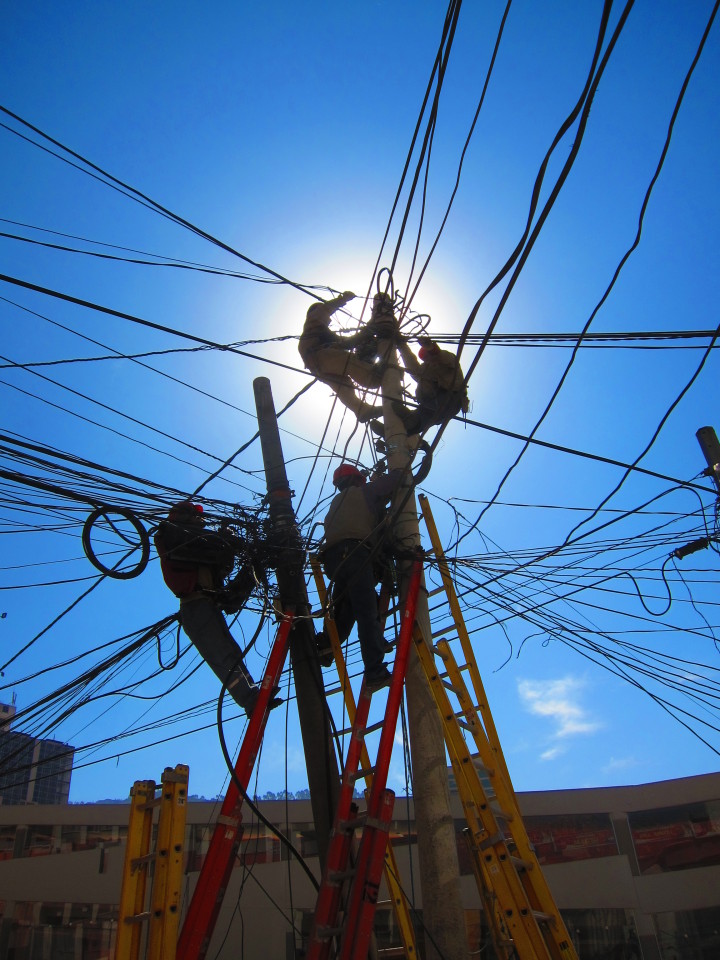 I would like to thank everyone out there who, inadvertently or not, let things slip about La Paz that made Tom and I expect to dislike it. I am so glad I came to La Paz expecting a freezing city at such heights that walking from the bed to the bathroom would leave me wheezing like an asthmatic after running the mile. We came expecting just another huge, boring city no different than any others we have seen except for the thin freezing cold air.
[flickr]photo:5961292283[/flickr]
Our low expectations of La Paz contributed to our utter enjoyment of the city. As it turns out the majority of La Paz is actually a bit lower than Puno on Lake Titicaca, where we had just come from. So as an added bonus we ended up breathing a bit easier in La Paz than we had been for the previous week. La Paz is also much warmer than the shores of Lake Titicaca during the day, and as for the night; well as it turns out Tom and I are old and boring and found ourselves safe and warm in bed before it ever got too cold outside!
Also La Paz has it's market. Wow.
[flickr]photo:5961335349[/flickr]
How dare Otavalo, Ecuador?!?!?! How dare they claim to have the biggest market in South America without blushing furiously and fidgeting uncomfortably from the lie?!
We have seen many markets in South America, but nothing has compared to the sprawling mass of 25 or more square blocks of madness that is La Paz's main market! Where you can get a shave and a haircut for less than $1.30 right next to blocks and blocks of women sitting under umbrellas to protect themselves from the sun, their blankets barely containing the huge nests covering them overflowing with fruits and vegetables. Blocks crammed with people all selling zippers, or chicken feet, or electronics or adidas knock-offs, or anything in the world you could possibly need or want crammed into every inch of available space near the center of town.
[flickr]photo:5961310277[/flickr]
[flickr]photo:5961869782[/flickr]
[flickr]photo:5961341427[/flickr]
[flickr]photo:5961895352[/flickr]
It is a cacophony of decorated cakes on the curb next to alpaca yarn of every color in the world ever, and wheelbarrows overflowing with popcorn and fried pig skin fighting for space with traveling shoeshiners, shoelace sellers and fresh orange juice vendors.
[flickr]photo:5961855288[/flickr]
[flickr]photo:5961322063[/flickr]
[flickr]photo:5961324545[/flickr]
[flickr]photo:5961884086[/flickr]
[flickr]photo:5961330049[/flickr]
Again, Wow. One could lose themselves for days in the main Market of La Paz. As in, literally you may get lost and spend the rest of your days people-watching and wandering between the dried llama fetuses of the witches market, and the rows of Elvi's brand jeans (kinda looks like Levi's if you squint). Well, at least you wouldn't starve!
[flickr]photo:5961900302[/flickr]
[flickr]photo:5961332687[/flickr]
[flickr]photo:5990147683[/flickr]
[wpgmappity id="50″]