Osaka, Japan: Cuisine, Castles and Pachinko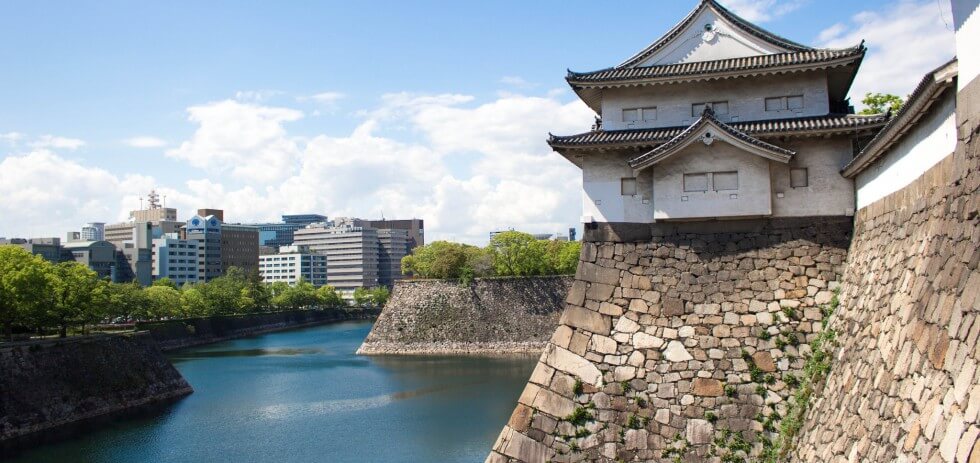 As I mentioned in our review of Fujiya 1935, Osaka is a city proud of it's cuisine.
It's most famous dish is indubitably oknomiyaki, a savory frittata-esque egg and cabbage dish. We went to Negiyaki Yamamoto Umeda Est-ten which I think translates to "grilled green onions shop" to try this famous dish. After ordering the waitress asked "can you have mayonnaise?" We thought she was asking about a food allergy, so we answered with a resounding "yes." When our okonamiyaki came with a healthy (probably the wrong adjective to use here) amount of mayo slathered on top I wished we hadn't been quite so enthusiastic.
I really enjoy egg dishes and the oknomiyaki we had was a nice version of an omelette, but it was not something we would go out of our way for. Maybe we were too fresh off the boat from Thailand, but it seemed like it could have used some spicing up. Possibly some fiery chilies, fish sauce or garlic would have been a nice touch. Or possibly I need to not try and make something Japanese into Thai or Vietnamese food and appreciate it for what it is.
Osaka's second most famous dish is Kitsune Udon and the version of it that we had at Usamitei Matsubaya was the best thing I ate in Osaka outside of the beautiful 15 course michelin star Osaka experience pictured below.
I would absolutely go far, far, outside of my way for kitsune udon, which may be Japanese for "absolutely inspired bowl of soup." Unfortunately we lost many of our photos from that day, but take my word for it. The soup happened and it was brilliant. The restaurant was a tiny, little place where no one spoke English and there were no menus. On second thought, maybe there were menus but no one bothered giving us one since they were in Japanese.
We just sort of gestured at other people's bowls of food while alternating between grimacing apologetically and smiling until the proprietress left our table and brought us back some soup. She brought Tom and I each something different and she must have been some kind of magic, because our dishes suited us perfectly. Mine was full of springy and bouncy noodles in a hot flavorful broth. Perfection!
"Usamitei Matsubaya" is at 3-8-1 Minamisemba, Chuo-ku, Osaka, Osaka Prefecture 542-0081, Japan and if you ever find yourself in Osaka I absolutely insist that you go there immediately and eat some soup!
Osaka's most famous site, a 500-year old castle set right in the middle of the city, is pretty hard to miss. The most striking thing about it is how it is completely surrounded by towering glass skyscrapers and other signs of modernity that somehow manage to not be incongruous with it's antiquity. Because that's just how Japan rolls. Unapologetically belonging completely in both worlds (traditional and modern) and making it work.
And finally I come to pachinko. We really don't get pachinko, but the Osakans seemed pretty head over heels for it. There were smoky pachinko dens everywhere you looked where you could sit down, chain smoke and endlessly shoot little white balls to an undetermined end. It felt like it should have been gambling, but there was no money, or even paper tickets coming out of any machine. If you did well, you got more little white balls to shoot. Also there must be skill, but all you can do is pull a lever and let go to release a ball. It's like the first part of pinball when you shoot a white ball up to then bat it around with levers. But with no levers! Just pull and release. It's really hard to see how you can do that with skill. But then again other people had a whole lot of extra little white balls and we didn't earn a single one, so what do I know?!
I do know that if you are tired from walking around exploring the cuisine and castle on offer in Osaka a pachinko parlour is a great place to sit for a bit and lazily chuck some tiny white balls around while resting your weary feet. You can then emerge rejuvenated to go and track down some more of that soup!