We have learned over the years that if enough people say that you gotta do something, there is probably something there. If enough people say the soft-serve at a particular place is to die for, well then you better stand in line to get a cone.
When we started doing some research into things to do in the Philippines we kept coming across glowing mentions of a 4 night/5 day island-hopping boat trip with a company called Tao, or "People" in Tagalog. The Tao Philippines website stresses how rustic the trip is, talking more about the lack of creature comforts in the semi-deserted islands and small Filipino fishing villages you camp in each night, rather than the beauty of the group of islands between Coron and El Nido. When you book you instantly receive an e-mail saying something to the effect of "I hope you read the website and realize what you are getting into."
When our group ran into Eddie (one of the co-founders of Tao) in one of the small fishing villages we camped in, we asked why there were so many dire warnings on the site and in e-mails. He said that they were trying to offset all of the great press they've gotten.
"You read the New York Times review of the trip, or the Guardian review and it's all about how beautiful the beaches are, and how beautiful and romantic it is to take a fishing boat around deserted islands" he raises his voice to a falsetto mimicking the amazing write-ups they have gotten in these prominent magazines, moving his hands as though he is prancing through a field of roses.
"We don't want people to read all of that and then come on this trip expecting it to be a resort, or for it to totally perfect all the time" he finishes before returning to his plate of lechon or whole roasted pig that one of the villagers had turned on the spit for us for the last several hours.
Hmm. I guess I can kind of see where he is coming from. If there were people on the trip who were too turned off by bucket plumbing or lack of electricity to enjoy it then they certainly would sour everyone else's experience. On the other hand it is pretty difficult to experience something like Tao and not want to simultaneously scream from the rooftops how amazing it is, and jealously guard the secret so that you can come back every year and find it unchanged.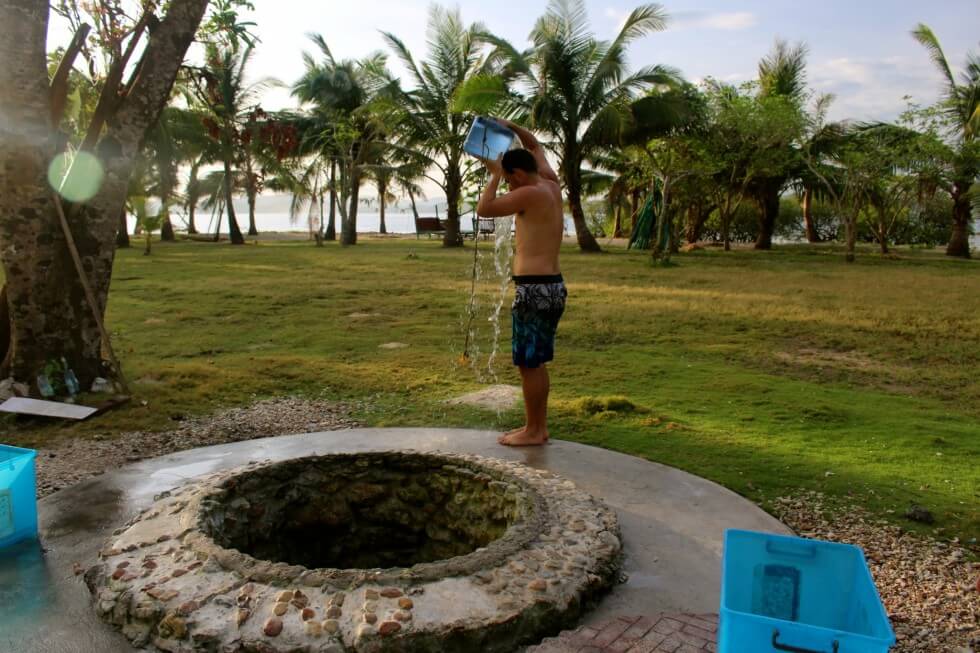 It is, hands down one of the most wonderful "tour" experiences we have ever had. Anywhere. Ever.
It is the perfect mix of being pretty seriously looked after- would anyone like a coconut full of oatmeal, fresh fruit and coconut jelly handed to you at breakfast on a deserted island? – And being allowed to really explore a place, decide where to go and chat with people who live there without feeling held apart or too "other." Tao has obviously spent quite a bit of time building real relationships with the villages it visits and this makes the whole experience incredibly unique.
In short it is like getting to run away to never-never land for a week. Sometimes joining the lost boys, and other times joining Tiger Lily or the pirates. Running around beaches, rice paddies and jungles, feeling the thrill of discovery at each new secret beach or lagoon and diving into underwater adventures through sunken ships. Getting lost in adventures, but with a Wendy in the form of an expedition leader there to dress your scrapes and to help you navigate around.
One of the mission statements of Tao is to not be a tour, but a way to facilitate exploration of an area that would be extremely difficult if not impossible to visit. There is no set itinerary, no activities list and no running water or electricity. They do not intrude on local communities across the 200 islands along the 150 km route between Coron and El Nido. Rather they join the communities who open up their villages and islands to travellers aboard Tao, allowing them to join their way of living for a night. Tao barters with the local communities exchanging goods for food, and sleeping space and also builds schools and other community projects in each village.
Due to the network they had already set up across these remote places they played a huge role in the typhoon relief effort and are continuing to support the villages in creating structures that will withstand future typhoons.
I am getting ahead of myself though, let's go back a tick to the briefing the night before we left on our Tao trip.  Actually let's go back to the day before that, December 2nd.
Tom and I had decided to spend all of our time in the Philippines in Palawan based on the fact that we wanted to do this Tao trip. The way the timing worked out we were going to have 9 days in Coron town before leaving with Tao on Dec. 8th. We quickly realized that 9 days is a lot to spend in Coron town. It's a lovely little place but a few days is more than enough time to get your fill of the town and surrounding area. We walked by the Tao office in Coron on our way to the market and noticed that the white board outside had "Next Trip Dec 04" written on it.
"What?! Check that out, it says December 4th on that board" I stopped in the street and drew Tom's attention to it. "I thought there were only trips on December 1st and December 8th, we totally would have gone with that date"
"Hmm" Tom studied the board for a moment as well "maybe they will let us change it, lets go and see."
We entered the little office and approached the lady working behind the desk, crossing our fingers that things would just work out.
"Hi" Tom greeted her "we are supposed to leave on the Tao trip from Coron to El Nido leaving on December 8th, and saw the sign outside. Is it possible to change our trip to December 4th?"
I had a feeling that swapsies were definitely not allowed, but as my Aunt Nancy says "you can't park on front unless you drive down front."
She asked for our name and confirmation number and then made a phone call while we waited with bated breath.
She spoke in rapid Tagalog that we tried to make sense of, and then very clearly said "oh no, El Nido to Coron!" and then started laughing uproariously.
Tom and I exchanged frantic looks and started going through our e-mails to find the confirmation from Tao. Once we did we saw clear as day "Dec 08 El Nido to Coron."
Oh god. I instantly started thinking about how we could fix this. "Maybe we can take a ferry to El Nido, do the boat trip and then take a ferry back to El Nido from Coron" I started frantically whispering to Tom. "And then we can change our flights out of Puerto Princesa, and maybe plan on skipping…" I was definitely spiraling.
"Just wait, Tom calmed me. "Let's see what she says when she is done." I nodded miserably, berating myself for not catching that earlier.
The lady (our new best friend) gets off the phone and can tell that we realized what happened at the same time she did.
"Don't worry!" she assures us, still chuckling. "It's all sorted out. You will leave on December 4th from here, from Coron."
We unleash a torrent of gratitude that she shushes, "take a deep breath, it's all ok!" Looking back I realize that we were already being taken care of by Tao. As Eddie told us, "once you are in, your trip is booked and your deposit is payed, you are part of the family." We follow her instructions and then leave, ridiculously happy that we walked by the office when we did.
Back to the briefing
We come back to the office on the evening of the following day, excited to meet our group for the first time. Knowing that on the boat you mostly all share the same sleeping pallet, though with separate mosquito nets, we spent the whole day looking at every traveler we saw and said "future bunkmate?" to each other.
We are first greeted by Romey, the expedition leader of the trip, handing us a glass of pineapple rum punch. Not a bad way to start off. We sit at a table with another couple from the U.S. two brawny Norwegians and a pocket-sized strawberry blond from England. We were told that we were a small group for Tao, and that we were still waiting on one more couple that we would pick up in the boat the following day. We got down to the serious business of discussing how much alcohol we should all order for the boat while gauging each other's personalities. The answer? A lot.
It's a funny thing to look back on that first meeting with the hindsight we now have.  We had no idea that the only thing we were lacking that night was an Australian couple to make us complete. How quickly you go from being strangers to buddies with a trip like Tao.
We spent the next 5 days in a kind of glorious adult summer camp set in paradise. A place so beautiful that it has been the filming location for the last few seasons of "Survivor."
Snorkeling together through amazing coral reefs waving at clown fish hiding in their anemone homes, kayaking through turquoise waters along dramatic limestone cliffs, playing games of beach Frisbee, trekking through jungles, playing volleyball with fishing nets strung between two palm trees, exploring underwater caves and lazing in hammocks getting to know one another.
I hesitate to wax poetic after Eddie's warnings, but it is difficult not to. The boys on the boat and Romey were just incredible and there was not the feeling of "us and them" that is sometimes hard to dispel in an experience like that. They chatted with us, and played games with us and genuinely seemed like they were having as much fun as we were. We all celebrated jubilantly when our line caught a 15-kilo Spanish mackerel and then shared in the sashimi Romey immediately cut up for us, moments after it had been killed with a club to the head.
We all decided together to take up a village's offer to run their generator for the karaoke machine and then took turns serenading each other. I don't know which was better Jerric (one of the crewmembers) perfect crooning of Wonder Wall by Oasis, or the enthusiastic rendition of the Backstreet Boys "Everybody" by the Norwegians complete with dance moves that I would not be surprised to discover were choreographed.
At the end of the trip we all joked longingly with each other about how we were going to refuse to leave the boat, how we were going to become Tao workers, how we were going to pay to get back on, island hopping and camping into perpetuity.
I felt like one of the lost boys being lured back to a place of soft, dry beds, internet and indoor plumbing, but also of school, schedules and inevitably of growing up. And though that is all very nice, and there were times when a toilet seat would have been awesome; we definitely faced leaving the boat with more trepidation than enthusiasm.  After all; If growing up means it would be beneath my dignity to climb a tree I'll never grow up. Not me. No Sir. So there.
Or so I tried to tell myself as we hugged the crew and each other good bye and jumped onto the trikes that would take us to our respective hotel rooms in El Nido town.
All I can say is, we tasted the soft-serve and once again learned that if enough people say you gotta do it, you really gotta do it. And if you do go ahead and do it, please let us know because we just may join you.