Phare Circus and Giant Puppet Parade, Siem Reap Cambodia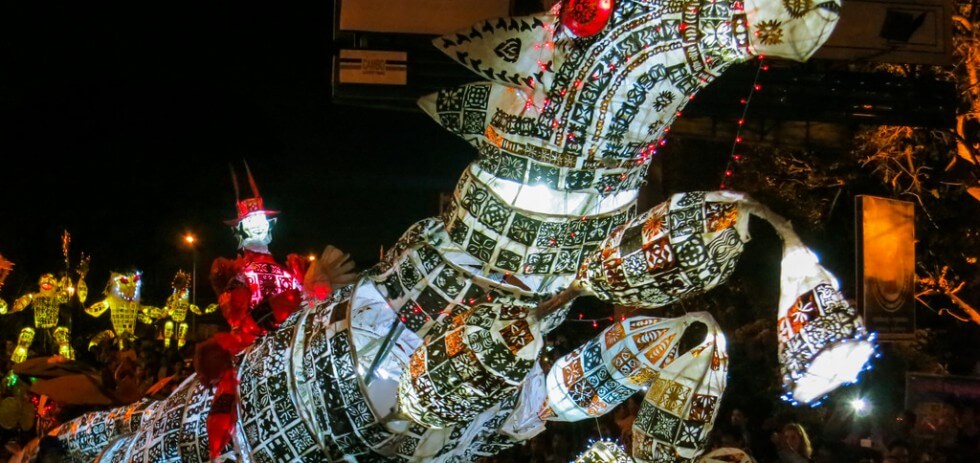 The manager of the guesthouse we stayed in just didn't know what to make of us. I noticed him watching us, at first confused and then anxious as day after day we came downstairs at around 11am to eat breakfast before heading up back to our balcony to work. We would typically emerge again in the late afternoon for a walk and dinner. He approached us timidly as we breezed back through the lobby our third evening there, "Hello Mr & Mrs. Krones, do you plan on seeing any temples? Do you know about the temples?"
Though sorely tempted to see how the conversation would go if I played dumb and acted as though we had no idea about the temples of Angkor Wat, I opted for truth. We just explained that we work while we travel so though we definitely want to see the temples, "and we will" I fervently promised him; we were just enjoying Siem Reap while getting some work done first.
And Siem Reap is quite an enjoyable town! We had not heard much about it before coming, as most people tend to talk about Angkor Wat when talking about the area at all. Fair enough; the temples are breathtaking, but the town itself is nothing to shake a stick at! Despite being full of signs claiming that Angelina Jolie ate here, or drank there while filming tomb raider, cheap souvenirs, and tuk tuk drivers trying to take you on a temple tour, Siem Reap seems to have retained a lot of it's friendliness and character. We didn't get the icky feeling we had in Cusco, Peru of being seen as nothing more than a walking cash machine.
Our guesthouse, aside from spotty internet (town-wide issue not guesthouse specific) at $18/night was a digital nomad's dream. We had a bedroom,private bath, huge living room with a desk, and a balcony with a table and chairs – all cleaned daily. We definitely appreciated the extra space to spread out and work, and all of the staff, though baffled by our bad tourist behavior, were incredibly nice.
So what were we enjoying so thoroughly in Siem Reap? One of the days was taken up with being nosy about how things are made in the town. The rest of our time flew by just strolling down the river, people watching, eating wonderful food, and basking in the general friendliness of the town.
We also (against all odds) thoroughly enjoyed the phare circus and the giant puppet parade in Siem Reap.
Let's get real here: Is there anything as disappointing as a parade or circus?
Just hearing someone say the words "parade" or "circus" has me conjuring up images of the parade at the end of James and the Giant Peach mixed with Carnival in Rio de Janeiro. Handfuls of big sparkly confetti dance in my mind as I imagine masked and grinning merry-makers dancing in the streets. Celebratory festivities beyond my wildest dreams set to the rousing music of a dancing marching band and huge Macy's day style floats and enormous balloons pulled by quasi-fantastical creatures.
Granted, with an imagination like mine I am often disappointed. I get that my expectations doom any parade to mediocrity, but even without my overblown anticipation parades are really boring. They always seem to be a never-ending stream of minor politicians waving from the back of convertibles. A boring and almost depressing reward for sitting around for hours in the hot sun on a crowded sidewalk.
And that brings me to circuses. Other than Cirque de Soleil (which actually is basically the circus of my dreams), all the other ones I've seen are depressing affairs filled with battered animals, rickety and dangerous rides and leering carnies.
In Siem Reap, Cambodia, we finally found some exceptions to this pretty solid "parades and circuses are actually awful" rule.
I saw signs advertising the "Giant Puppet Parade, community arts project" and "Phare, the Cambodian circus" our first day around town and was done for. I instantly went to about 10 on the enthusiasm scale (I never learn!) and booked the circus for one of our first nights in town. I then made our ongoing travel plans revolve around the parade, ensuring we would stay a couple of extra nights so that we could see it before moving on to Phnom Penh. I dare you to hear the words "giant puppet parade" and not feel a stir of excitement in your belly!
Phare Circus is put on by the older students of a public arts, music and circus school. Eight men who had just come home from a Khmer Rouge refugee camp created the school 20 years ago. They had received some art therapy and found it so helpful they wanted to share the same experiences with some of the troubled street kids of their hometown. The circus offers graduates and students of the program a way to make a decent wage through performance art.
It has been called a "Budget Cirque de Soleil" by many. It really is a budget version of that famous show in a couple of ways. Firstly, it obviously lacks the budget of that big name performance. The kids are not working with huge stages that come apart, fancy costumes or impressive sound and lighting. Secondly Phare tickets are a lot friendlier to our budget and cost $15 a ticket as opposed to the $150 or so we paid in Vegas to see a performance. Sitting just a few feet away on hard wooden benches (with a $3 glass of surprisingly good red in my hands) I enjoyed the experience just as much if not more than I did in Vegas with my pricey cocktail.
What the kids lack in costumes and sets they more than make up for with sheer unadulterated exuberance. I think it may be physically impossible to not get infected by their enthusiasm, and I know everyone around me had a huge grin on their faces when they weren't oohing and ahh-ing in disbelief. Somehow the "no frills" aspect of the show made the feats they performed even more impressive. There was nothing to distract from their acrobatics, contortions and unbelievable balancing skills. It showed very real young men and women performing some pretty unreal feats with a pretty admirable amount of joy and energy.As an added bonus there was a drumming performance before the circus began by an all-girls group from Madagascar called Bloco Malagasy.
After being so utterly charmed by the circus I was really excited to see the parade on our last night in Siem Reap. Tom cautioned me many times before it started to hone my expectations. "I really don't think we should expect much," he told me as I bounced on my heels an hour before the parade was supposed to start. I had insisted that we get there early to snag a good spot.
"Do you think the parade is going to go to the left or the right of this roundabout?" I anxiously asked, wanting confirmation for the third time that we had gotten the best possible spot. We were seated in the middle of a traffic circle on the parade route, standing on a large planter in the middle of the roundabout. Tom rolled his eyes "I'm sure where we are is fine." The last of his words were drowned out as the the crowd around us surged to their feet and I heard the unmistakable sound of a rowdy parade drawing closer.
A mere 20 minutes later we walked to dinner exuberantly talking about the parade we had just seen. I think for the first time in my life I was completely un-disappointed. The parade just lasted 15-20 minutes, really a perfect amount of time for the attention-span-challenged of us. Kids had worked hard all year to create giant light up paper-mache puppets. Each puppet was controlled by 10-30 different kids pulling strings to bat eyelashes or holding poles to animate limbs. Each huge lit-up puppet also had it's own music to accompany it.
It was not exactly a Carnival extravaganza, but as each of the large puppets passed us we were taken up with the clapping and dancing of a new beat as each group tried to out-do the other with their enthusiasm and energy. The parade, like the circus, made up for anything it lacked with infectious and high-spirited fun.
My only regret is that having been rewarded with truly fun parade and circus experiences, any chances of tempering my future expectations have been utterly dashed.
Read Our Siem Reap Guesthouse Tripadvisor Review
Read Our Siem Reap Restaurant Tripadvisor Reviews
Read Our Siem Reap Phare Circus Tripadvisor Review