Angkor Temples Day One Itinerary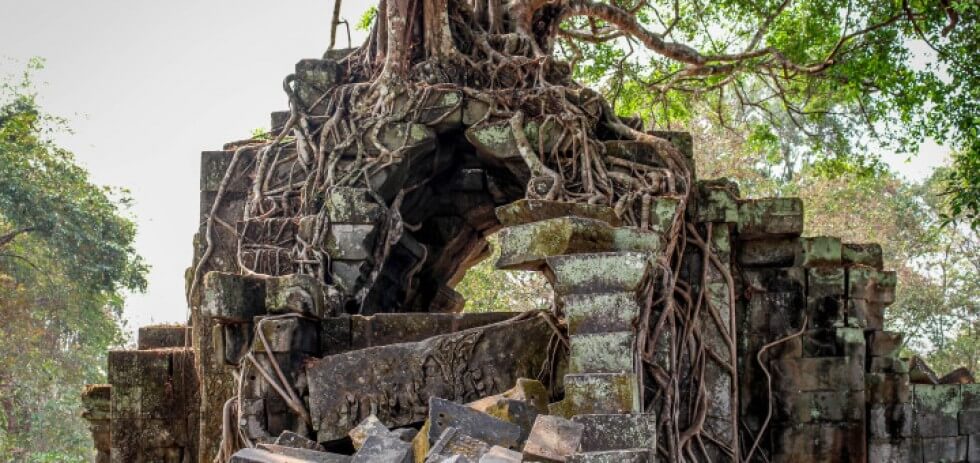 We came to Siem Reap with the same intention as every other traveler; to explore the scores of temples that make up Angkor Archaeological Park.  In typical Tom and Jenny fashion it actually took us about 5 days in Siem Reap before we made it to our first temple.
You can either buy a one day ($20), three-day ($40), or seven day ($60) pass to visit Angkor and with any of the passes get one "free" sunset visit tacked on. Passes need to be bought at the entrance to the park and most people go and buy them at about 5pm and then enter the park for their "freebie" hour or two that doesn't count as one of the days.
Tom and I knew about the sunset freebie, but did not do any research before going.  This earned us a very good lesson on how NOT to visit the temples of Angkor. We went with Mr. Tony the Tuk Tuk driver to the ticket booth to buy our 3-day pass, mistakenly assuming that we would then go and find an empty temple to wander around while the sun set. We could have requested that if we'd thought about it, but instead we just sort of did what Mr. Tony told us to do.
With nothing but good and helpful intentions Mr. Tony took us to THE SUNSET temple. In the same way that hordes of people visit Angkor Wat for sunrise, the masses all troop to Phnom Bekang to watch the sunset. After taking us to buy our passes Mr. Tony drove us there, and then pointed to a hill saying excitedly, "run, run, you may not make it"!
His anxiety was infectious and we found ourselves charging up a mountain with no idea why. We got to the top and joined a massive line of people waiting to climb the temple to watch the sunset.  The temple itself was beautiful, but it was hard to appreciate it when being jostled by so many people.
The most interesting thing we saw on this visit was how all the inappropriately dressed ladies tried to cover up enough to be allowed in the temple. When visiting the park everyone is asked to make sure that their knees and shoulders are covered. Many people either didn't realize this, or simply didn't care and then were shocked to discover that the guard manning the line would not let people who weren't respectively covered climb to the top of the temple.
We saw girls with their legs shoved through the armholes of t-shirts, and with shorts or backpacks draped about their shoulders like shawls. We also saw people climbing up ruins clearly marked with "stay off" signs in an effort to get a picture without other people in it. All in all, it was very good lesson in what not to do in Angkor.
Luckily our first underwhelming foray into Angkor was followed the next day by what you can experience when you see temples the right way.
Simon and Erin of Never Ending Voyage happened to be in Siem Reap at the same time and had invited us along on a trip out to two of the temples that are a bit further away.
They had done their due diligence and it was a good reminder of what you can experience if you do just a bit of research beforehand. We visited Banteay Srei and Beng Melea from about 6:30am-9:30 am. This early in the day they were almost empty and deliciously cool. By the time we left it was scorchingly hot and the tour busses were belching people out by the dozens.
Banteay Srei means citadel of women, or citadel of beauty (obviously beauty is just a synonym for woman) and is thought to be so named because of the beautiful and detailed carvings into the pinkish sandstone that make up the temple.
The second temple we visited that day was Beng Melea, one of my favorite sites in the entire complex of temples! Beng Melea is mostly unrestored and the thick brush, ropy vines and giant heaps of bricks made it feel like we were explorers discovering the temple for the first time. The entire visit felt fantastical, as if we'd stepped through a portal into another dimension.
Maybe I just read too many fantasy novels but the otherworldly effect was only shattered at the end when we ran into the groups of people off the busses taking pictures with iPads and "discovering the temple for the first time" as well.
Our Angkor Temples Visiting Plan
Visitors are encouraged to see temples as a "small loop" or a "large loop." It worked better for us to just look at a map of the temples and have some in mind that we wanted to see. We then chose times that we imagined the temples would be the least crowded and asked a tuk-tuk driver to drive us to that specific temple at that time. Specifically, this is how we used our 3-day pass:
Day One:
Took a taxi out to see the farther away temples of Banteay Srei & Beng Mealea in the early morning and were back in our hotel room by 10:00 am.
Day Two:
Visited Angkor Wat while everyone else was out to lunch, went back to the hotel to relax until 4:00pm and then visited Bayon Temple in the golden hours of the afternoon until sunset.
Day Three:
Ta Prohm Temple from 6:30 am – 8:00 am
Visiting the temples "our way" ends up costing a bit more as we hired taxis for several round trip visits to the temples. The extra cost was worth it for us as we preferred seeing the temples with less people and we do better going on shorter outings to one specific temple than we do on exhausting full-day temple excursions. We think this helped us appreciate each temple more as we weren't too hot, tired, or "templed out" to marvel at the uniqueness and beauty of each one.