Ta Prohm Raider; Angkor's Famous Jungle Temple – In Photos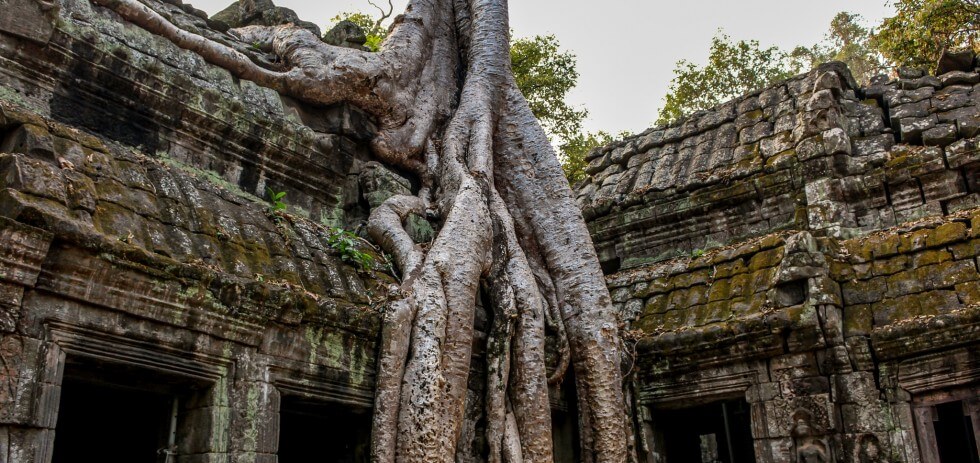 Arguably the most famous temple in Angkor Archaeological park, Ta Prohm is even more otherworldly in real life than in even the most photo-shopped of photos.
This iconic temple was well-known even before Angelina Jolie fought robots, raided tombs, (or did whatever it is that she did), in front of it's crumbling bricks and molten-looking roots. It is the type of place that, due to it's infamy some may dismiss as "too touristy." We tend to think that if everybody (and their brother) wants to see something, that does not necessarily discount it, but rather it probably means its a pretty neat thing to see. The trick is trying to visit these well-known sites with a little bit of elbow room.
We went to Ta Prohm right after sunrise and wandered around alone for an hour before we began to see the first trickle of other early morning explorers. The temple has been left mostly unrestored and the thick roots look like they were poured on like lava, or molasses. The jungle surrounding and encroaching on the temple is as beautiful and impressive as the temple itself and as much of a reason to visit. More than just the temple, or the jungle it is the merging of the two that most people (including us!) are the most drawn to.
One of my favorite details of Ta Phrom was this little smiling buddha head playing peek-a-boo from the side of one of the reaching roots.
Though it is easy to play at being explorers just stumbling on these picturesque ruins, it is obvious that quite a lot has gone into maintaining the condition of studied neglect they appear to be in. The roots may look like they were poured like thick syrup over a stack of flapjacks but are surprisingly heavy and hard. Metal structures have been strategically placed throughout the temple to hold the jungle and temple exactly where they are, not allowing either to fall or prosper any more than at one perfect moment in time. It is as intentional and studied as any work of art, and deliciously eerie in the early morning light.
Our Angkor Wat Visiting Plan
Visitors are encouraged to see temples as a "small loop" or a "large loop." It worked better for us to just look at a map of the temples and have some in mind that we wanted to see. We then chose times that we imagined the temples would be the least crowded and asked a tuk tuk driver to drive us to that specific temple at that time.
This is how we used our Angkor Wat 3 day pass
Day One: Took a taxi out to see the farther away temples of Banteay Srei & Beng Mealea in the early morning and back to our hotel by 10:00 am
Day Two: Angkor Wat while everyone else was out to lunch, went back to the hotel until 4:00 and then visited Bayon in the afternoon until sunset.
Day Three: Ta Prohm from 6:30 am – 8:00 am
This way ends up costing a bit more as we did several round trips to the temples. The extra cost was worth it for us as we preferred seeing the temples with less people. We also found that going on shorter outings to one specific temple worked better for us than exhausting full-day temple excursions. We think this helped us appreciate each temple more as we weren't too hot, tired, or "templed out" to marvel at the uniqueness and beauty of each one.
They say that you should look at how the locals are dressed to know what is appropriate. We knew that visitors should always cover their shoulders and knees when visiting temples, but it looks like I took that advice a little too literally this day and came to the temple dressed exactly like the women at work checking tickets!