Bayon Temple, Photos of Angkor Wat's Headiest Temple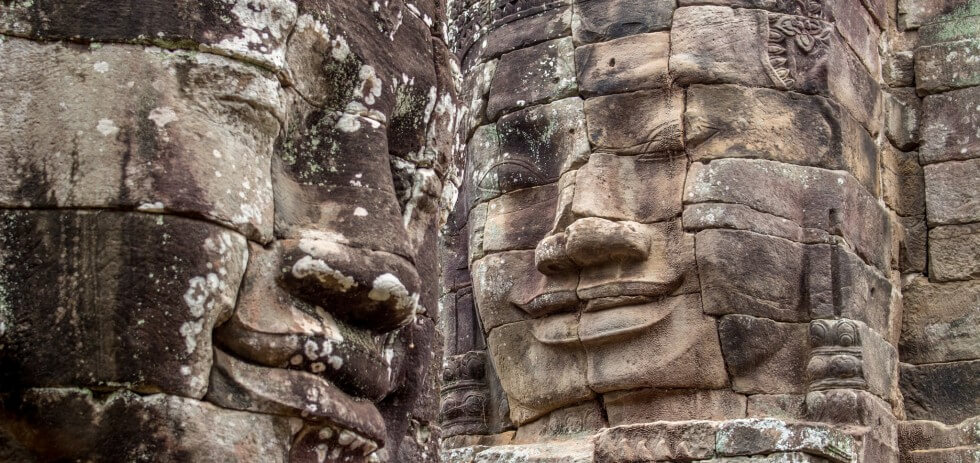 Bayon Temple may be one of the most iconic sights in the Angkor archeological park in Siem Reap, Cambodia
"You know, the one with the heads" you could say to just about anyone and be greeted with the "ooh" of understanding. Walking under the watchful eyes of the serene stone faces felt like wandering through an M.C. Escher painting, or possibly a temple you would find in Oz, Narnia or one of the many other places I've desperately wanted to go since childhood.
We stopped to examine and photograph the first couple of heads that greeted us; peering closely at their lidded eyes and examining their smiling lips. After the first few heads we began walking more quickly around the temple, seeing more and more faces the longer we looked and dizzying ourselves in an unending merry go round of heads crammed closely together. By the end of our visit I was more taken with the amount of heads all occupying the same space, like too many cooks in the proverbial kitchen, than with the admittedly stunning details of each one.
Our Angkor Temple Visiting Plan
Visitors are encouraged to see temples as a "small loop" or a "large loop." It worked better for us to just look at a map of the temples and have some in mind that we wanted to see. We then chose times that we imagined the temples would be the least crowded and asked a tuk-tuk driver to drive us to that specific temple at that time. Specifically, this is how we used our 3-day pass:
Day One:
Took a taxi out to see the farther away temples of Banteay Srei & Beng Mealea in the early morning and were back in our hotel room by 10:00 am.
Day Two:
Visited Angkor Wat while everyone else was out to lunch, went back to the hotel to relax until 4:00pm and then visited Bayon Temple in the golden hours of the afternoon until sunset.
Day Three:
Ta Prohm Temple from 6:30 am – 8:00 am
Visiting the temples "our way" ends up costing a bit more as we hired taxis for several round trip visits to the temples. The extra cost was worth it for us as we preferred seeing the temples with less people and we do better going on shorter outings to one specific temple than we do on exhausting full-day temple excursions. We think this helped us appreciate each temple more as we weren't too hot, tired, or "templed out" to marvel at the uniqueness and beauty of each one.