El Nido Palawan – The Nest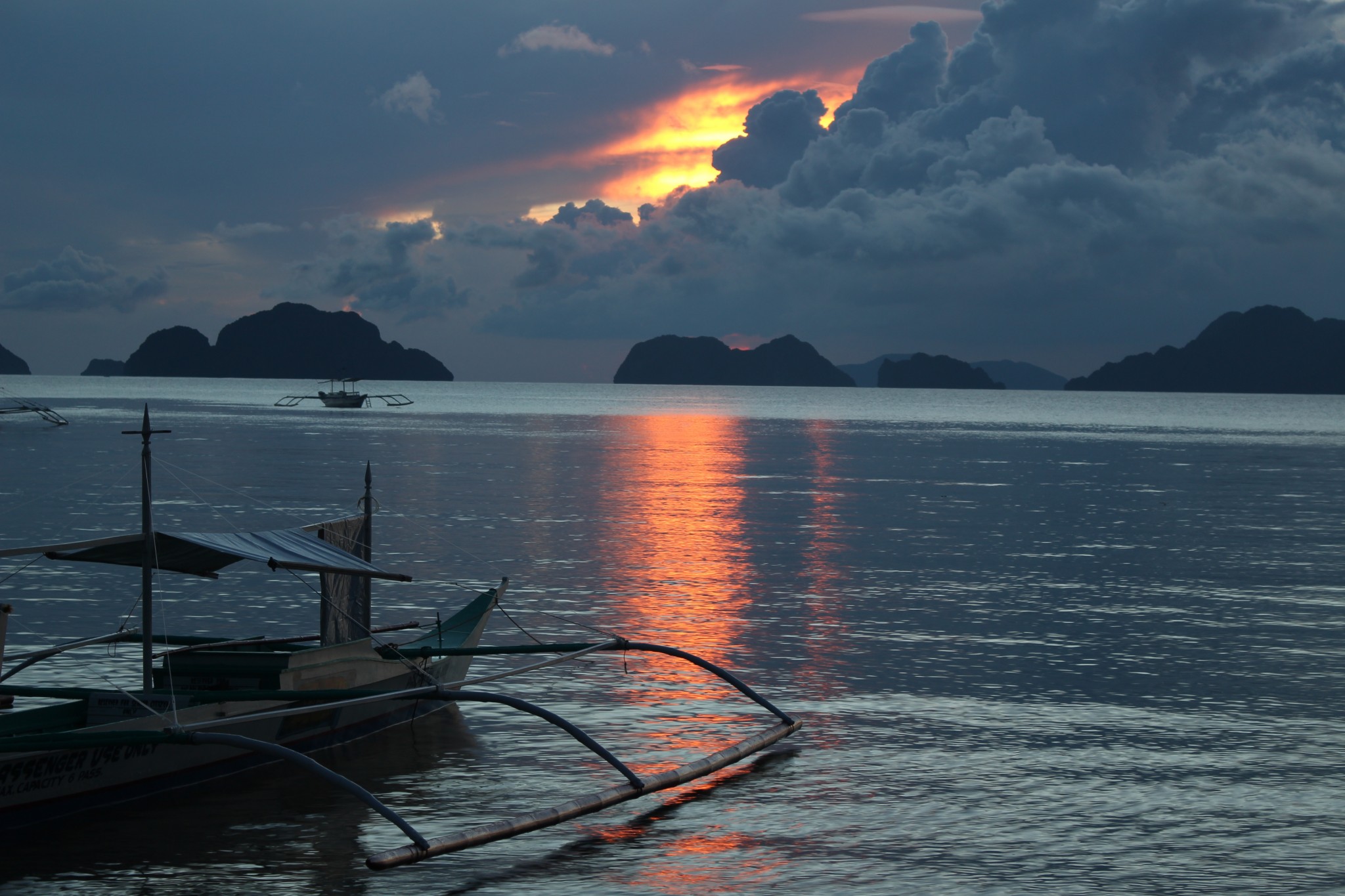 After our Tao boat trip ended in El Nido Palawan we kidnapped one of our ship-mates and rode off into the night on a trike (or motorbike with a complicated side car thing attached) to a hotel. The sun had already set and riding down the dark and bumpy road I felt the island life slipping further and further away as I faced the big city.
We woke up the following morning expecting to feel like an overwhelmed country mouse. Instead it was quickly obvious that we were actually in a very small and laid back tourist town. A town nestled between dramatic limestone cliffs and a beautiful little crescent shaped bay, and filled in with ropy vines and beautiful orchids and jungle plants in between. I was overjoyed to discover that we were unquestionably still firmly entrenched in the island life.
Isn't it funny how relative it all is? El Nido Palawan sure seemed big after seeing nothing but fishing villages and deserted isles for a few days.
The first thing we noticed when we went down to the beach were the clouds of little swallows that were swooping across the water at regular intervals. The unique shape of their wings and sort of unusual flight pattern actually made us think we were seeing bats going home to their caves in the early morning light. It turns out that we weren't that far off.
The swallows, or swiftlets, of El Nido actually use a simple form of echolocation to navigate in total darkness through the caves where they roost at night and breed. So they were just waking up and leaving their caves instead of returning to them.
Hmmm, do you think the swiftlets and bats high-five each other as they pass in the early evenings and mornings? Do you think they see themselves as workers at the same job, but on opposite shifts? They do both fly about eating insects. Maybe they give each other advice as they pass in the caves.
Hey Leonardo! Check out the cricket nest by the south side of the bay, it was off the hook today!
El Nido actually means "The Nest" and is named after the nests that these little birds build. These edible nests are the main ingredient for Chinese Bird's Nest Soup and sell for about US $3,000 per kilogram!
These uber luxurious (and apparently delicious) nests are built entirely from threads, or strands of the bird's gummy saliva, which hardens when exposed to air. Chinese traders have been regularly visiting the area of El Nido to buy these edible birds' nests for basically forever. According to the Internet, El Nido was specifically mentioned in Chinese records as far back 1225 CE.
I seem to have lost the gummy thread of my story but you gotta admit, the whole bird's nest history is pretty amazing.
When we woke up to the sounds of lapping waves and chirping birds we knew that El Nido was going to be a good place for us to nest a little as well. We spent over a week there leisurely enjoying the northern tip of Palawan and the area surrounding El Nido town.
El Nido does not have phone lines, ATMs, or even power except for between the hours of 2pm and 6 am so "leisurely" is really the only way you can enjoy it. We spent our week there renting motorbikes with friends to visit different beaches, waterfalls and rice paddies around the town. The only real item on our to-do list was to make sure we had at least once coconut a day. Mission accomplished!
El Nido also offers several boat day trips to explore all of the amazing stuff throughout the bay. One of the coolest things we saw was "Secret Beach," which is a pocket of white sand beach at the corner of a sinkhole that is inaccessible by boat and surrounded by steep rock walls. To reach it, you have to swim underwater through a narrow crevice in a rock wall. According to the local tour guide, this is the beach that inspired Alex Garland's novel "The Beach" which was written while the author was in El Nido. Apparently Alex demanded that the movie be filmed somewhere other than El Nido to try and keep the beach a secret.
Mr. Garland, if you are reading this I am sorry to say that the secret is definitely out. The name "Secret Beach" certainly feels like a misnomer when you view this magical little corner as one of about 20 tourists- most of which are wearing their bright orange life preservers from the boat and are being propelled through the water by their over-worked guides. Occasionally kicking out a croc-covered foot to try and help, but usually just hitting coral with it.
Don't get me wrong; the beach itself and diving through the crevice to discover it are pretty incredible. I know everybody's got to make a living but damn, it must have been really something when that beach actually was a secret.
Our week of spending time with friends, watching sunsets and boat races and slowly exploring the island felt like a pretty wonderful vacation.
We are on vacation quite a bit less than most people think. Meaning that you can work from everywhere means that you are basically always working. It takes a place that does not have electricity to remind us what an actual vacation feels like. We left El Nido a bit wistfully, but rested, refreshed and honestly, ready to get back to work! Baby birds have to leave the nest sometime.