Part of the herd at the elephant nature park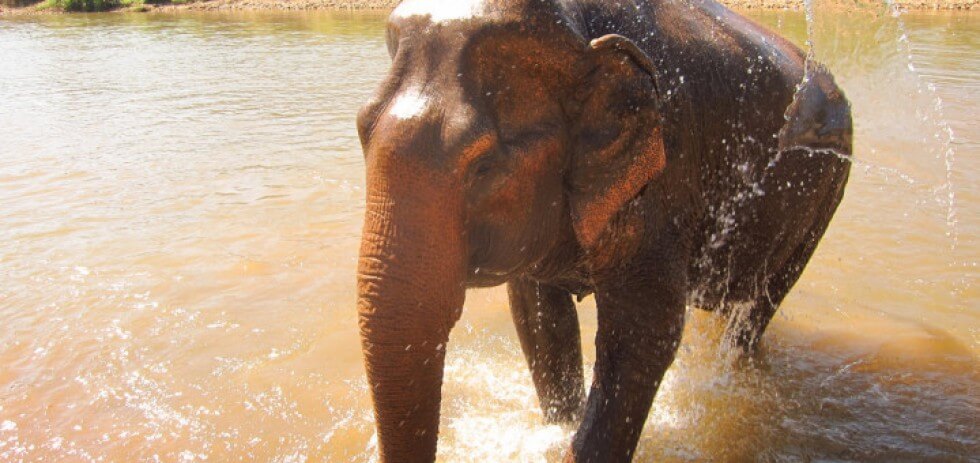 The evening we returned to our guesthouse in Chiang Mai Thailand after visiting the elephant nature park we ran into the young British backpacker we'd met that morning. We were all waiting outside of the Ban Wiang guesthouse to get picked up and taken on elephant adventures. With over 15 elephant parks in or around Chiang Mai it was not surprising that we were headed towards different ones.
Chiang Mai in Northern Thailand is known as a gringo (we don't know how they say Whitey in Thai, so Tom and I just stick with gringo) mecca. There are smoothie shops with wheatgrass and home-brewed kombucha, tons of yoga, pubs and lots of wats (temples) so travelers can feel like they are getting in some authentic Thai culture too.
There are also tons of elephant parks, rafting trips, zoos, treks and almost any other type of activity a traveler may be coming to Thailand to experience.
We had chosen the elephant nature park because after doing a little research it looked like the only elephant park in the area that we wouldn't feel guilty going to. The park is based on conservation and has oodles of humanitarian and conservation awards to prove it. Once we were at the park we began to meet the remarkable and hod-podge herd that lives there. As it turns out female elephants are super social and way into support systems. I can relate.
If they do not have biological families with them then they will create herds and family units with stranger female elephants that they meet. Male elephants on the other hand are loners, who usually just want one thing out of the the lady-phants. You know what i'm talking about.
The herd at the park is almost forty strong; most of which are disabled, orphaned, blind and rescued elephants of all ages.This is definitely not the place you come for the famous "elephant rides." In fact even the mahouts (basically a personal behavioral therapist for the elephant) can't ride the majority of the elephants due to their injuries caused by logging, street begging or forays in the "other" kinds of elephant parks.
We spent the day learning the different quirks of each of the elephants and getting closer than I ever thought I would to an elephant, rubbing them, scratching them and playing in the water during bath time.
I was told by another visitor to the park that I was "an aggressive bather." Ha! She shoulda seen the lady in the Turkish Hamman if she thought I was aggressive! I figured with skin an inch thick the Ellie ladies must be even more into exfoliation than I am.
We were most impressed by the flexibility of their trunks. A trunk for an elephant is almost like a combination of a sixth sense and an extendable fork. A blind elephant's trunk is especially impressive and seems more like an animal of it's own than anything else!
At the end of the day we returned to the Ban Wiang tired and happy. Seeing our young British buddy we had met that morning we stopped for a chat and a view into the other world of elephant parks.
"Yeah, it was really good" he said to us positively. "The elephants are so amazing, I can't believe how strong they are!"
"I know!" we emphatically agreed thinking about the feeling of an elephant impatiently pulling a pineapple out of our hands if we lagged behind in a feeding, and of the warehouses full to bursting with vegetables which would only keep the herd fed for a few days.
"I mean there was three of us in the basket on their backs and they seemed to handle it pretty well."
I think he noticed our faces fall a bit.
"But you know what?" He asked us a bit more seriously. "I know that their skin is really thick, but it still seemed like they were hitting them pretty hard with their sticks, you know what I mean?"
We both winced thinking of all the scars we had seen that day behind the elephant's great big leathery ears- a favorite spot for hitting or hooking because they feel it there the most. In fact we had been told to not touch that area as a lot of the elliies appeared to have some psychological scars as well as physical ones and would get panicked when touched there.
"I think" he went on "that the one I went to was more in the middle than really good or bad, you know?"
Maybe our skin is just too thin, but after spending the day with elephants still healing the wounds they had received and still learning to trust people for possibly the first time it sounded pretty bad to us. And we were very happy that we'd made the choice we did.