From Farm to Table Thailand Cooking Class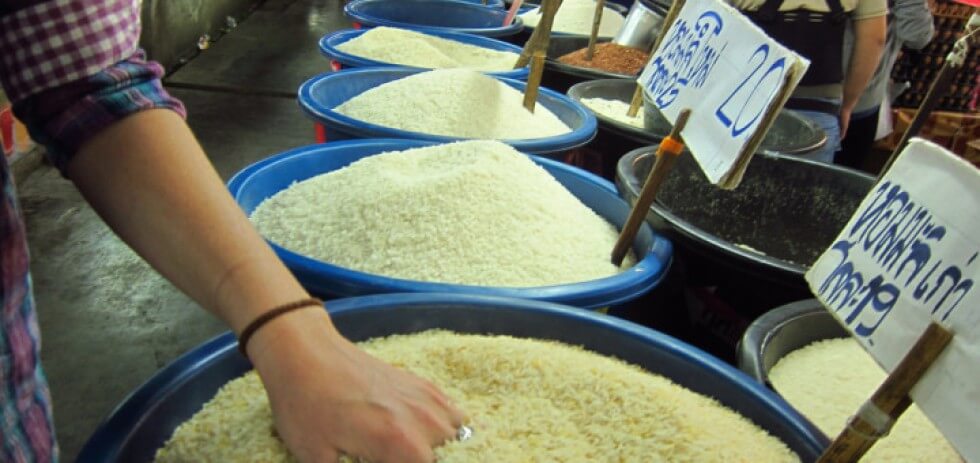 I am in Hog Heaven. I have never before appreciated what it means to travel to the country of origin of a favorite cuisine. I keep telling Tom to be patient, he will most likely understand this feeling when we go to Italy.
As it turns out, Thai food in Thailand is basically exactly like Thai food in California. The only real difference is here they just call it food. That may sound silly or redundant, but think about it. "Cultural" food in U.S restaurants often bears only a slight resemblence to the cuisine of the country it is purporting to be from.
We all know that there are nothing like the greasy and amazing goodness of a huge sloppy burrito, wrapped in a tortilla the size of a man-hole cover to be found in Mexico. I have been to a couple Peruvian restaurants in the States and they paled in comparison to the incredible and varied cuisine we experienced there. I also have had incredible Cuban food in Cuban restaurants in San Diego that may have been in Cuba somewhere, but I certainly did not see any traces of it.
Thai restaurants (at least all of the ones we've been to) are pretty spot on. We have happily been discovering this while  spooning down spicy curries, hot and sour tom yum soup and (of course) creamy and fresh sticky rice with mango! In an effort to get even closer to the food (I basically want to curl up and live in a wok with some oyster sauce and spinach) we decided to take a Thailand cooking class.
There are tons of classes all over Chiang Mai, but the Thai Farm Cooking school sounded the most appealing as it takes place about an hour outside of the city on a farm. Nothing like grabbing some holy basil right out of the ground and tossing it in a wok with some chicken- right?
The pick-up picked us up in the morning and we were very happy we made the choice that we did when we left the crowded city behind and trundled off into the country side. Our first stop was the market so we could get a quick tutorial on different local ingredients and see how fresh coconut milk is made.
The coconut milk machine was whirring and grinding and pouring out fresh coconut milk by the gallon-full. It is basically an industrial sized juicer that shreds the coconut on one end and smashes the bejeezus out of it on the other end.
"Do you have one of these at the farm?" Tom asked our guide. He laughed at the idea, "No" he said shaking his head and chuckling. "Only rich men have this. It's the same price as a house. Or a cow."
Tom and I love markets, as you could probably tell from all of our South American market posts, and this one did not disappoint! In some ways it seemed similar to Latin American markets. There was a generally fun and bustling kind of social atmosphere, and similar tropical fruits, veggies and herbs spilling out from wooden stalls and tables. This market had it all, except for the weird smell in the red meat area and the abundance of flies that we had grown accustomed to in the South American markets.
I instinctively blew all my breath out and started to unobtrusively stop breathing while I walked through the raw red meat section. Normally when I do this in a market there is still a distinct almost iron-y bloody smell that somehow turns into a taste and sticks around my nostrils clambering to get in past my casual breath-holding. I noticed walking through the Chiang Mai market that, that wasn't there. I hesitantly tried breathing in through my mouth. Hmmm it didn't taste like the meat section of a market.I went for it. I full-on regular breathed all the way through the down the meat aisle without thought or care to whether I was standing next to broccoli or beef, papaya or pig.. you get the idea.
All of the meat sellers had these ingenious little rotating fan heads with mops or plastic bags attached above all of the raw meat to make sure that no flies landed on their wares.
These two simple tricks really make a market!
Don't get me wrong. I am definitely not squeamish about any part of any of the markets that we have been to. However there is a certain smell in most meat sections that is so thick is seems to clog your pores like paint fumes. It was conspicuous by it's absence at the market here in Chiang Mai.
The farm that the cooking class was held on was absolutely beautiful!
It was so great to be able to compare the way things grow here with the way they grow in Panama. The two climates are really similar, and the plants are as well, but there are so many variations. And of course what people end up doing with those raw ingredients is so drastically different in both places!
Throughout the day we made tom yum and tom kha, curry pastes from scratch, stir-frys, spring rolls and (my personal favorite) sticky rice with mango.
The great thing about thai food (well one of the great things) is that almost every dish is made quickly with fresh ingredients- and not too many of them at that! Taking this class I realized that what has been wrong with the majority of Thai food that I have tried to cook in the past is that I add too much stuff to it. It all tastes so complicated due to the great spices and fresh vegetables, but it is really not complicated at all.
We returned home that evening jouncing around in the back of the pick-up with full tummies and big smiles. Now I just can't wait till I have a kitchen again so I can play with Thai food some more!
Which one of these is not like the other? Mine are the burnt ones.