San Diego Comic Con 2014 In Photos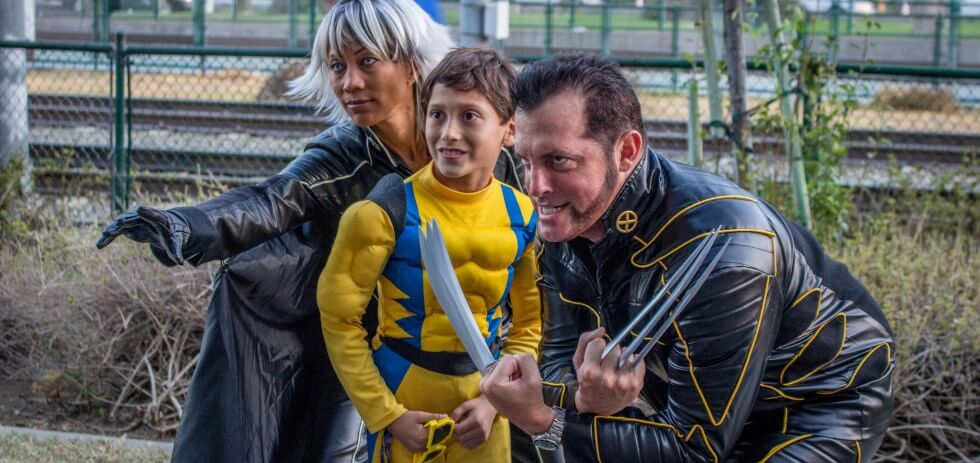 When I was growing up comic con seemed like a huge gathering at about 40,000 people. I had not been in years, but Tom and I got to spend July in San Diego this year and so we went downtown with some friends to do some people watching. We were blown away by how many people there were to watch! "Con" has grown to at least four times what it was ten years ago. I have never seen the streets of my hometown that full.
With so maybe people to watch we just found a curb to sit on to watch them go by. There is just too much to see to try and fight your way through the crowds. Here is some of what we saw:
We, of course, saw many, many classic comic heroes, it wouldn't be comic con without them!
We also saw quite a few Superheroes with a twist, does anyone know why this batman looks like a scary robot monster?!
And of course, without Super Villians there would be no super heroes!
We saw Disney princess after Disney princess, my personal favorite was the super specific girl dressed as Ariel when she became human and wore a pink dress. You may remember this particular dress from the "dinglehopper" scene, when she combs her hair with a fork at the table. And speaking of tables, I also loved seeing that everybody needs a lunch break, even a gaggle of princesses.
There were also a fair number of cult-classic movie characters. The "couples costume" of Inigo and the six-fingered (Wo)man, and Navin from "The Jerk" were some of our favorites from the day.
There were more Game of Thrones characters than you could shake a stick at, as well as other characters from popular recent movies of the fantasy/sci-fi genre.
We also saw person after person dressed as generic, totally random, extremely obscure, or otherwise unidentifiable characters.
The Zombie walk was supposed to be one of the highlights of the day, and we made sure to position ourselves in a spot to see the undead and they shuffled past. Unfortunately, everybody else and their brother had the same idea so it was just a hot mishmash of too many people! Also, the zombies wanted to take pictures of all the other zombies as well, and it's hard to take a zombie seriously when they are holding up an iPhone taking selfies.
All in all, comic con is such a fun experience of people just walking, or driving, around wanting to look, and be looked at!