Vermilion Torii Gates in Kyoto, Japan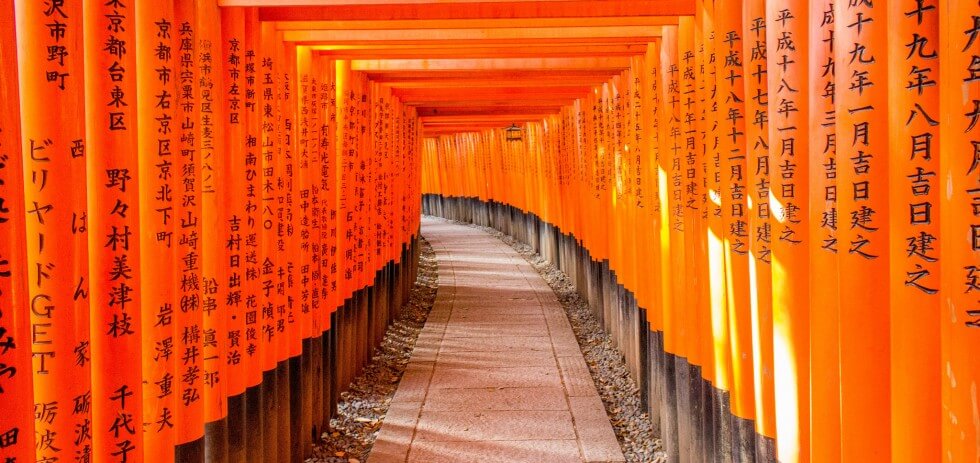 Red, orange, even red-orange just doesn't cut it when trying to describe the thousands of traditional gates that make up the Fushimi Inari Shrine on the outskirts of Kyoto, Japan. Vermilion is really the only color name that comes close to conjuring up the brilliance of the red-orange-scarlet pigment that adorns each of these torii.
Torii are gates at Buddhist temples or Shinto shrines that are supposed to represent the transition between the everyday world we all experience daily through our senses and the divine world, that is beyond our limited human abilities to perceive and is ultimately unknowable. It makes sense that such a remarkable transition would be marked by surreal looking pieces of architecture. As we saw at the Fushimi Inari Shrine, when it comes to Torii, the more the better! Especially when surrounded by a beautiful green bamboo forest.
So the gates are indubitably impressive looking, and make for some really fun photo opportunities, it's easy to see why this shrine is one of the most famous Kyoto Japan sites. Wandering around taking photo after photo of what feels like the inside of an orange "domino rally" set up really never does get old. But why are they there? Why are there so many of them?
It turns out that the reason is that this is an Inari shrine and as Inari is the spirit of fertility and industry, people who have been successful in business often donate torii to an Inari shrine. Each of the gates in Kyoto have the donor's name and the date of donation written on the back. Large gates cost about a million yen so I guess the message here is that there are some very successful business-people in Kyoto! I always knew inari as the inexpensive, bite-sized, sweet deep-fried tofu bags filled with rice at sushi restaurants. Inari is also the Shinto god of rice, so maybe that is where the connection is? Rice, industry, fertility, and little tofu/rice bites at sushi restaurants. I see the commonalities.
Foxes are Inari's messengers, and so there are many fox statues across the shrine grounds, as well as some friendly live kitties. We had a lot of fun trying to pick out as many foxes as we could on our visit there.
We had read that the stuffed fish cakes at the foot of the shrine were a "must try treat." They actually look a lot more fun than they taste and most of ours ended up in the trash can. I do love how those fish cakes look though, with their gaping wide mouths filled with whipped cream! We did try some tofu-flavored soft serve ice cream (not pictured) also at the bottom of the shrine, and according to Tom that one is a MUST try! You will know the soft-serve by the large amount of people lining up to get some. They also had other interesting flavors like sesame and some different fruits.
It is an easy metro ride out to the shrine (to the JR Inari Station) from central Kyoto and there is no admission fee. I wish we would have brought a picnic so that we could have spent even longer wandering around the shrine, and enjoying the views from the top of the mountain. I bet it is especially beautiful at dusk!